The Celtics Went Up To Toronto And Got Manhandled
I'm not mad, I'm not panicking or freaking out, I'm just disappointed. The Celtics had gained some momentum after a rocky West Coast trip, were playing well no both ends and seemed primed for a big time showdown up in Toronto. Now I say big with a little bit of air quotes, because really all this game was really at the end of the day was a random game in February, but it was important for a couple reasons. First being how close the race at the top of the East is, H2H matchups are crucial. Not only is this H2H record important, but when it comes to tiebreakers the Celts and Raptors being in the same division adds a little extra spice.
Add in that this was definitely a measuring stick game and you can see why I think this was an important matchup. There are a handful of teams that I consider measuring stick games, and in the East it's really just CLE and TOR. Well last night we saw a lot of the exact same issues we saw last year against TOR and that is somewhat concerning. This is a team that if all goes well the Celtics will meet in the Eastern Conference Finals, and we're seeing why home court advantage is so key to that series. Both these teams are really, really, really good at home, so you'll never be able to convince me regular season meetings against these two don't matter.
But they shouldn't cause you to overreact either. The same way you shouldn't have overreacted when the Celtics beat TOR in the Garden earlier in the year, you shouldn't be getting too bent out of shape about this loss either. Look, it had been nearly TWO MONTHS since the Celtics were blown out like this (Dec 11). These things happen in the NBA. This result doesn't suddenly invalidate everything we've seen over the last 50+ games from the Celtics, all it really does in confirm to me that TOR is going to be a tough series if they ever were to meet in the playoffs. That's it.
Last night the Raptors were flat out better across the board. They played harder, with more effort, and with better strategy. That is why they won. The Celtics could very well win the next time these two teams play on March 31st. But in the meantime, we need to talk about what we saw, because I have some issues.
The Good
– Do you deserve a Good section when you get down by basically 30 and end up losing by 20? Probably not, because usually when that happens there isn't really anything good to talk about. Well, the rules state we only skip this section once the Celtics lose 5 in a row so we have to start with something. May as well be the continued offensive play of Terry Rozier
Now granted, a lot of this offense came when the game was out of hand, but at least Rozier showed up. Ending the night with 18/5/4/2 on 5-12 shooting (4-5 from deep), he was the best offensive player of the night. I'm not sure if that's a good or bad thing when the rest of your team comes back.
– Speaking of coming back, Kyrie returned and on one end of the floor he wasn't all that bad. He finished with 17/3 on 6-12 shooting and no turnovers in just 21 minutes
and it was clear that Brad was working him in slowly. That is a little weird considering this was just supposed to be a thigh bruise, and he hadn't played since DEN so I'm curious why he was so limited in such a big game. To go into an arena where a team is 21-4, you need your top guys ready to roll. Maybe he should have played against ATL or POR to get his feet under him? I get that hindsight is 20/20, but we made this trade so that we could have a player of Kyrie's caliber to help beat teams like TOR, so it's weird to me.
– Always steady, always reliable. I love Daniel Theis
– That's it, that's all I can muster up for this section. Thank you for understanding.
The Bad
– OK where to start. Let's start with the basics. This team played 24 total minutes of defense last night, and it came in the opening quarters of each half. The game moved into the second, and boom guess what the Raptors scored 36 points on 68/62% splits. No big deal right? This always happens and the Celtics lock down in the third quarter and go on a run. We've seen it a million times.
Well, then the third quarter came that sort of happened! The Raptors scored just 25 points on 37/30% splits. Granted the Celtics were still down 20+ points, but we've seen crazy things happen in the fourth quarter, maybe this would be one of those times.
The Raptors then went on to score 28 points on 56/71% in the fourth quarter.
I must ask, what the fuck happened to this league's best defense? This is a team that has held opponents on the road to just 99.5 points a game and 43/33% splits. The Raptors finished with 111 and 50/47%.  A lot of fans will point to the offense, and say things like "THIS IS WHY THEY NEED TO TRADE MARCUS SMART FOR TYREKE EVANS". I'm sorry, but you're missing the point with a statement like that. This team is successful because of their defense and their rebounding. They've never been an offensive powerhouse, and currently rank 20th in offense despite their record. Offense is not how they win. Defense is how they win and that's what's so annoying about this game. The Celtics were rested, had just played great defense the game before, and came out last night got punched in the mouth and never responded.
You look up and down the roster, and it's hard to find a guy who played well on the defensive end. Kyrie took responsibility for this loss (which I like), and it makes some sense. He had a -50 net rating in this game with a 125 defensive rating. That can't happen and I don't really care if you're coming back from missing a few games, you can still be better than that.
But it's not just him. Aron Baynes, a very, very solid defender had a rating of 118.5, Morris 112, Terry 110, Tatum 109. This was one of those nights where the starters struggled offensively early, they let that impact their effort and on the other end were nowhere to be found. You cannot play like this against one of the better teams in the NBA, period.
– Which brings me to what I consider the main reason the Celtics lost this game, and that was the utter beating the TOR second unit game them. I mean this was an absolute bloodbath. First the raw numbers: 49 points on 21-34 shooting (9-16 from deep). The worst shooting performance was from Delon Wright who had 14 points on 6-11 shooting.
My point is, here is your evidence as to why Marcus Smart is so important to this team. Ignore the fact that you can definitely put him on CJ Miles even though he's a SF, just focus on the guards. The TOR guards had offensive ratings of 129.6 and 125.6. The combined for 24 points on 9-16 shooting. They were a huge reason why the Raptors were able to pull away in that second quarter, where they combined for 19 points off the bench in under 10 minutes. We saw this with the GS loss, and we saw it again last night. Guard defense is VERY important to this team's success, and last night they didn't have it from their starters, and they didn't have it from their bench either .
The Celtics, who are among the league leaders in perimeter defense when it comes to opponents three point shooting, were just lazy. 17 made threes from a team that averages just 11 on the year is a bit concerning, and for me it has to do with effort. Slow closeouts and lazy defense will get you every single time.
– So when you factor in an offense that can't score, a defense that didn't show up, and then add 17 TOs to that equation, what do we think happens? You get your dick kicked in.
– One major issue on the defensive end was how the Celtics handled screens. Whether it was Morris or Horford not hedging or it was Kyrie not fighting through screens, TOR recognized a weakness and Kyle Lowry took advantage. You need one or the other, you can't not have both.
– The Celtics biggest lead in this game was 2. TWO. That came when it was 2-0.
The Ugly
– If we want to give Al Horford praise for how he stepped up when Kyrie was out, and want to love his game winner, we also have to turn around and acknowledge that he did not play well in this game. At all. His 1-5 from the floor is basically a joke, he had 2 FGA at the half which is also a joke, and he never really felt present in this game. The times he did have the ball he turned it over, matching Jaylen for the most among starters with 4.
Now believe me, this is where some will comment about how Horford faced a good front line and disappeared. See! We told you!
This is true, he struggled last night, but he also had 21 points on 8-9 shooting the last time these two teams played, so it's not as if he always struggles against TOR. He just played like dogshit in this game and it's no surprise it was one of the worst losses of the year. I get wanted to work Kyrie back into things because he is extremely important, but this team cannot go back to forgetting about Al Horford. That is not when they are at their best.
– It really bothered me that while TOR was making their runs, the Celtics went with the strategy of chucking up threes while also allowing TOR to live in the paint for easy shots. We've seen them come back from large leads like this before, and that's because they don't play this type of lazy basketball. If my memory is correct they came out in the third quarter with 3 of their first 4 shots coming from three mixed in with a few turnovers. That is so annoying when it's clear you can attack the basket against TOR. Kyrie did it.
– Here's another thing that bothered me. Really among the starters the only one who showed life in addition to Kyrie was Jaylen. So why on earth did he finish with just 5 FGA in 27 minutes (made 4)? Maybe keep going to the guys that seem to have it going, I dunno it's a wild concept but just hear me out for next time.
– The Celtics did a really poor job of figuring how to run an offense when the bench guards were in with Horford and TOR basically face guarded Al.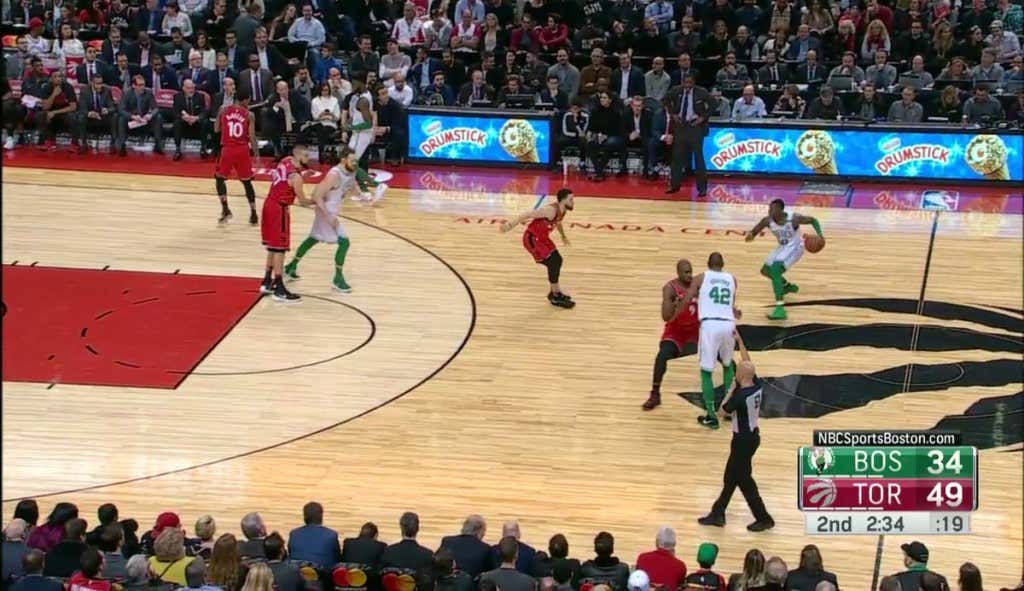 You can hate his jumper all you want, but it's these situations where I am more confident in Smart than Terry. When it comes to initiating the offense, Smart is the better of the two in my opinion. Rozier is a better scorer, but he's not at that stage yet. In the playoffs this is going to be the #1 thing teams try to take away when Brad has a lineup of Al with the bench guards, so it needs to be figured out sooner rather than later.
– At least Brad tells it like it is
So yes, for Celtics fans this game sucked. It sucked bad. The good news is they get another chance tomorrow night in another house of horrors against WSH. I said before this game that this week would tell us a lot about the Celts given they were playing basically the top 4 teams in the East, and so far things could be better. The Raptors aren't going anywhere so this isn't really a time to fuck around. Turn the page and be better.