Are These The Two Best Looking Teams To Ever Play In A Super Bowl? Power Ranking The Players Of Super Bowl LII
It's taken me a while to figure out what my franchise would be at Barstool Sports but I think I've finally done it: Ranking The Hotness Of Professional Athletes During Their Once Annual Championship Games. It won't be as frequent as CITO or Snackin' Off, but I think it brings an equal amount of value in terms of reaching our core 18-34 year old  straight male demographic. Think about it, guys like dudes. I'm posting pictures of dudes. Therefore they'll like the pictures because they're dudes. #PageviewCity. Who knows, maybe this will evolve into the SmokeBro of the day? Just a thought.
Before we get into the power rankings I wanted to quote myself as I feel the explanation from my last blog sums up the objective perfectly:
Listen, I'm not into objectification. Doesn't matter if you're a man, a woman or somewhere in between. I, as well as everyone here at Barstool, values brains over brawn, intellect over beauty, and intelligence over ignorance. Always have, always will. Nevertheless, I wouldn't be doing my job if I failed to appreciate the male form, especially on the biggest stage in sports. That's what I was hired for.
So without further ado, I present to you this years Super Bowl Hotness Power Rankings.
10. James Harrison is on here solely because I'm afraid that if I leave him off he may get upset. So congrats on making the list, James! Best of luck in the Super Bowl.
9. Back up QB to the back up QB, Nate Sudfield. The younger, human version of Andrew Luck comes in number nine.
8. Nick Foles. For full disclosure, Nick made the list not because of his face or body, but because of rumors surrounding the size of his genitals. Which everyone regardless of their sexuality can admit they're curious about. Will this blog flatter him enough to leak a nude? Probably not, but it was worth a try. Moving on.
7. Devin McCourty aka tall, black, and handsome comes in at number seven.  At 5'10" 195lbs his stats are almost identical to the Grindr ideal of 5′"11 165lbs.  Regardless, his white teeth and super smooth demeanor land him at number seven.
6. Everyones favorite idiot, Rob Gronkowski, comes in at number six. To some, he's known for his athletic prowess and child like tendencies. To others he's known for giving JSB at lap dance on national television. To all, he's known as a  6'6″ 265 lbs stud.
5. Danny Amendola. I hate to throw a short on here but I can't deny the symmetry in his face. He's like a Picasso. Or maybe a Monet? I don't know, but his jawline reminded me of what Smitty's jawline should look like had the facial reconstruction surgery gone as planed.
4. Zach Ertz. Not going to lie, I had no idea who this guy was until I googled "hot Eagles players." Apparently he's a tight end? Moving on.
3. Chris Hogan. Underrated both on and off the field, Hogan is the Super Bowl's boy next door.
2. Julian Edelman. Normally, the number two spot would be reserved for Jimmy G, but since Tom ran him out of town Edelman gets the nod. LOOK at this guy. I could do an entire blog just on his Instagram but I know a lot of you are reading this at work and may have to stand up at point. You're welcome.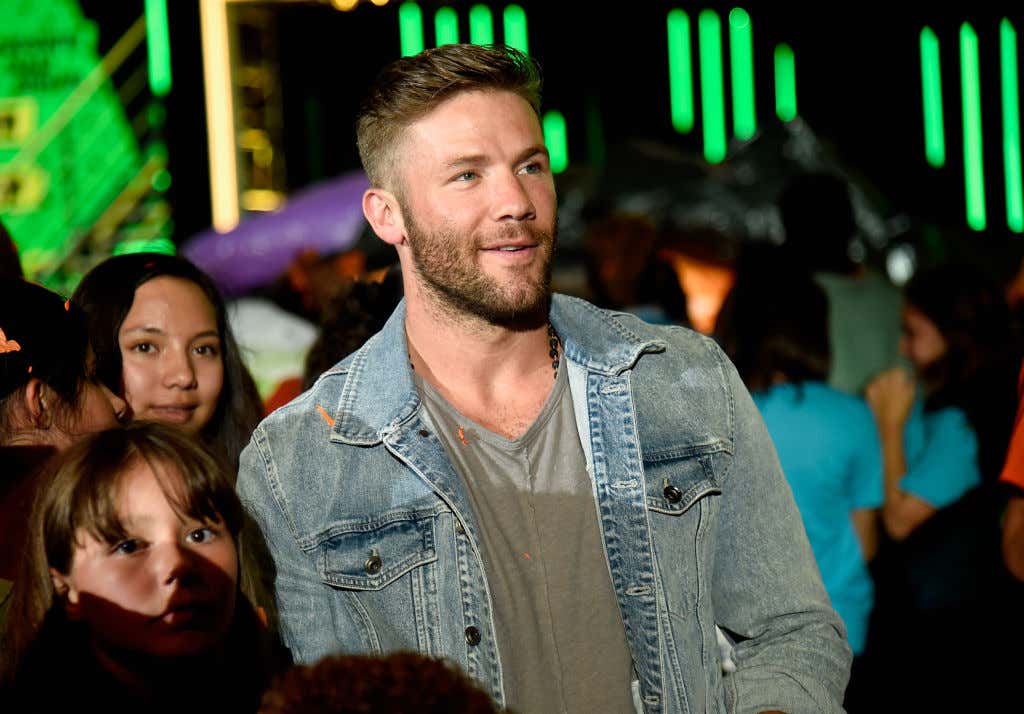 1. Tom Brady. No explanation required.