Boy Did It Feel Great To Finally Be Home
You know how when you go on vacation or have to travel for work and all you are thinking about is getting back home and sleeping in your own bed? Then you get home, get under the covers and have the best sleep of your life because you missed your Leesa mattress so much that you got with the promo code Barstool for $100 dollars off? That's what this game was like for the Boston Celtics. After a long trip out West, they couldn't wait to get back home and once they did, they had one of the biggest blowout wins of their season.
Not only that, but to do it to New York in the process? I know the Knicks are still 3 games behind the final playoff spot, they stink, but it's always good to stick it to the Knicks I don't care how bad they are. Love Clem, hate the Knicks, that's how it goes. To have this sort of success while also missing two key rotation players is no joke, and it required some other guys to step up and pick up the slack, which we got in spades.
It felt good to finally have a stress free Celtics performance, once that we could all just sit back and enjoy the dominance. They're pretty rare, so I suggest you enjoy this one and while you're at it you may as well grab a chair so we can talk about it.
Let's go.
The Good
– Hmmm when you win by 30 there are certainly a lot of worthy candidates to start us off. A bunch of guys had great games which makes this a little hard, but wait…what's that…could it be…no…it might be….it is…that's Terry Rozier music!!
Making his first career start, I guess you could say a 17/11/10 performance is pretty good. With both Marcus and Kyrie out, nobody on the roster had more pressure on him in this game than Rozier in my opinion, and boyu did he show us why Danny Ainge would rather trade his own kids then move Rozier. A flat out unreal performance
Terry gave us the full arsenal last night, killing the Knicks from the outside early through some beautiful strategy from Brad. Look at his first few makes, those are the exact same type of plays Brad used to run for Isaiah and current runs for Kyrie. Get him to go through multiple screens and come to the ball. People want to laugh about Al Horford's screening ability, well why do you think Terry always got so open? Here's a hint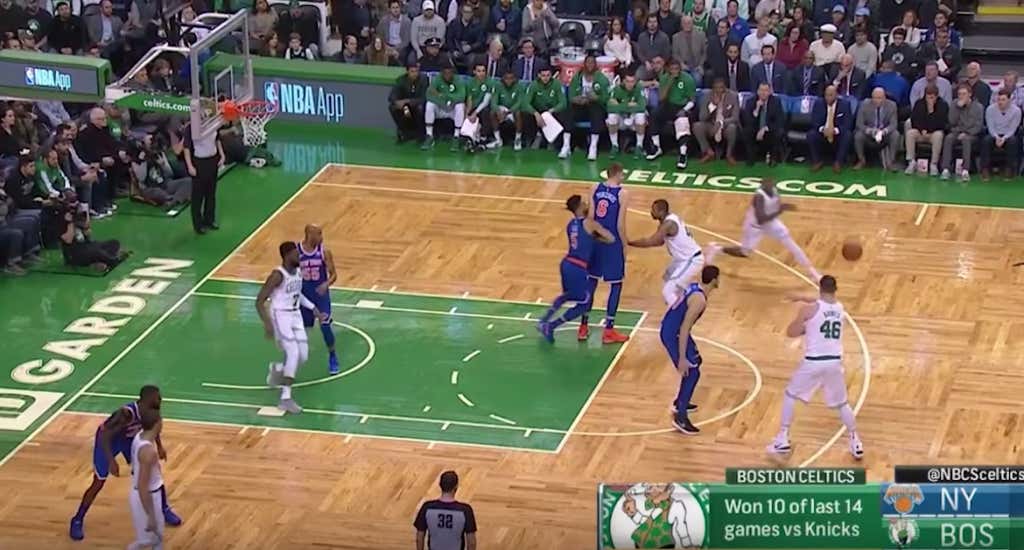 Here's a little fun fact for you. On catch and shoot plays, Rozier has an eFG% of 55.7%. Next closest? Kyrie Irving at 56.8%. So what does Brad do? He gets him into spots where he can be successful. Genius. What I loved about Rozier's performance was that he played in control basically the entire night. He had the 3rd highest usage rate on the team at 25.4%, but he finished with just 2 TOs in a team high 32 minutes. Remember, this is all with a busted ankle that he sprained a few games ago.
I saw on the internet yesterday that there are people that would be willing to trade Rozier and a 1st rd pick for a 4 month rental. If you seriously think that, you aren't paying attention. Terry Rozier has this year AND next year under contract, and then after that becomes a restricted FA. You do not lose that for 4 months of a guy who probably doesn't get you over the hump who you then can't keep. Plain and simple.
– It's no secret that with Kyrie out, there was a certain level of expectation from Al Horford. The Horford haters were foaming at the mouth praying he would have a bad game, you could feel it. Well, as it has been all season, this was a rough night for them. Not only was Horford aggressive, he had the second highest usage rate on the team with 27.2%, but he came through as well with 14/9/5 and 2 steals on 50% shooting
Games like this are when you need your best players to step up and carry you, so I was glad to see Horford rise to the challenge. I liked that he didn't force things even with this added pressure, as his 12 FGA were fewer than Tatum/Rozier/Jaylen.
His offense was just half of his brilliance last night though. You want to know why Al Horford is so important to this team? Because he can shut down unicorns.
That's my All Star.
– I'm going to just group these together because in my mind, they will forever be linked as the next great duo in NBA history. This team is at it's best when it's young pups show up, and my oh my did Jaylen Brown and Jayson Tatum show up
We'll start with Jaylen. As the team's second leading scorer, the Celtics needed Jaylen to provide a spark on the offensive end. I'd say mission accomplished. As is so often the case with Jaylen, when we see him attack the basket early, good things happen. He either was finishing at the rim or was drawing defenders and made plays for others. It may not seem like much, but his 3 assists were his most in 5 games, and he did a great job of drawing attention.
I'm going to keep showing this chart because it's honestly my biggest thing with Jaylen. He shot charts should look like this every single night
Also, love the dig postgame
With Tatum, what is there to say? He is incredible. Go ahead and take a second and rewatch that highlight video. Look at those moves, LOOK AT THEM. As is standard practice, I must remind you that he is 19 years old. So smooth, so calm, and so officially out of his January slump. If this is what aggressive Tatum looks like, if this is what happens when he leads your team in FGA which he did in this game, then sign me the fuck up. I know people don't really care about +/- but I certainly care when it fits my agenda and Tatum was a kickass +29 in this game.
Even though they didn't need it, he showed his ability to score in the fourth quarter leading the team with 7 points on 3-4 shooting. So far this season in the fourth quarter Tatum has an offensive rating of 116 (4th on team) and a defensive rating of 98.5 (6th on team). That 18.3 net rating is the third best on the roster. He's second on the team in fourth quarter scoring with 4.2 which trails only Kyrie's 6.2, but he does it on nearly half the shots. Jayson has 57.9/54.5% splits in the fourth this year which some might say is pretty good.
Basically this is a long way of telling you that already he's showing to be one of the best fourth quarter players on this team, which you can shoot directly into my veins.
– With Rozier stepping into the starting lineup, the bench needed someone else to help provide the scoring. Well this was music to Marcus Morris' ears, and he for sure delivered
20/5 on 6-9 shooting, he made both his threes and led all scorers from both teams in this game. If you were curious what a healthy Morris would look like in this system, how about the best scoring run of his career? That's not hyperbole either. This is legit the best run he's ever been on
Now it sucks that he probably fucked his tailbone/butt up on that brutal fall, but it sounds like he'll be OK. For a team and bench that needs scoring more than you need air to breathe, this team cannot afford to lose Morris for a long period of time now that his knee is finally healthy and he's playing some great basketball.
– I get it, the Knicks are bad, but how can you not be impressed with the defensive effort from this group? Holding a team that plays in the NBA to 73 points? One that had it's full roster? The Knicks had 32/17% splits with 14 TOs. THJ, Jarrett Jackm and Courtney Lee combined to go 4-23. You look up and down the roster and every Celtic that played defended well. That's what you need to do when you aren't sure where the offense is going to come from. You step up your defensive intensity and I'd say that's what happened.
Here were NYK's scoring quarters: 24, 21, 20, 8
How do we feel about that?
– You know it's your night when even Abdel Nader is making it rain
– There was just so much to like about this effort, from winning the rebounding battle, to the 27 assists on 40 baskets, to the balance of the offense, to winning the points in the paint battle, this was a complete win and something the Celtics tend to do against the Knicks
The Bad
– How do you find something bad in a 30 point win? Well, Yabu missed both his 3PA so we may as well start with that. I wanted that end of game three so bad because the only thing this game was missing was a Yabu dab. It should be a rule that whenever he's in the game in an absolute blowout, no other player is allowed to shoot. Better yet, no other player should be allowed to touch the ball period. The last 3ish minutes of a 30 point lead should officially be Yabu Time. No question.
– OK fine, we can talk about going 12-20 from the FT line. It didn't hurt them obviously, but that doesn't mean I have to like it.
– We can also admit that the Celtics didn't really have an answer for Enes Kanter. Right after his 20/20 performance he followed that up with a 17/17 performance on 7-10 shooting. It didn't matter what big was out there, whether it was Baynes, or Horford or Theis or whatever, he feasted, especially on the offensive glass where he had more than half of his team's OREB.
– Kyrie's quad injury isn't serious, Kyrie's quad injury isn't serious, Kyrie's quad injury isn't serious, Kyrie's quad injury isn't serious, Kyrie's quad injury isn't serious
Please don't be serious.
The Ugly
– I'm sorry, but how the officially handled that Marcus Morris fall was some big time bullshit. To add insult to injury the fact that the Celts had to intentionally foul with under 2 minutes left meant that after that whole ordeal, the Knicks actually got points from it. I don't think Beasley meant to make him fall like that, but the whole thing stunk to the high heavens. If the NBA is curious as to why there is a beef between the players and the refs, to me this was a perfect example. You're really not going to stop the game? How is this all that different from the Lowry fall? That was properly called a foul and the game stopped. This was very much a foul and there was nothing called therefore the game didn't stop. Be better.
All in all, a pretty entertaining return to the Garden if you ask me. Any time you can get Gino you know you had a good night, and the Celts now turn the page to ATL and then POR on Super Bowl Sunday, all at home. I'd love to see this team riding a nice little winning streak heading into the big showdown in TOR on the 6th, but let's not get ahead of ourselves. I'm glad the Celtics looked like the Celtics again after a wacky West Coast trip, and just like everyone says, there is NOTHING like sleeping in your own bed.
37 down 17 to go.