Quick Shifts 1/5: Nazem Kadri Rips Out A Chunk Of Joe Thornton's Legendary Beard
::Link to Streamable if YouTube doesn't work::
What a night in the NHL. We had 3 tilts in the Flyers/Islanders game. And the highlight of the night was Nazem Kadri and Jumbo Joe Thornton dropping the mitts just 2 seconds into the Sharks/Maple Leafs game last night. This is at least the 2nd fight of the year for Thornton who, keep in mind, is 38-years-old. What a fucking legend. Unfortunately for him, every time he gets in a scrap he runs the risk of getting an impromptu shave.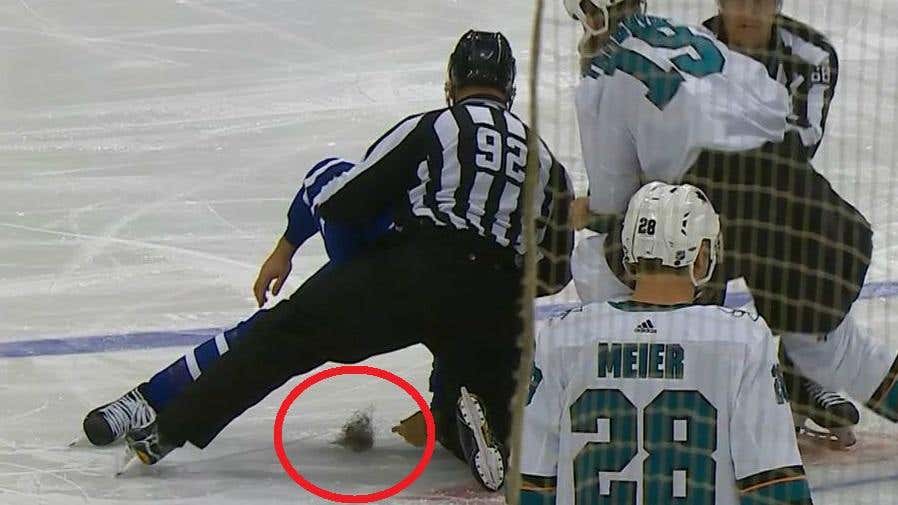 The good news is that backup goalie Aaron Dell is ferda boys and made sure to keep the beard trimmings safe during the game.
And they've since been preserved by the Sharks' training staff.
Hopefully they'll be staying in Toronto and put on display at the Hockey Hall of Fame.
Scores From Around The League, Thursday 1/4: 
Islanders 4 @ Flyers 6 — PHI -145
Sharks 2 @ Maple Leafs 3 (SO) — TOR -135
Hurricanes 4 @ Penguins 0 — CAR +125
Lightning 1 @ Canadiens 2 (SO) — MTL +155
Sabres 2 @ Wild 6 — MIN -245
Golden Knights 1 @ Blues 2 — STL -125
Devils 3 @ Stars 4 — DAL -170
Predators 2 @ Coyotes 3 (OT) — ARI +135
Kings 3 @ Flames 4 — CAL -125
Ducks 1 @ Oilers 2 (SO) — EDM -130
Blue Jackets 0 @ Avalanche 2 — COL +110
World Juniors Semifinal Scores: 
USA 2 – Sweden 4
Czech Republic 2 – Canada 7
NHL Schedule Tonight, Friday 1/4:
Penguins @ Islanders (7pm)
Panthers +105 @ Red Wings -125 (7:30pm)
Sharks -115 @ Senators -105 (7:30pm)
Sabres @ Jets (8pm)
Golden Knights +110 @ Blackhawks -130 (8:30pm)
World Juniors Medal Games Schedule:
Bronze Medal Game: USA vs Czech Republic (4pm)
Gold Medal Game: Sweden vs Canada (8pm)