Cyborg Reigns Supreme, But Khabib Nurmagomedov Steals The Show At UFC 219
1. Cris Cyborg is the real deal, finally defeating some "real competition".
2. Khabib Nurmagomedov is one of the scariest men on the planet.
As for takeaway number one, it's something we've pretty much known forever, but was cemented tonight. Cris Cyborg defeated Holly Holm in a very technical matchup, proving herself to be a better counter-striker than one of the most accomplished boxers of all time, and going a full five rounds for the first time in her professional career with cardio holding up tremendously. All the credit in the world to Holm for moving up a weight class, taking this fight, and giving Cyborg a feasible challenge, by the way.
Onto takeaway number two, holy fuck. Khabib Nurmagomedov made such easy work of Edson Barboza that I'm going to have nightmares tonight. He pummeled this motherfucker like he was some schmuck off the street. It wasn't competitive for even a second. The scariest, most brutal, dragged out mauling I've seen in quite some time. It was the kind of fight where you shake your head and wonder why throwing the towel is so frowned upon in MMA. Look at this picture from it, straight out of a horror movie…
That young boy is frightened that the monster is gonna get him! Sheesh. Keep Conor McGregor FAR away from Khabib.
After the fight, he of course put his Papakha on Joe Rogan's head, which is my favorite tradition in all of sports.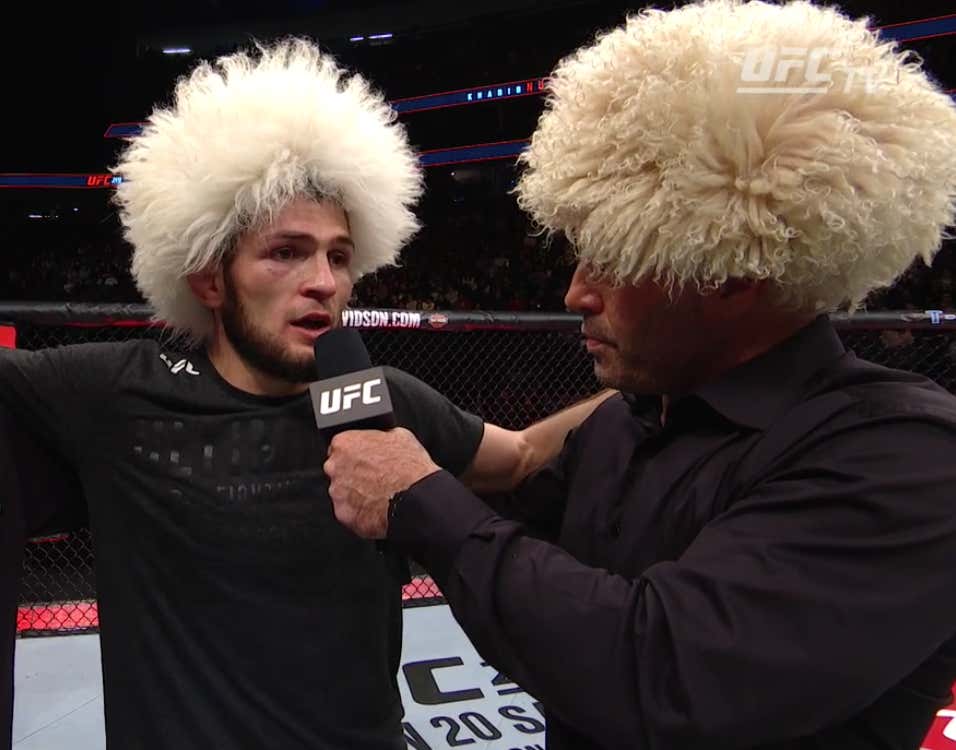 I love that mothafucka Khalabeeb. I love him, I tell ya.