USA Dominates Denmark 9-0 In Game 1 Of The World Juniors. Road To The Repeat Is In Full Gear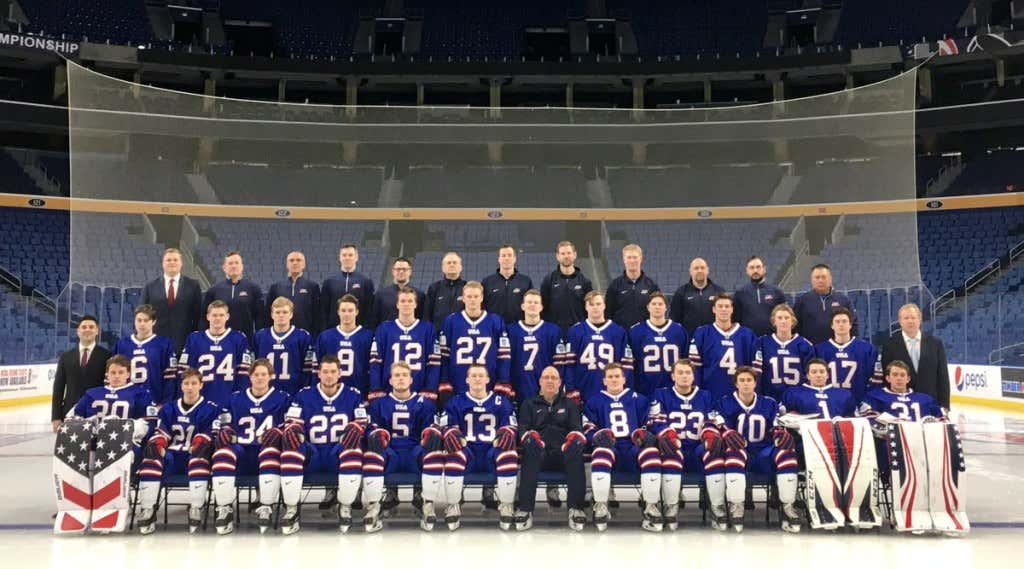 And here we go. Game 1 of the 2018 World Juniors for Team USA as they try to win back-to-back gold medals for the first time in USA Hockey history. Team USA gets a pretty easy introduction to this year's tournament by getting things going tonight against Denmark. They're going into the game as 3.5 goal favorites and I think that's being pretty polite to Denmark.
I could see this one getting out of hand if Denmark doesn't make the most out of the very few opportunities they'll get all game.  Because as we know, Team USA will have no issues with scoring as they bring quite arguably the best crop of forwards to the tournament. Here's what the lineup will look like tonight.
Watch out for that middle 6 to go to work all tournament long. Brady Tkachuk, Kailer Yamamoto, Casey Mittelstadt, Kieffer Bellows. All players who are fully capable of breaking out and absolutely destroying teams. And if any team is dumb enough to take a penalty against the US, you might as well just put the goal on the board because their powerplay is automatic. I'm expecting something along the lines of a 7-1 win tonight.
Meanwhile in the rest of the tournament, the Czechs upset the Russians to start the tournament winning that game 5-4. Sweden took care of Belarus and won that game 6-1. Canada and Finland could very much be a preview to a medal round game. Canada ended up winning 4-2 (with some highly controversial calls along the way). I'll have more highlights from all of the Day 1 games tomorrow morning. For now, make sure to follow me on Twitter @BarstoolJordie for live updates/scores/highlights/etc.
***LIVE BLOG ACTIVATED***
End of the 1st: USA 5, Denmark 0
Mere minutes into the game and Team USA already asserts their dominance all over Denmark. Here's Max Jones being a total bully to give USA their first goal of the tournament.
The Anaheim 2016 1st round pick is a big body and plays hard dick hockey for the London Knights in the OHL. If that's the best that Denmark's D is going to give tonight, they're in for a world of hurt courtesy of Mad Max.
And then not too long after that, Kieffer Bellows keeps the boys rollin on the powerplay.
"You're a fuckin' superstar, Bellows!" 
Like I said before. If you don't want to get scored on then maybe don't take penalties against Team USA. They will make you pay every single damn time. Couldn't have been any easier for Kieffer.
And apparently that's all it took for Denmark to quit on this game. Because later in the period, USA had a possession in the offensive zone for so long that I could have sworn they were on a 4 minute powerplay. Turns out it was just pure domination at 5v5 and Casey Mittelstadt gets his 1st goal of his World Juniors career.
Makes a great move to the middle of the ice. Follows up his own rebound and that's a gritty finish after a beauty move. Speaking of beauty moves, let's talk about this Brady Tkachuk assist to put the boys up 4-0.
Look at that explosiveness to get behind the net after the shot that went wide. He gets right on the puck, and then throws a twister from the Kuznetsov spot right to Kailer Yamamoto on the doorstep for the tap in. Brady Tkachuk is going to have one of those tournaments that shoots him up to a top 3 draft pick come this June.
And then after that, Casey Mittelstadt got his 2nd goal of the 1st period and showed off his saucy set of paws by being able to tuck this one away top bunk from the tip of the crease.
Kid is putting on a show right now in front of his future hometown crowd in Buffalo. What a statement period for the reigning champs.
End of the 2nd: USA 7, Denmark 0
Unfortunately, rules are rules. And when you break the rules, you need to live with the consequences even if your team is already losing 5-0. So Kieffer Bellows got slashed on a breakaway and was awarded a penalty shot. Which he then went on to score the most effortless penalty shot goal I've seen in a while.
So much patience and so much confidence the whole way down. Just waits for that 5-hole to open up for a second and stuffs it home on the backhand like it's nothing. Krog needs to stop being a little slut and keep those legs closed. I officially feel bad for Denmark.
Now Team USA has clearly taken their foot off the gas a bit here in the 2nd. There are some WIDE OPEN shots that these guys are passing up just because it's getting too easy for them out there. You probably won't see an unassisted goal for the rest of the night. And to end the 2nd period, it was Patrick Harper putting an end to another 5v5 offensive zone possession that lasted as long as an extended powerplay.
They're just playing keep away out there. 7-0 at the end of the 2nd period and it turns out that I underestimated this team with my original 7-1 prediction.
3rd Period Updates: USA 9, Denmark 0
Not a goal or anything but here's another example of Casey Mittelstadt having the silkiest hands in the tournament.
Shortly after that, Denmark took another penalty. And here's the thing. You're already losing 7-0. You're playing against one of the best powerplay teams in the tournament, if not THE best. Don't you think you'd try to do yourself a favor and stay out of the box for the rest of the night? Not Denmark.
Andrew Peeke put Team USA up 8-0. And then less than 30 seconds after that….
By the time that puck got on Dylan Samberg's stick, he had enough time that he could have watched The Last Jedi in full and still had an empty net to shoot at. Team USA going for double digits here.
Final Score: USA 9, Denmark 0
USA -3.5. OVER 7.0
USA Goals Scored By:
Casey Mittelstadt (2) — Buffalo
Kieffer Bellows (2) — NYI
Max Jones — Anaheim
Kailer Yamamoto — Edmonton
Patrick Harper — Nashville
Andrew Peeke — Columbus
Dylan Samberg — Winnipeg
Thanks a lot to everybody for following along all night. We'll be back with the Live Blog on Thursday night with USA taking on Slovakia at 8pm. I'll also have a recap of all the Day 1 games tomorrow.
And make sure to follow me on Twitter @BarstoolJordie for full World Juniors coverage and live updates/highlights/scores/picks/etc.