Fun Fact: Claude Giroux Is Back To Being One Of The Best Players In The World Again
Over the last 5 NHL seasons, Claude Giroux has been top 10 in points. The only guys who have put up more points than Giroux are Crosby, Kane, Benn, Backstrom, Ovi, Seguin, Tavares and Wheeler. That's pretty elite company. But 5 years ago, Claude Giroux put up 86 points and since then, there has been a pretty steady decline in production. He had 73 points in 2014-15, 67 points in '15-16, and 58 in '16-17. Not that those numbers are necessarily terrible or anything, it's just not a great trend that you want to see for the cornerstone piece of your organization. Now obviously there have been some lingering injuries along the way and slumps happen from time to time. But there was a moment when Claude Giroux was considered a tier I player in the NHL and the conversation since then has shifted more towards talking about his decline.
But what we've seen from Claude Giroux this year, and especially last night, is the return of 2013-14 Claude Giroux. He's actually putting up points at a higher rate this year than he was 4 seasons ago. With 3 assists last night, which we'll get to in a second here because they were all ridiculous, he now has 39 points in 34 games. He's putting up points on the powerplay, he's putting up points at even strength, and most importantly he has been able to lead a team that went on a 10-game winless streak to being just 2 points out of a playoff spot.
I wrote about "How Gassing A Few Beers Turned The Philadelphia Flyers Season Around" a few days ago and even though it sounds like a joke, it's 100% serious. There are way too many Giroux haters in the city of Philadelphia when things are going poorly. So many people who want to rip the 'C' off of his jersey and put it on Simmonds. And maybe I'm putting too much stock in Facebook commenters but I feel like there's at least some portion of the fanbase that actually believes that. But it's beyond clear that Claude Giroux is the leader of this team. I'm sure he gets plenty of help from other guys in the locker room but Claude Giroux was able to take a team whose season looked to be completely over around Thanksgiving and have them win 7 of their last 8 games. In regulation, too, not that it necessarily matters since most of the opponents were in the Western Conference. But still. He's being a leader on the ice and off the ice, and I'm just glad all the mouth breathers can finally shut the fuck up about his "decline".
Now let's get to the highlights….
PECO Should Cancel Everybody's Bill This Month After This
We see the Flyers' top unit try this play almost every time they get set up on the powerplay. Over the last year or so, teams have made sure they break up the pass between Giroux and Ghost up at that point. This year with Sean Couturier being such a scoring threat, they now have to worry about him in the high slot as well. So the only open lane for Giroux to pass to is the hardest of them all and it's the cross-ice look to Jake Voracek. For the most part, that pass almost ALWAYS makes it to Jake because Giroux is a goddamn surgeon with the puck. Sometimes Jake kicks it back up to Ghost but plenty of times we see him try that pass to Simmonds on the backdoor but the success rate is pretty minimal. Last night, this worked to perfection.
Like I said, that pass from Giroux almost always makes it over to Voracek. He always has at least one eye on 93 and his passing this year has been incredible. But without that perfect pass to start off that play, the Flyers don't get all 4 Red Wings heads to turn and they don't get Howard needed to go post-to-post and back again. That pass sets everything up and then it's an equally perfect one-touch pass from Voracek to Simmonds for the tap in. I used the word already but that's a surgical breakdown of the Detroit penalty kill.
Even Grandma Can't Thread The Needle Like This
This was probably the most impressive play of the game by Giroux. The Flyers came out and absolutely dominated the 3rd period last night after a somewhat shaky first 2 periods. They didn't play poorly by any means but it looked like it was going to be a dog fight of a night. Especially after the Red Wings came back and scored just under a minute after that powerplay goal to take the lead again at 3-2. But the Red Wings played the night before against the Islanders and the Flyers knew they could take advantage of a tired Detroit team. And then a little over 5 minutes into the 3rd period, this happens.
First of all, the patience here from Giroux just goes to show you how much confidence he's playing with right now and how well he's seeing the game. The Red Wings were caught in a pretty bad change here so he had the extra second to set up at the blueline instead of just dumping the puck in and trying to wrap it along the boards. So he takes his time, sees Simmonds break off to a soft spot and absolutely ropes this one tape-to-tape. That puck makes it's way through 3 Detroit sticks before ending up on Simmonds' stick. It's a perfect pass that allows Simmonds to then quickly get that puck over to Couturier for the easy tap in that ended up being a pretty difficult double tap in. Wouldn't want Coots to score any other way. But again, it's the fact that the first pass from Giroux was perfect that allowed that pass to Couturier to get off so quickly. If the pass ended up behind Simmonds or in his skates, he never gets that pass off in time.
By the way, that is now a career high 16 goals on the year for Sean Couturier. Not that a 16-goal season is extra impressive or anything but we're not even at the holiday break yet and Sean Couturier is already having the best year of his career and getting actual Selke considerations that Flyers fans have been talking about forever. Happy for ya, Cooter.
Ladies And Gentlemen, The Robert Hagg Era Has Officially Begun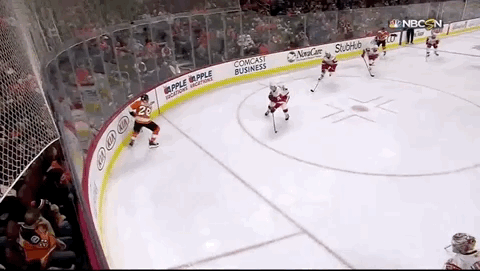 Yes, technically those first two highlights were both secondary assists. It's not even an argument that they were just as important, if not more important, than the primary assists on both of those goals. But now let's take a look at Giroux getting himself an actual primary in this game by setting up Robert Hagg for his 1st career NHL goal.
Dylan Larkin was TORCHING the Flyers through the first 35 minutes or so of last night's game. I've been a huge Larkin fan since day 1 and last night was the night that I finally started to hate him for being a Flyer killer. Larkin and Giroux were clearly the best 2 players on the ice last night and here's Giroux giving the kid a little work along the boards. Quick little hesitation move down in the corner, protects the puck along the wall, sees that he now has 3 players in white jerseys crashing down on him and realizes there will obviously be a ton of open ice for Hagg to step into. Simmonds and Couturier set the screens in front and Jimmy Howard never had a chance. And again, this is what you get with Claude Giroux. It's not a mistake that 3 Red Wings swarmed to him along the boards. He was a threat with the puck on his stick all night. Just the fact that he's one the ice opens up the rest of the ice for everybody else out there and that's exactly what you want from your best player.
The Other Guys
– I thought Nolan Patrick had a really great night and he should get a ton of credit for this Dale Weise goal in the 1st period.
Credit where credit is due, that's a great tuck by Weise. I've made it abundantly clear that I'm not a fan of having him out there with Nolan Patrick but a nice goal is a nice goal. Anyway, Nolan Patrick ends up with an assist on this goal after winning the faceoff back cleanly to Gudas. NolPat went 75% in the faceoff circle last night which led everybody who took more than 1 faceoff. He still only managed to get on the ice for a little over 10 minutes but we all know that Hakstol isn't quite comfortable with having his line out there in tight games when the team needs to make sure they aren't giving up any more goals. But the 10 minutes that he did get on the ice? I think he was noticeable for all the right reasons. Especially in the faceoff circle.
– I've been seeing this a lot out of Travis Konecny in the last few games.
He's getting a lot more comfortable with the puck on his stick and using his speed in the offensive zone. What we've seen from him lately is when he's able to cycle the opposite way and come out to his forehand, he'll usually throw a shot toward the net once he wraps around the top of the circles. But you can see how much his speed impacts the game when he's on the ice. He stretches the defense all out of whack and if he was able to get that puck over to MacDonald(? I think) just a little bit sooner, I think the Flyers would have ended up with a real nice chance there.
– Filppula baby what is you doin?
The Flyers had just scored less than a minute earlier on the powerplay to tie the game at 2-2. Then Filppula just tries to do a little too much with that puck in the corner, ends up turning it over and Nyquist is all alone in the slot. Could Konecny have slid down into the slot and helped stop that goal? Ehhh probably. But we know he's not the best defensive forward and he was also caught in a weird spot not knowing if Filppula was going to get that puck around the boards or not. Either way, the Flyers have been playing pretty good hockey lately. And the reason why they've been so good is because the guys who they need to make plays have been making plays and the guys who they need to limit their mistakes have been limiting their mistakes. This is just a case of trying to do too much.
– Andreas Athanasiou should think about adding some squats to the workout or just finding a weight room in general. Heck of a dive though.
– Overall a really great game that had a lot of energy to it where the Flyers were able to take advantage of a tired team in the 3rd period and grind out a win. Can't ask for much more than that.
At Buffalo tomorrow night. At Columbus on Saturday and then a few days off for Christmas. All I want under the tree this year is to see the Flyers in that 2nd Wild Card position.