Red Sox Sign Mitch Moreland To A Two-Year, $13 Million Deal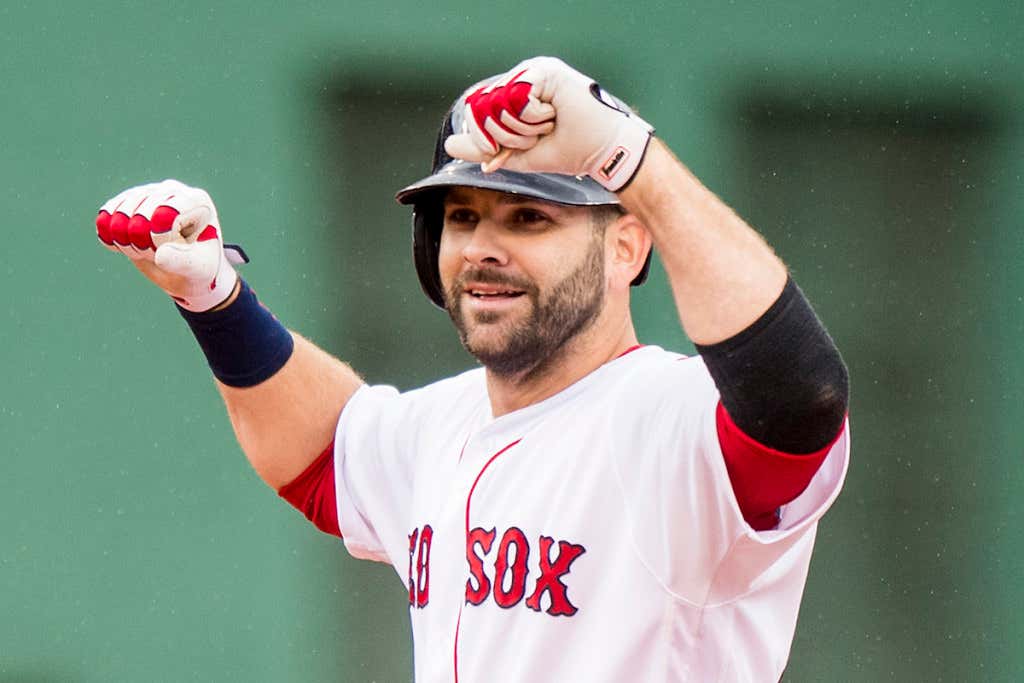 Mitchy Two Years. Don't listen to the haters and losers, of which there are many, who are sarcastically talking about the Red Sox re-signing Mitch Moreland to a two-year deal as some sort of counter to the Yankees acquiring Giancarlo Stanton. That's not what this is. You know what this is? A very smart baseball move by the Boston Red Sox.
With Eric Hosmer out there as the top free agent first baseman on the market, who is also a Scott Boras client likely looking for more than what he's actually worth over a lengthy contract, the Red Sox turned around and gave Moreland $13 million over two years. THIRTEEN MILLION TOTAL for two years. They're paying Pablo Sandoval $18 million in 2018 alone to do absolutely nothing. Moreland for $13 million is a hell of a bargain for Dave Dombrowski, especially if they want to upgrade somewhere down the line over those two years. With such a small financial commitment being made, it won't be a tough pill to swallow an AAV of $6.5 million if the Red Sox want to upgrade before the deal is up.
Is Hosmer the better player? Of course he is. Nobody's going to sit here and dispute that. Plus, Hosmer is younger and has all those intangibles that baseball executives cream themselves over. But let's just say Hosmer gets $132 million over the next six years, would you rather have Hosmer on that contract, or Moreland for two years, $13 million when somebody by the name of Paul Goldschmidt becomes a free agent after that two-year window?
Plus, while we've already acknowledged that Hosmer is the better player and more than four years younger than Moreland, there are a lot of similarities between the two players. Over the last three seasons, Moreland has 82 doubles to Hosmer's 88, and 67 homers to Hosmer's 68. That, and Moreland was a Gold Glove first baseman in 2016, while Hosmer was a Gold Glove first baseman in 2017.
In a perfect world, you'd take Hosmer over Moreland, but when you lay out the contract situations and the fact that an MVP-type player in Goldschmidt is set to hit the free agent market in two years when the Red Sox have the contracts of David Price (if he opts out), Rick Porcello, Hanley Ramirez, Chris Sale, Craig Kimbrel, Drew Pomeranz, Xander Bogaerts, Brock Holt, Joe Kelly and Tyler Thornburg coming off the books, then yeah, I'll take the two-year Moreland deal.
Last, and most importantly, only committing an AAV of $6.5 million over two years to Moreland leaves plenty of spending room for the Red Sox to get something done with JD Martinez, their clear number one target this winter.