Grab Your Spoons. It's That Time Of Year Again For The Inside Lacrosse All-Name Team
If you talk to "diehard" lacrosse fans, there's a few narratives about the sport that they're constantly trying to battle against. The "bro culture", the idea that it's for "rich preppy white kids who were too unathletic to make their JV baseball team", and the list goes on and on. But if there's one thing that doesn't exactly do wonders for lacrosse's public image that even the most uptight lacrosse fan can still get behind, it's the College Lacrosse All-Name Team presented by Inside Lacrosse. So without further ado, here are your 2018 honorees.
First Team
A – Shackleford Stanwick, Sr., Johns Hopkins
Kind of a bitter sweet moment here to kick off the 2018 All Name Team. Since 2009, there has always been at least one Stanwick boy playing NCAA DI lacrosse. From 2009-12 it was Steele Stanwick. From 2012-15 it was Wells Stanwick. And from 2015-18, it's been Shack Stanwick. Unfortunately, Shack is the youngest in the family, meaning this will be the final year a Stanwick is playing DI lacrosse until all 8 of them decide to push out 8 more kids of their own and we end up with 64 Stanwicks playing NCAA lacrosse. But yes. One of the First Families of Lacrosse is officially entering their final year in the NCAA and it's bitter sweet to say the least.
Shoutout to Wells Sr and Dori Stanwick for popping out prodigy after prodigy.
A – Quinn Commandant, Fr., RIT
A damn shame this kid wasn't able to get himself into one of the service academies. Quinn Commandant wins a Tewaaraton or 3 if he's playing at Army or Navy. And I know that "Commandant" and "Commandment" are two totally separate things. But RIT still needs to give this kid #10 and roll with the 10 Commandants pun.
A- Declan Smartwood, Jr., St. John's
I can't imagine Declan's parents were too thrilled when he decided that he'd be going to spend the next 4 years of his life in Jamaica, Queens. Don't get me wrong. I've got nothing but love for the Johnnies. I just don't know if the Smartwood family and their 2 golden retrievers are up to handling the same streets that raised 50 Cent. Great bagels though.
M – IV Stucker, Sr., Roanoke
Most important question here is whether the name is pronounced "IV" like "Ivy", or if it's the Roman numerals "IV" like "Four". Because Ivy Stucker sounds like a pretty hot chick to me. But "Four" Stucker? That right there is a wild card. You never know what you're going to get from Four.
M – Holden Rosen Grupp, Sr., Tufts
The jig is up, pal. This isn't a name of a person. This is the name of a law firm. In fact, I'm almost certain I've heard the commercial for Holden Rosen Grupp on sports talk radio. They're divorce attorneys.
M – Dar Sleeper, Fr., Michigan
If you're not saying the name "Dar" in a pirate accent then I never even want to meet you. Kid also has a Fantasy Football team name set for life with "Sleeper's Sleepers".
D – Sky Dupree, Sr., North Greenville
Here's what makes me happy. For the longest of times, college lacrosse was dominated by kids from Maryland to Massachusetts. Baltimore, Philadelphia, Long Island, New York, Connecticut, Mass. It just went up that northeastern seaboard. Now we're seeing recruits come from all over the country. We have college lacrosse players coming from SEC country and what I'm getting at here is even with the sport expanding out of the classic hot bed areas, the names are still staying just as ridiculous. It proves to me that lacrosse will always and forever breed children with names like Sky Dupree.
D- Taggart Eymer, Fr. Bryant
There are very few things in this world that are guaranteed. But I can guarantee you with 100% certainty that Taggart's parents over here voted for Romney. There's never been a bigger Romney family than the Eymer's.
D – Dallas Creamer, Jr., Stevens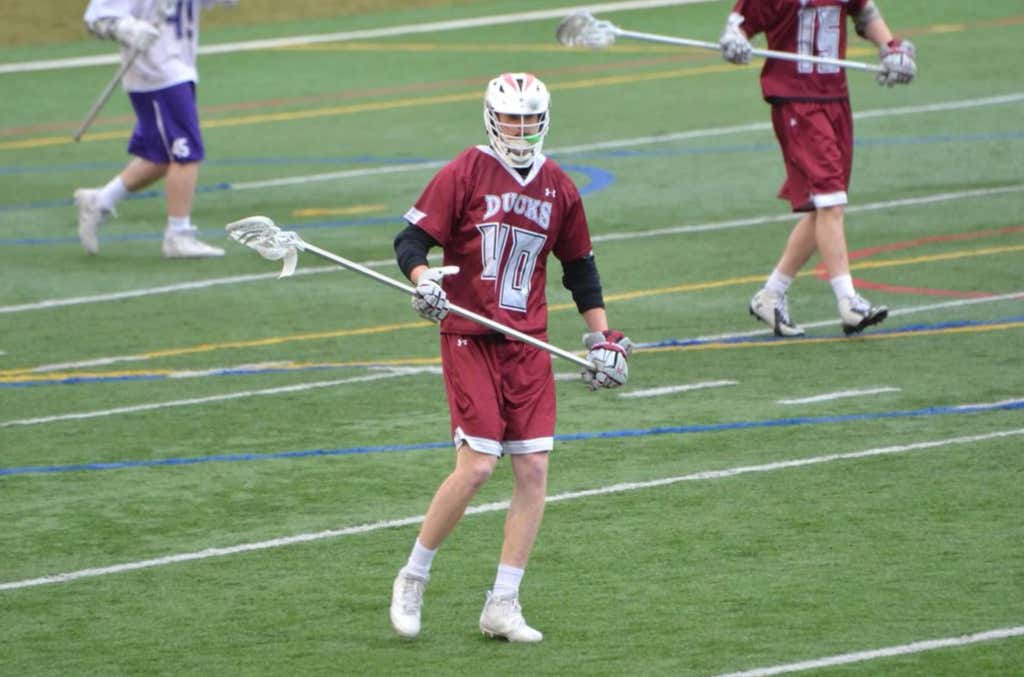 I mean… c'mon. I'm going to need to see a birth certificate on this one because there's no way "Dallas Creamer" is a real name and not a pornstar stage name. But if there ever was to be a real life Dallas Creamer, this right here would be the kid. What a legend.
G – Colby Hamwey, Jr., Assumption
I could be wrong here but Colby Hamwey seems like the perfect candidate to me for being a kid who uses working for his dad's company as a summer internship, already has a position lined up for after college and all he has to do is not screw up by staying out of trouble and doing well in school. But even that proves to be too difficult for him at times. Like I said, I could be making a totally wrong "Assumption" about this particular Colby Hamwey. But I've come across plenty of Colby Hamwey's in my day.
And that does it for Inside Lacrosse's 2018 All-Name Team. A lot of fresh faces on the list with 3 freshmen making the 1st team, 7 on the 2nd team and 8 on the 3rd team. Looks like the competition should be pretty stacked stacked through 2021. And if I'm being completely honest here, I think a lot of those guys on the Second and Third team got snubbed here. In no world should Kadin Knightlinger and Wheaton Jackoboice be considered Second Team names.
You can check out the full 2nd Team and 3rd Team list on their website right here. They also have a Women's 1st, 2nd and 3rd teams as well with names like "Lizabanks Campgna" and "Ursula Fithall" leading the way.