Matt Barnes Announced His Retirement From The NBA On Instagram
I usually wouldn't blog about a basketball player that averaged an 8/4/2 stat line for his career, but as you can tell from the mirror selfie use for a retirement announcement and that sick hashtag game, Matt Barnes is no ordinary basketball player. I mean I don't know if #YourFavoritePlayersOG and #BillionaireBy50 are even close to being within the realm of possibilities, but everything always sounds better in hashtag form. And the Haters must have been fuuuuuurious when those middle finger emojis hit them directly in their virtual eyeballs from a man that at least embraced being the villain. Barnes may have been a journeyman in the NBA, but he is a lock for the Bloggable Athlete Hall of Fame, whether it was the time he said him and Rihanna were potentially an item.
Before Rihanna shot Barnes down on Instagram before Barnes could pretty much finish his last sentence.
The time Barnes did the reverse Ultimate Warrior gif and "chased" after John Henson to the locker room area.
The time Barnes tried to pump fake the ball at Kobe's face which Kobe ate up and spit out.
And of course the time Barnes allegedly beat up Derek Fisher because the Slippery Fish was fooling around with his wife. This story happens to be near and dear to my heart since it was the first time I found out Portnoy read and liked one of my blogs. If this story never happens, there is a chance another very average blogger is in charge of the snack food and Bruno Mars beat here at Barstool. Sliding doors, man.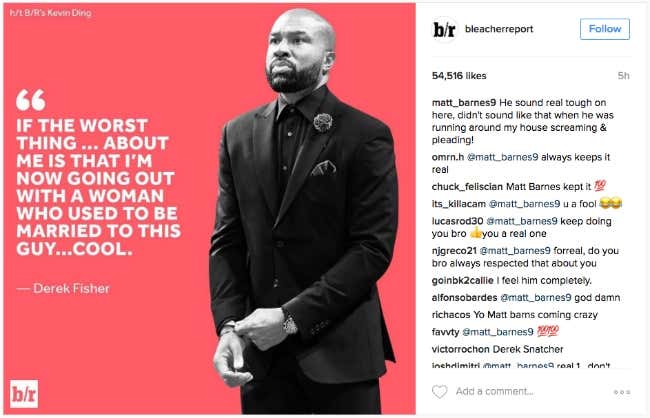 So best of luck in the future, Matt. I hope this is not the last time I blog about you. And something tells me that probablyyyyyyy won't be the case.
P.S. Since you forgot it in your Instagram post, I'll add it here: #OnceAKnickAlwaysAKnick