I'd Like To Officially Welcome You All To The 2017-18 NLL Season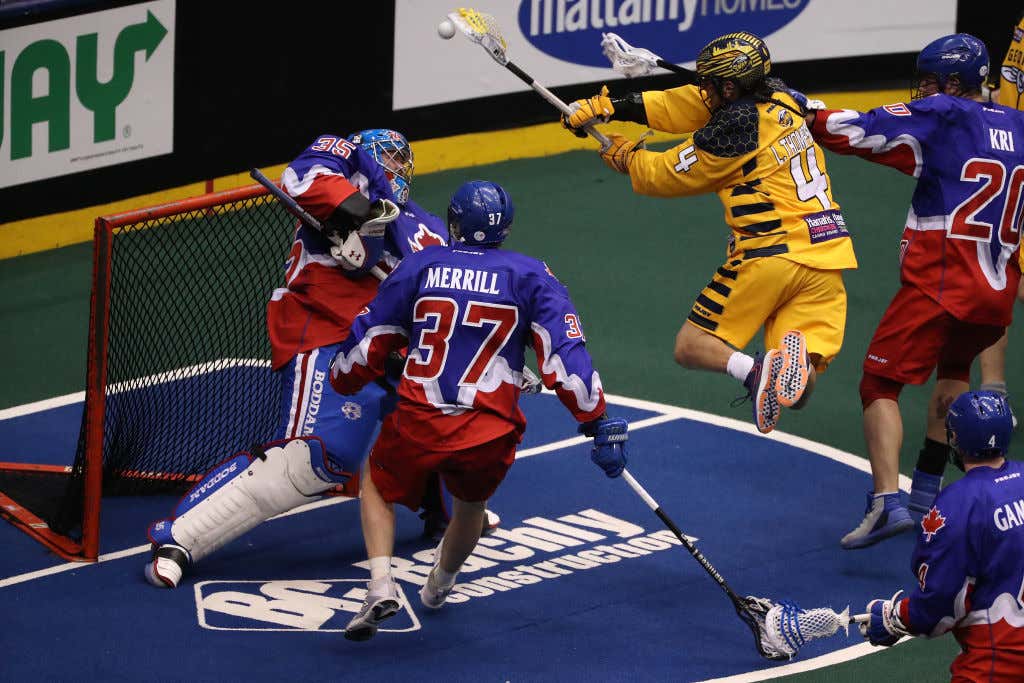 It's here. It's finally here. Today is Friday December 8th in the year 2017 and the start of the 2017-18 NLL season is finally here. 3 games tonight with the defending champion Georgia Swarm up in New England to play the Black Wolves. The Toronto Rock are in Buffalo to play the Bandits (pretty sure this game will be streaming live on Twitter tonight). The Colorado Mammoth head to Canada to play the Vancouver Stealth. And then tomorrow we have the Calgary Roughnecks starting their season against the Rochester Knighthawks. Current Mood:
Alright so listen. I know that right here, right now, this isn't a blog that is going to be doing any wonders on the pageviews machine. But I don't give a damn about that. This blog isn't for the masses. This league isn't for the masses yet. But this is a huuuuuge year for the NLL for taking steps toward marketing themselves to the masses. Why is that? Well because the league is officially in expansion mode right now. We'll have the same 9 teams as before this year with Georgia, Saskatchewan, Buffalo, Vancouver, Rochester, Colorado, New England, Calgary and Toronto. But next year Philly and San Diego come into the league. Another year or so after that, the NLL has plans to add at least another 2 or 3 teams with 5 total probably being the magic number to even the league out at 14. Now it's one thing to just add these teams. The league seems to be taking the right approaches here in finding the best markets and trying to pair up new expansion teams with previously established NHL/NBA organizations. But when you add all these teams, you need to add all the new fans to make it worth the expansion. Which is why I think if you're a fan of lacrosse, now is the best time to make sure that you're getting in on the NLL. Because now they're forced to market themselves as best as they possibly can. You'll start seeing more games being broadcasted on Twitter. I'm sure more highlights and game clips will end up on their social channels as well. You'll start to see better streaming options like the league partnering with CBS SportsLive. Obviously the league doesn't seem to be at a spot yet financially where it can go away from subscription-based streaming, but that probably comes with more fans. So the league is desperate to grab a market and we're all in said market. Kind of nice when a professional sports league actually cares about what the fans want for a change (cough, cough, NHL, cough cough).
As for the actual play this season? I won't lie to you guys. I'm not going to pretend I'm some sort of NLL expert (yet). For a casual fan, the league is hard to follow at times. You either have to catch a game of the week on Twitter or have an NLL TV subscription and then all the games are either Friday or Saturday nights. It's hard to get the bar to plug a Chromecast into their tv so you can stream the game there, especially in a market that doesn't currently have a team playing this year. But my promise to all of you out there is I'll make sure to do the best I can to cover the league this year even if that means bringing the iPad out to the bar to watch Calgary play Vancouver at 9:30 on a Saturday night. And what I can do in the meantime is give you a few names to look out for as the season goes along.
Starting, obviously, with the reigning NLL MVP Lyle Thompson of the Georgia Swarm. 
Many of you probably remember Lyle specifically from that time he destroyed my soul playing some 1v1 at the Lax All Stars North American Invitational. Here's the link to that video is you missed it. Lyle and his brother Miles and his other brother Jerome all play together for the Georgia Swarm (with 4th brother Jeremy playing for Saskatchewan). This family is the key to lacrosse's success in actually becoming the Sport of the Future. I'd say Lyle is the Steph Curry of lacrosse in the sense that it looks like he's playing a video game out there. Every time he's on the floor you know that something special is going to happen and the 3 brothers are always good for at least a few absurd highlights per week. They're fast, they're creative, they're skilled, they have everything you'd look for out of human highlight reels. If you're somebody who is looking to be entertained and to also hop on a bandwagon that'll take you to the championship, then this is your train to jump on.
Speaking of human highlight reels… Curtis Dickson of the Calgary Roughnecks. 
Curtis Dickson is an absolute freak who can beat you pretty much every way possible. As far as crease dives go, you won't find anybody better in the league. So he can beat you by going air born. He can beat you with his dodging, and good luck trying to stop him because he's an absolute savage. And he can beat you with his shot. So considering there's virtually nothing you can do to stop the guy, it makes sense that he led the league in goals last year and was 4th overall in points.
If you're an American looking for somebody to follow… Tom Schreiber of the Toronto Rock. 
Tom Schreiber is probably the best all around lacrosse player in the world right now. Schreiber was the 2016 Major League Lacrosse MVP with the Ohio Machine after they lost in the championship . Then he went up to Toronto to play in his first year in the NLL. He was the 2017 NLL Rookie of the Year and ended the season top 10 in points and assists. And then he ended up winning the 2017 Major League Lacrosse MVP again after this time winning the 2017 championship with the Ohio Machine. So yeah, Captain America is a stud and considering there aren't too many Americans currently in the NLL, Schreiber should be the guy you follow if you're looking to be a patriotic American box lacrosse fan.
The #1 overall pick in the 2017 NLL Draft…. Josh Byrne of the Buffalo Bandits
Byrne is a Hofstra kid who grew up in British Columbia playing box. Last year he was the 2017 Major League Lacrosse Rookie of the Year and ended up being the #1 overall pick in the draft. Obviously Buffalo didn't have a great season last year but you add a kid who knows how to put the ball in the back of the net like Josh Byrne and that adds instant excitement to your roster.
And finally. If you're somebody who will occasionally catch a little bit of pink eye…. Mark Matthews of the Saskatchewan Rush. 
The Rush have been in the last 3 Presidents Cups. They won it in 2015 as the Edmonton Rush. They won it in 2016 their first year in Saskatchewan. Last year they tried to go for the 3-peat but ended up losing to the Thompsons and the Georgia Swarm. And in those 3 years, Mark Matthews has score 115 points in 2015, 109 points in 2016 and 113 points in 2017. 9 of those points came while battling pink eye. So for any of you boys and girls out there who have ever gone through a severe battle with conjunctivitis, look to Mark Matthews as your success story.
There are so many more great players in the league that we could talk about but we'll get around to everybody else as the season goes on.
And oh yeah, make sure to be following @thecreasedive on Twitter/Instagram all season long for news and highlights.