Previewing the Triple Header in College Basketball Tonight in Los Angeles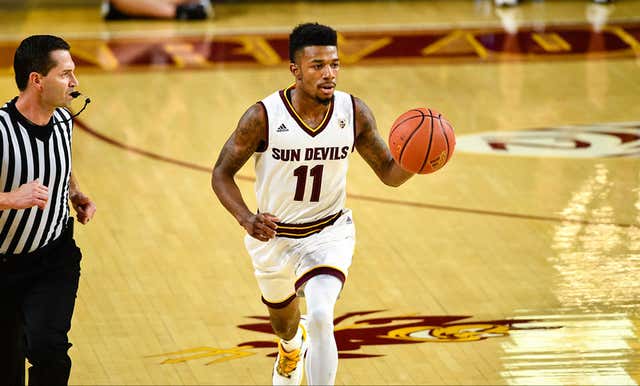 We got ourselves another Hall of Fame Classic in college basketball tonight – seriously, this has to be the fourth version of this thing already. Now, I'm not complaining because we have a pretty solid triple header out in Los Angeles tonight after two night's of just a terrible slate of games. Let's get right into it.
St. John's vs Arizona State – 8:00 pm 
Line: Arizona State -4.5
This is one of the more intriguing nonconference games this year for me simply because you have two programs on the rise with the chance to get a quality win against each other. They are also two teams that will get up and down the court and turn this in to what should be a free flowing game. Arizona State does have a little Florida in them in the sense that they need to hit outside shots to really get going. The one thing I do like about Arizona State, that is different than a Florida or team like that, is the fact they get to the line. The Sun Devils are excellent at drawing fouls ranking first in the country in free throw attempts per field goal attempts. The main reason here is the fact that Shannon Evans and Tra Holder are just so damn tough to stay in front of. They do a good job of driving and kicking, that's where the offense comes from. The moment they get past a defender, the defense has to either collapse leaving an open shooter or try to challenge at the rim, where the guards draw fouls. Combined with the fact that St. John's fouls a lot (ranking 264th in the country), this could lead to a bunch of free points for Arizona State. My question for St. John's is can they score with Arizona State if Marcus LoVett doesn't play? He didn't travel with the team when they played Grand Canyon earlier in the week and is battling a knee injury. Him and Ponds vs Holder and Evans would be all sorts of fun, but if LoVett is out, St. John's needs to find scoring elsewhere. Now, they have been excellent defensively this year rankings 21st in the country in DRtg, forcing turnovers (3rd in the country) and protecting the rim (4th in block percentage). If St. John's wants to beat Arizona State, they need to defend and they need to hit threes. Arizona State will give up a bunch of threes. They rank 336th in the country in 3PA/FGA and 231st in 3pt percentage. St. John's should play inside out, get the ball to Marvin Clark/Tariq Owens and look for the kick after some replacement on the wing. That said I like Arizona State here to win and cover. I think the fact they can draw fouls, they are playing closer to home and the fact that St. John's at best will have a still banged up Marcus LoVett will make it tough to stay with Arizona State offensively. I wrote about the Sun Devils yesterday and how they are only going to get better when they add some wing depth at the end of the semester. This is a legit team.
Oklahoma vs USC – 10:30 pm 
Line: USC -1
The Trae Young show rolls out west here. If you haven't yet do yourself a favor and watch some Trae Young highlights as he's been must-see TV. He's been compared to a bunch of people – but it's unfair to call him Steph or anything like that, however he does have the same must-watch feel as Jimmer did. If you want a comparison for me it's '94-95 Randolph Childress with better passing and not as much of a motherfucker. They both are the same size, shoot similar from the field, are really good scoring off the bounce and creating for themselves. Young is a better passer though averaging about 8 assists per game, while Childress was just a dog and tougher than Young at this stage. That said Young is going to have his hands full tonight. There's a chance USC gets back De'Anthony Melton after he sat the first six games due to eligibility questions stemming from the FBI documents, which have since been proven to have a flaw. Getting Melton back for USC would be critical to add depth with Derryck Thornon nursing a shoulder injury and expected to miss the month of December. It also adds a guy who can impact the game without the ball in his hand – something this team needs as they have talent up and down the roster, but are missing that glue guy which Melton is. If they get him back for this game it just adds another defender to throw at Young who will see a lot of Jordan McLaughlin. USC needs Bennie Boatwright to show up. In the two losses he combined for just 18 points and shot 2-for-12 from the 3-point line. He's a mismatch out on the wing thanks to his 6'11" size, but if he's not shooting the ball it takes away from what USC wants to do. I'm taking USC here. I think they start to figure it out and you see a real defensive effort making someone besides Young beat them. Plus this is practically a home game for the Trojans and McLaughlin tends to show up in these sort of games.
Nevada vs TCU – 1:00 am
Line: TCU -2
This has a great chance to be the game of the night out in LA and it's going to get weird at 1am. Nevada is coming off a game at Texas Tech in which they flat out blew. They had a chance to get a road win over a ranked team and just fell apart late in the game only to lose in overtime after leading for the majority of the game. This is a roster though that isn't a mid major. It has become the new Transfer U with high major talents like Cody Martin, Caleb Martin, Kendall Stephens and Hallice Cooke. They have a ton of athleticism, especially on the wing and they can really shoot the hell out of the ball. Thanks to Eric Musselman the Wolf Pack run an NBA offense. They look to run high ball screens, drive and kick or use a bunch of flare screens to find open threes. They are in the top-100 in the country in 3PA/FGA and shoot the 3-ball at 43% as a team. Jordan Caroline is one of the best 'mid major' players in the country and can be a bit of a mismatch thanks to his rebounding skills at 6'7″ and shooting 37% from the 3-point line. For TCU they got some good news that Alex Robinson is going to play tonight to help solidify that backcourt with Jaylen Fisher. TCU can attack Nevada with Vladmir Brodziansky, who at 6'11′", can step out and shoot the ball. Nevada isn't going to play anyone over 6'8″ and you know Jamie Dixon's teams will be well-coached to attack the mismatch. To me though it's going to be who can defend the 3-point line the most. TCU is just an average 3-point defensive team while Nevada is a good 3-point defensive team. Ultimately, I think that's the advantage here and I like Nevada bouncing back after the loss to Texas Tech.