Herm Edwards Response To Jersey's Arizona State Players Wear? "Is That A Girl's Jersey?"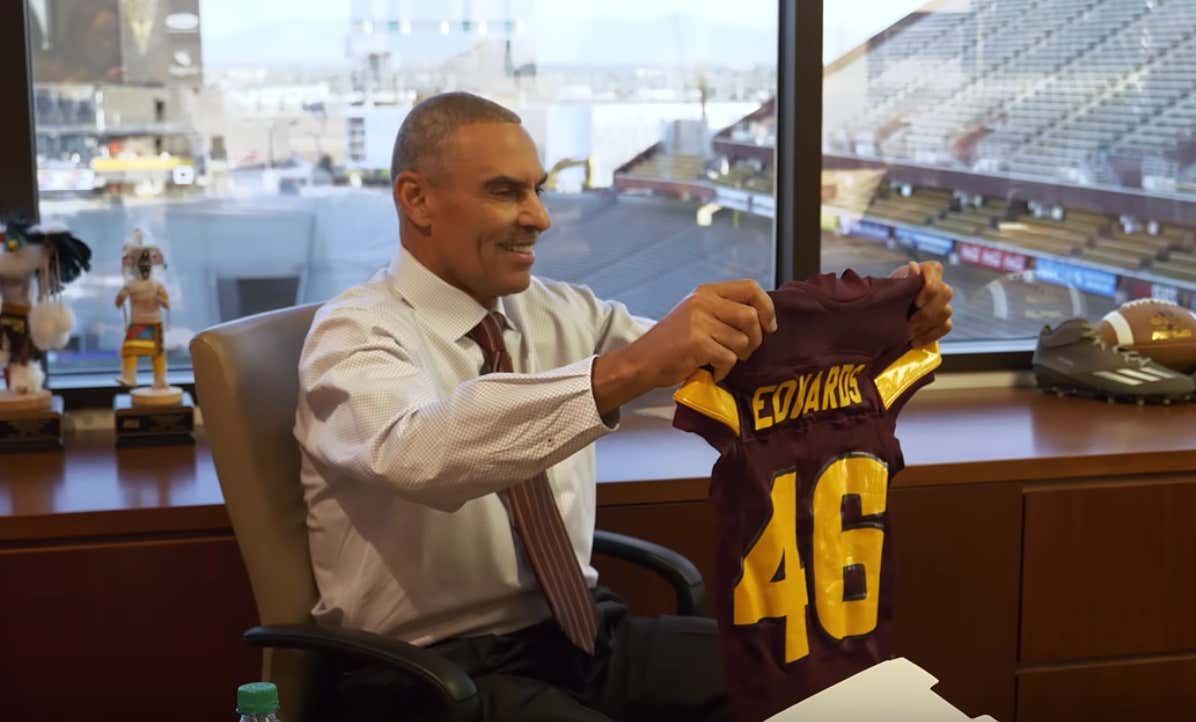 Being the head coach of a division one football program and the president of the United States of America are not as different as they might seem. Both roles require a confident leader, but the biggest similarity lies in the only people who want these two jobs are complete psychopaths. PJ Fleck, Jim Harbaugh, Urban Meyer, Will Muschamp, Mike Gundy, and Nick Saban all come to mind as the king psychopath, but all of them are on a hot seat because of one name: Herm Edwards.
Apparently, Herm Edwards hasn't seen a football jersey in about 10 years.
I am fascinated by a lot of things surrounding Herm Edwards rolling into Arizona State, with no idea about college football or the school he is now coaching at, but the way he says "girls" is at the top of my list.
I'm not exaggerating about Edwards knowing nothing about Arizona State. He had the moment during his introductory press conference when it became apparent that he didn't know ASU's mascot, but his ignorance around the school goes far beyond that. Look at this moment where he has to ask which way the school's logo, which is literally everywhere across campus, goes:
Herm Edwards is a conundrum to me. As a football coach for Arizona State he seems like one of the worst hires in recent memory, but as a content creator, boy, this is the greatest hire in college football history. I have no idea where this roller coaster is going, but I am along for the ride.
P.s. Ready for Herm to replace Butch Jones as the King of College Football Memes:
Just listen to this man talk:
Crazy man.
P.s.s. THIS IS GOING TO BE SO MUCH FUN: