Why The Blackhawks Powerplay STINKS And How It Could Be Fixed
***Authors Note: This is going to be long, its going to be detailed, and VERY hockey nerdy. I know this blog isn't for everyone. This is not your typical Barstool blog, obviously. It's not even going to be your typical Barstool SPORTS blog. There may only be 100 or so people who actually appreciate this. If it's not for you, then simply minimize your browser and leave this tab open because I still want the google analytics to be good.
We are 33 games into the 2017-18 season, and it's fair to say that the Blackhawks power-play is a DISASTER. For a team with a lot of skill that is able to score at a decent rate 5-on-5 there's no reason why the Blackhawks should have the 29th ranked power-play. 29th! Only better than Buffalo and Columbus. While the Blackhawks power-play did look incrimentally better in their last game vs Minnesota, I think it's fair to say that after 33 games it's time to make changes. In this blog we are going to look at what PP system the Blackhawks run most frequently, what makes that system effective for others, reasons why the Blackhawks may struggle with it, and other options the Blackhawks have to improve their PP production. For this blog I talked a ton with my buddy who is a video coach for a major junior team and has worked as a video coach for one of the best college programs in the country. I watched a ton of Blackhawks power plays as well as power plays of teams that are at the top of the league. These are the conclusions I came to. I don't know if I'm right, but I do know what the Blackhawks are currently doing is wrong because they aren't having success, obviously.
The "1-3-1″ Power Play System 
The 1-3-1 Power Play is definitely the en vogue powerplay system at the moment. The top 3 power play units in the NHL right now use it(Tampa Bay, Nashville, and Winnipeg) and so have some of the more successful PP units in recent memory like Washington and San Jose in 2015-16. Denver has run it very well under Jim Montgomery too. The Blackhawks seem to use this as their primary set for the PP this year. The 1-3-1 is popular for good reason. When it's run properly with the right personnel its probably the most dynamic power-play structure because it makes the PK defend essentially the entire zone and it has the most options or releases.
Now I won't lie to you guys, I tried to make fancy computer graphics to help me with this blog, but I stink at computers and MS Paint wasn't much help. So I'm just going to diagram things on a white board and then use still images and gifs from the games themselves. I stink, that's my fault. I'll figure out computers next year.
This is what a 1-3-1 set up looks like
Pretty obvious why its called the 1-3-1. I used L and R to signify optimum shot-handedness, but theoretically the only ones that really matter are the perimeter guys near the dots as they'll be the most frequent one-time shooting options. You do want some shot balance for your interior guys, but it doesn't have to be the way I drew it there.
Now, like I said, almost everyone seems to be running the 1-3-1, so I started to look for commonalities between the teams that do it best.
Washington: Ovechkin HUGE right shot one-time hammer option. Dman up top John Carlson…right shot, or before that Mike Green big time right shot.
Tampa Bay: Stamkos HUGE right shot one-time hammer option. Kucherov is also a big time scoring threat from the other side with a left-shot.
Nashville: Filip Forsberg big time right shot one-time hammer option. PK Subban…big time right-shot hammer option.
Winnipeg: Laine…BIG right shot. Byfuglien…BIG right shot. Trouba…right shot.
San Jose: Brent Burns…you guessed it. A BIG ole right-shot.
Why the 1-3-1 is so effective for those teams is that Penalty-Killers MUST respect and close out on those big, one-time shooting threats from the blue line and the circles because the threat is real. You need shooters than make the other team clench their butt. All of those guys listed are big time butt clench guys.
Look at these examples of Tampa Bay from earlier this year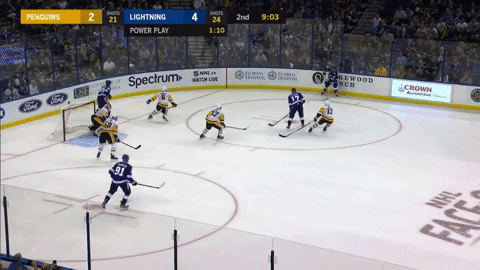 Rust(#17 Pens) has to respect Hedman with the puck and also shade towards Hedman's passing lane to Stamkos which opens up the seam across from Kucherov to Stamkos.
On this one, while it's not a one-timer the Red Wings don't respect Kucherov's shot enough. You can see 51 loop to take away the pass back to the point so Kucherov just waltzes in and snipes it.
When they played about 10 days later…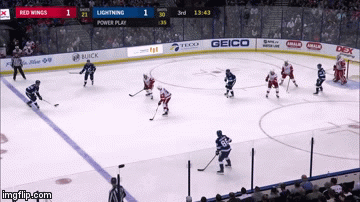 Everyone focuses and closes on Kucherov who then just slips it through the seam backdoor to Stamkos for a cookie one-timer.
And these are just the sets where it uses the big one-time options. There's all sorts of things you can do out of the 1-3-1. Nashville does a really good job of uses quick sets down low(couldn't find a way to make a bootleg gif of this) where the net-front guy slides to the goal line and pops it to the "heart" man in the slot. The point is that the reason the 1-3-1 setup works so well is because it gives you a ton of options and outlets if you have the right personnel to run it.
So now that I've sold you on why the 1-3-1 is so great and why so many teams choose to run it…
If The 1-3-1 Is So Great Why Do The Blackhawks Suck At Running It So Badly
I think there's really two reasons why the Blackhawks struggle with the 1-3-1.
1) They don't have ideal personnel. I kind of alluded to this earlier, but the teams that run the 1-3-1 most successfully are teams that have right-handed guys with BIG shots who can operate from either that left position or from the point position up top. The Blackhawks really don't have a guy exactly like that. Seabrook has a heavy right-shot. DeBrincat has a good shot, but his shot is really more about his quick release and not necessarily velocity. Patrick Sharp would be a candidate there, but again he's not the optimal type guy.
Since other teams don't really respect the shot options from the point because 1) Duncan Keith can't one-time passes from Kane as a Left shot, so they have an extra second to close out on Keith if the puck goes to him and 2) there's not a strong threat from the other side when Kane has the puck. So they miss Panarin in that sense. Not fearing those options means that penalty killers can shade to Kane's side to pressure and take him away, and they also take away the heart in the slot. When the Hawks put the puck into the heart he never has any time or space. Its just a congestion of sticks and bodies and it often leads to a turnover and easy clear. There's just never really any danger.
2) The Blackhawks best offensive players: Kane, Schmaltz, Toews, Saad, Anisimov…they have a natural instinct to hold and protect the puck and wait for things to open up. That's not really what the 1-3-1 is all about. The idea is to get the puck whipping around to get PK stretched, moving, and chasing. If one-touch passes isn't something you do naturally, it's hard to be super successful running a system that works best when the puck is moving.
So, in my amateur opinion, even though the 1-3-1 is the "best" system for a lot of reasons. It may not be the best system for the Blackhawks. To use another sports example to explain what I mean…Oklahoma and basically everyone in the Big12 Conference runs the "Air Raid" offense. Shotgun, spread them out, throw it all over the yard, score a billion points, threaten defenses vertically and horizontally. It's a very effective offense, clearly. You know why Wisconsin doesn't run that? Because they don't have a quarterback or the athletes to make it work for them. They play to their strengths. So their offense isn't as forward thinking or as sexy, but it works and they won a lot of games.
The Blackhawks are running the Air Raid when they should be running the I-Formation. And how do I know the Blackhawks should be running a different system? Great question. A fair question. Answer: because their PP ranked 29th IN THE FUCKING LEAGUE. Time to reevaluate what you're doing.
So The Blackhawks Don't Have Big Right-Shots Or Guys Who Move It Quickly, What Do They Have
What do the Blackhawks have? A ton of THICCCC boys who are strong around the net and who protect the puck well. They may not have the booming shots like the guys I listed above, but Toews, Saad, Anisimov, Hartman, Hayden, Wingels, and Panik(when he feels like it) are all tough and strong boys who can win down low and in front of the net. They also have guys who and make good decisions with the puck i.e. Kane, Schmaltz, DeBrincat, Keith and Forsling.
What's the best system to take advantage of these skillsets? In my opinion it's the Overload/Umbrella hybrid
Explaining The Overload/Umbrella Hybrid
The boring old I-Formation of power play schemes. There are some legit criticisms of this PP look. It's more easily contained and the PK can pressure it more because at some point if things go badly then you're only way to release pressure is to ring it around the boards and that's not ideal. To me though, with the Blackhawks…that doesn't matter. Patrick Kane can allieviate some pressures that most players in history can't do. This PP structure allows him to control the puck more and if you have Patrick Kane that's exactly what you want. And for what it's worth…when the Blackhawks had the best PP in the league in 2013, this is what they ran.
Basic set up.
It's called the overload because you "overload" one side of the ice. Pretty simple. I've set it up on the right side of the ice because that's where the Blackhawks first unit would want it to be because Toews and Kane, are both left shots and they're the key men in this system.
The reason I like this setup so much is because it's essentially run by Patrick Kane. He's the Quarterback. Everything starts with him and Toews. Toews triggers the system by driving towards the net, through the circle. Kane can either pass right to Toews for a quick shot from the slot, he can walk it up the wall, or he can pass it up the wall to Keith. Keith can go back down the wall to Kane at the hash and the play essentially starts over with he and Toews trying to isolate that nearest PK-er in a 2-on-1 OR Keith can go D-to-D and/or walk it over and all of a sudden you're in an umbrella
Now you have a traditional umbrella look with great net presence because Wingels was already there and Toews was already headed there. So you get shots and bodies and chaos towards the net with minimal  chances for turnover because you're not dicking around with the puck too much.
You're also going to attract a lot of focus from the penalty killers with Toews going to the net and Kane with the puck. If they react to that as Kane walks it up the wall that seam pass across to DeBrincat drifts down will open up and that's what DeBrincat does best.
People are probably wondering why I have Wingels on the top PP unit. There's three reasons. 1) The overload calls for a net-front guy at all times. Andrew Shaw used to occupy this spot. Take a beating, cause chaos, bang home rebounds, and most importantly, win races for loose pucks and get it back to the better players. Wingels helps you if you get in a situation where you have to dump it in or if you need to ring the puck around the boards. Wingels can also serve as a back-up faceoff guy in case Toews gets tossed out. I like to have two capable faceoff guys on each PP unit. 3) Wingels has a really good shot. And its a right shot. He can pop away from the net at times to create another one time option right across the goal mouth. Edmonton uses Mark Letestu in that role(and also as the back side one-time option) and it's been very effective for them. Letestu had a career high 11 PP goals last season. As a 4th line guy he only had 3 even strength goals but really excelled at firing home pucks in and around the net on the weak side.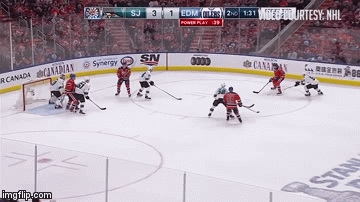 I'd love to see if Wingels could have success in a similar role. The other important thing about Wingels being a right shot is that it does give the Hawks the option to effectively set up the overload on the other side as well if things get bogged down. They could reverse the whole look because they have left and right shot balance.
The second PP unit would also run an overload/umbrella hybrid, but they'd do it from the left side ideally because Schmaltz is the guy running the show on that unit and he's a right shot.
So it's Schmaltz starting things off on the goal line and he's running that initial play with a right shot forward along the wall. If that's Sharp, Hartman, or Hinostroza…I don't really care. They can all do it. I think my preference would be for Hartman. The point man is Forsling because I like a guy who can skate and handle the puck well enough to help with zone entries and also walk the line quickly if you're shifting into the umbrella look. Then you've got your left shot guys being Anisimov and Saad on the back side. Again, they can run the overload themselves from the right side of the ice, they can be weakside one-time options through the seam, and they're both good around the net.
I really believe this overload/umbrella hybrid system better serves the Hawks personnel. That's the key thing. The overload look rewards patience with the puck. Kane is as patient as they come, and there's other guys like him on the team. When you're in that primary set up with Toews and Kane operating between the goal line and the half wall, you're really looking to pass back and forth again and again until that closest box defender loses discipline…then you go and trigger the rest of the system. Same thing when you move it up the wall to the D…you're looking to isolate one defender and it's game of mini 2-on-1s to create lanes and chances. Even the Blackhawks best powerplay sequence from the game against Minnesota came from more of a overload look. This is the system for them. It may not have the highest ceiling like the 1-3-1, but if they can run this system to get the PP converting at a rate where they're in the middle of the league they'll really start to cook and fly up the standings. Then it's dynasty reign time.
Now, I'm just a blogger. I put a lot of work, thinking, and time into this blog, but I could be wrong. I don't know. My buddy the video coach who I referenced in the beginning fo this blog is a big advocate of the 1-3-1, and I understand why, but eventually if you're running a system and that system is running you into the ground it's time to try something else. The overload/umbrella seems, to me, to play to the Blackhawks strengths and natural instincts of their players more than the 1-3-1. I'd love to see them run this system starting tonight in Dallas, but obviously that won't happen. Maybe in 2018. New Years Resolution for the squad…have a PP that doesn't suck. See everyone on twitter.