You'll Never Believe This But The Philadelphia Flyers Men's Professional Ice Hockey Team Has Finally Won A Game
---
It feels like it's been roughly 5 decades since the last time the Flyers won a game. Their last win was on November 9th against the Blackhawks. Since then it's been 10 straight losses where the team had blown a lead in 8 of those games and lost in either overtime or a shootout in 5. It got to the point where the way they were losing games was actually impressive.
10 straight losses. In the 1-month span between November 4th to December 4th, the Flyers went 2-11. But that doesn't matter anymore because after 10 straight games of misery, Flyers fans can finally wake up this morning without considering taking a mid-morning nap on some SEPTA tracks.
Now it wasn't a great win in any sense. The Flyers were outshot 45-21. There were moments when they were absurdly careless with the puck and luckily Brian Elliott was able to hold off just enough to bail them out after a few bad turnovers. But that's neither here nor there. Because when you lose 10 straight, you'll take a win whatever way you can get it.
Hello, Secondary Scoring. Nice To Meet You
One of the biggest issues for the Flyers during that 10-game stretch is they couldn't get anybody going on offense besides the top line of Giroux-Couturier-Voracek. If that line wasn't out on the ice then you knew you could change the channel for a while because they weren't going to be scoring anytime soon. It took him long enough but Dave Hakstol finally realized last night that maybe he should break up the top line to try to get a few other guys in the lineup going. Which led to Michael Raffl having his best game of the season. Raffl had a goal, an assist, and could have very easily had himself another goal if Filppula didn't beat him out by half an inch on that first goal. Raffl didn't have a single point in the month of October. He didn't get his first point until he scored his first goal of the season on the Wednesday before Thanksgiving. He went 41 games between last goal last season and his 1st goal this year. Obviously when you have somebody like Jake Voracek to snap you a perfect tape-to-tape pass on the give&go makes it a little easier to find the back of the net.
And here's something I just want to clear up about Michael Raffl because I've said some not-so-nice things about him over the last month. I love the guy. I think he goes out there and tries hard every night that he's in the lineup. I think he's a real versatile forward who you can plug in anywhere in your bottom 9 and he was even a decent top line guy for a while last year. Has he been disappointing production-wise so far this year before last night? Absolutely. But it's good to see him get going and the entire offense get going as well.
What If I Told You 71 Seconds Was All It Took To Turn A Season Around?
Do I think the Flyers are set up for sustainable success? Absolutely not. There are still too many holes in the bottom 6 of the lineup, the blueline is still young and Dave Hakstol is still a shmuck (more on him later). But for 71 seconds last night, the Flyers were actually enjoyable to watch. 3 goals in under 2 minutes. Laughton, Raffl and Simmonds. All 3 guys who have been snake bitten for the majority of the season, giving the Flyers a little jolt of life that we haven't seen from them in a while. And I'd say the best thing about those last 2 goals was Voracek making it happen both at 5v5 and on the powerplay. I really believe that Voracek is the most important piece to the Flyers offense. Couturier has proven he can score this year. Giroux is going to get his points. But when Voracek is on his game it seems like he gets everybody else around them on their game as well. That assist to Raffl immediately followed up by this slap-pass to Coots to set up that goal is what I'm talking about.
Like I said, I still think there are way too many flaws with this Flyers team to bounce back completely and they might have dug themselves too deep of a hole already. But keep in mind that the last time the Flyers lost 10-games in a row, they went on to the Eastern Conference Final. I'd just remember those 71 seconds if I were you.
Finally, The Lead Gets Blue Balls
The Flyers have been known for blowing leads this year. That stems from a combination of lack of mental toughness, lack of confidence, frustration and just being a pretty lousy team. Pretty much any time the Flyers are up by 2-goals you can count on an overtime loss coming up. And as soon as Sean Monahan scored to get the Flames back to within 2 right before the end of the 2nd period, Flyers fans everywhere were expecting the final shoe to drop. I had a little bit of faith in the boys holding on to a 3-goal lead in the 3rd but for sure not a 2-goal lead. But then something miraculous happened. Instead of letting the momentum completely take over and continuing to shoot themselves in the foot, the Flyers came out in the 3rd and scored less than 2 minutes in to get the lead back up to 3.
That was goal #2 on the night for Laughton. But watch Jordan Weal here take a look to the slot and realize that Laughton is there to crash the net right before he goes for the wraparound. He knows that all he has to do is get it on net and Laughton will be there for the rebound. I said this last night. Jordan Weal isn't great by any stretch but he makes this team better when he's on the ice. Whether that's by skating 400 miles per hour or making plays like this. The fact that Dave Hakstol would ever healthy scratch Weal for a player like Jori Lehtera or Dale Weise just goes to show how idiotic he is when it comes to talent evaluation.
Speaking Of Dave Hakstol….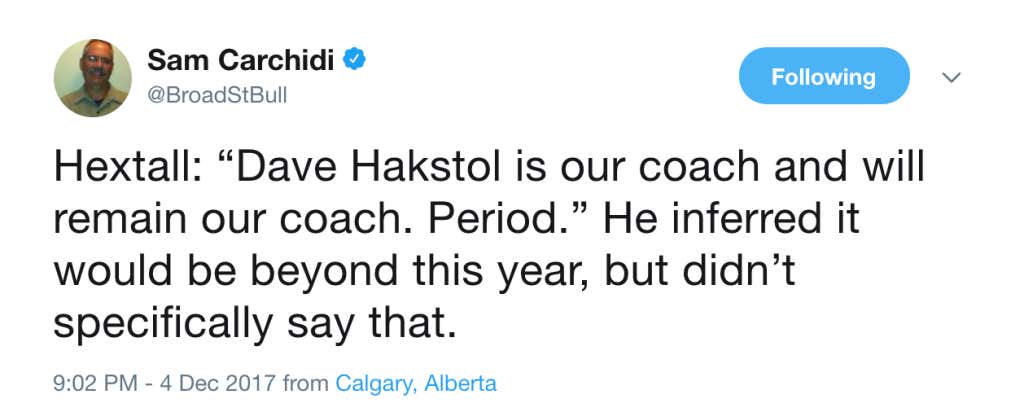 Before we even get going here–no, I do not want to actively root for a guy to lose his job. Outside of hockey, Dave Hakstol is a human who has a wife and kids and a life of his own. Outside of hockey, I'm sure he's an incredible guy and nice as could be. And I especially don't want to root for a guy to lose his job right around the holiday season even though it's not like he'd be losing a 25K per year gig. But the NHL is a business and sometimes you have to put human compassion aside. So with that being said…
Dave Hakstol will play absolutely zero role in the future of the Flyers' success. Why Ron Hextall is so hell bent on defending this guy is beyond me. He's done nothing so far in his 3 years here in Philly to prove that he's worth this level of confidence from the GM. In my opinion I think this is Hextall being a stubborn jackass and refusing to admit that maybe he was wrong when he hired him in the first place. The reason Hakstol was brought in was because the Flyers had a great group of young talent in the pipeline and Hakstol was going to be the guy to develop them. What he's done since he was hired is destroy every ounce of confidence these young players have in their body. Travis Konecny played 10:12 against Boston on Saturday. Last night in Calgary, he was only on the ice for 7:56. Hakstol seems to play favorites and always seems to prioritize the "veteran who works hard in practice" over young talent that can actually help the team in games. He did it the last two years with VandeVelde and Bellemare. He's been doing it this year with Dale Weise and Jori Lehtera. The only defense that people can come up with for Hakstol keeping his job is either A) "He has a young roster, what's he supposed to do with it?" or B) "Yeah but who knows if his replacement would be any better".
I'm sorry but if those are your only excuses to hang on to a guy then he needs to go because those are weak. Yes, the Flyers have a very young roster. Patrick is 19, Konecny is 20, Provorov is 20, Sanheim is 21, Hagg is 22. Laughton, Leier, Gostisbehere, Couturier are all under 25. But like I said, Hakstol was brought in here to develop that young talent and you can't point to any player on this roster right now and tell me that Dave Hakstol has done anything to make them a better player. Provorov is the only one who we've seen any significant growth out of so far and he would have turned into a stud already with or without Hakstol. It's just bizarre to me that Hextall seems to have dug his feet so far into the ground here to defend a guy who hasn't done anything. Would any replacement coach be able to do a better job? Honestly nobody knows. But if the Flyers don't fully buy in to a rebuild then I'd rather see if a coaching change can turn this season around before the team thinks about breaking up the core. Losing Hakstol would have the least amount of negative impact on this team. And again, it's nothing against Dave Hakstol the human being. I'm just thoroughly convinced that Dave Hakstol the hockey coach is not the answer for the Flyers.