Will Alain Vigneault Survive Halloween Night At MSG?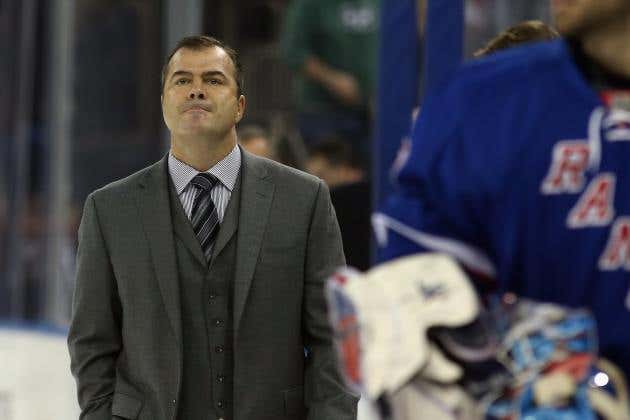 Regardless of the Rangers extending Alain Vigneault through 2020 at the beginning of this year, his coaching seat has never been hotter. Despite all the off-season moves that seemed to be for the better, AV has simply failed in making anything of them. Granted, this is not the perfect roster. There's a significant hole down the middle & not a single defender has played up to expectations. But the best head coaches find a way to get the best out of their players. Instead, AV insists on pulling his lineups out of a hat nightly. There's no semblance of trust in his youth. No leash given to atone for mistakes. Teammates aren't afforded the opportunity to generate any chemistry. With the expansion Golden Knights rolling into MSG on the tail end of a back-to-back with their 4th string goalie tonight, you gotta wonder if one more Rangers L could be all she wrote for Vigneault's tinkering ways.
The Blueshirts have managed a mere 8 points over their first 12 contests – 9 of which have been at home. To finish the season at 95 points (which is what Boston & Toronto squeaked into the playoffs with last year) then NY needs to play at over a 100-point pace the rest of the way. Impossible? No – but with a trip to red-hot Tampa kicking off November, I'm not sure how a head coach in his 5th year survives a loss to a hodge-podge of castoffs & goalie who coughed up 4 goals on 11 shots in his NHL debut just 24 hours ago. Especially in this market. Whether or not Lindy Ruff is the assumed Plan B or there's another name out there is irrelevant. If AV has lost this team, any interim voice is better than one falling on deaf ears.
Can't criticize Vigneault & not the guys on the ice though – starting with the captain. Man, Mac has been bad. After losing his anchor in Girardi, #27 was supposed to vault into the upper echelon of defensemen. He's struggled big time though & regardless of partner he hasn't gotten much help. Skjei while Smith haven't gotten going & Shattenkirk is really making the "he can't play D" crowd look good. The paper improvements haven't translated to the ice at all which has once again left Lundqvist exposed to a ton of high-danger chances. Although Hank's done a solid job kicking out the tough pucks so far, he's struggling even moreso than last season with the low/medium danger stops. If you shoot at or behind his goal line, you're scoring. The defensive giveaways leading to prime scoring opportunities are as deflating as the low percentage shots regularly finding their way into the net.
It looks as though Vigneault is going with what most fans feel is close to their best lineup possible tonight. Buchnevich & his 8 points in 12 games finally get another crack at top offensive minutes next to Zibanejad & Kreider. Kevin Hayes looks to be in a more offensive-minded spot between Nash & Zucc instead of his usual 3rd line defensive role. The Blueshirts two top even-strength point producers (Desharnais & Miller) will skate with Vesey while Grabner, Fast & Boo assume 4th line duties as they should. Plus he's got his top 4 defensemen actually paired together in the top 4. Leave it to AV to wait until he's potentially on the cusp of unemployment to finally do the right thing. Let's see if it'll save him, let alone the Rangers season.