Quick Thoughts On The Blackhawks Disaster vs The Blues
If you missed the Blackhawks game because you were watching the Cubs be thankful because last night was a awful to watch. It's a long season. 82 games and 6 months of hockey. It's important not ride a roller coaster with every single result. Don't want to get too high or too low and say something stupid and reactionary. One loss on October 18th won't mean anything and won't even be remembered a couple months from now. Having said all of that…the Blackhawks SUCKED last night. It was terrible to watch.
1) The reason I am angry today is maybe because I am just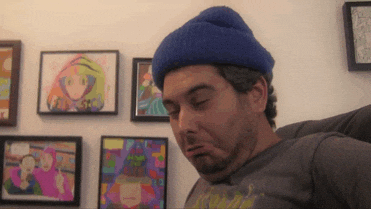 For all the changes to the roster and the bluster from Stan, last night looked a LOT like what we saw vs Nashville. The Blackhawks had the puck a lot, but it was meaningless possession on the perimeter. You have to fight to get inside against good defensive teams like STL, you have to fight to maintain possession in the zone, you have to fight to control the blue lines. There was not much of that last night. The Blues blocked a ton of shots and the Hawks didn't really adjust or compete until they were down 4-0 with like 12 mins to go in the 3rd.
2) I am sick and fucking tired of losing to Purdue!!
Nashville, Minnesota, and St Louis…those guys are Purdue. The Blackhawks last 7 games against the Purdues of the Central Division going back to the Nashville series last year the Blackhawks are 1-6. And that win vs Nashville this year wasn't a good performance either. Last night was divisional game against a rival on national tv after 3 off days with a fully healthy lineup and they got smoked. Can't have that.
3) With Schmaltz back in someone had to sit and last night it was Tanner Kero moving from the 4th line to the press box. Bouma-Wingels-Hayden made up the 4th line. Those guys are an energy line. If Bouma is going to be in the lineup every night like he has been then he needs to find a way to impact the game. Now, he did do that in the game last week again Nashville. I didn't see it last night. 2 hits and only 9 mins of ice. The Hawks needed a jolt last night and he didn't bring it from my view. Wingels has been a real nice piece to the puzzle this year. Really like the physicality, effort, and his special teams value. Having said that both Wingels and Hayden were a -3 last night. People hate +/- and I do too, but when you're on the ice for 3 goals against it wasn't a good night. Wouldn't mind seeing Kero back in and Wingels in the LW spot tonight vs Edmonton.
4) I'm a positive guy by nature, and I do believe in this team so it's time to pluck some good vibes from last night. Alex DeBrincat got his second goal of the year. He's a tough bastard. I feel like he gets absolutely smoked by a guy twice his size at least once game when he has the puck in the corner. He just pops right back up. He will eventually learn to anticipate threats out there a little better and protect himself and the puck. For right now though him simply getting up and continuing to compete is a good thing. I like Sharp and DeBrincat together. They seem to read each other well and they both play hard.
5) Corey Crawford was really good again. I don't have the exact numbers, but it felt like the Blackhawks gave up a good number of high danger chances and Crawford answered the bell. The score could've been a lot uglier. Aside from the second goal where he kinda got caught in no-mans-land between coming out and sitting back he was very solid.
I expect a much better effort tonight against Connor McDavid and the Edmonton Oilers. Bounce back game against a team that many expect to be a contender in the Western Conference, but the Oilers have lost 4 straight games. I wouldn't be surprised if Joel loaded up the defense pairs with Keith and Rutta playing together against the McDavid line. The Oilers are a bit of a one line team so far this year so maybe putting your best two D against that Draisaitl-McDavid line is the way to go. Edmonton only has one win on the season. Should be two hungry teams. I'm ready for blood, I hope for the Hawks are too.
PS: It was awesome having Eddie O back in the booth last night. In the past I would get a little tired of Edzo just simply because he calls 95% of the games I watch between the Hawks and the national broadcasts. I'll never lack an appreciation for him again. Hawks games are way better when he's involved. He's calling the game again tonight with Pat Foley and I can't wait. Love Edzo.