Nightmare Scenario- Couple Finds Hidden Camera Disguised As Smoke Detector In Airbnb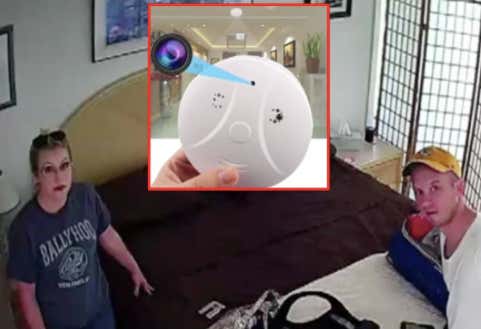 Source - An Indiana couple visiting Longboat Key, Florida, found an unnerving surprise in the master bedroom of their Airbnb: a hidden camera disguised as a smoke detector.
Derek Starnes told WFTS that he noticed a small, black hole on the side of a smoke detector in the room. When he took it down to get a better look, Starnes, who works in tech, realized the hole was a camera. The camera was pointing right at the couple's bed.
Starnes then called the police, who later arrested homeowner Wayne Natt, 56. Natt has since been charged with one count of video voyeurism, WFTS reported.
Natt told police that the camera was used to record sexual activity, according to Bourque, who added that Natt said he hid the camera in the smoke detector to get "a better angle." Natt also claimed renters knew they were being filmed, according to Bourque.
Prior to his arrest, Natt had more than 40 reviews on Airbnb and had been on the home-sharing site for two years, according to WFTS. 
There have been a lot of Airbnb horror stories in the news lately. But the story of Wayne Natt of Longboat Key, Florida tops them all. Next level creeping. Craziest part was he didn't even think that he was doing anything wrong. He legitimately just wanted a better angle. A pretty big ask for a voyeur. It's either quality or content. Once you start fiddling around with lights and angles the whole feel is ruined.  Which for Wayne is a pretty big problem considering his whole operation is illegal and will result in a stint at the Florida House Of Corrections.
That said, it's great that Derek was able to find the camera. But he must be an absolute nightmare to travel with. If I walked into a hotel with someone and they checked the fire alarms I'd turn around and walk out. Even if it resulted in finding a  camera I wouldn't want to know. As long as I don't run into myself on the internet you can wire the whole place. Just don't ruin my vacation.
There's probably millions of hours worth of secret Airbnb tape floating around. People walking around naked, doing it on kitchen tables. I'd investigate, but I don't fuck with the dark web. Even if I knew I was out there I'm not going to worry about it. No one's watching my tape.