Luis Severino And The New York Yankees Force Game Five HOLY SHIT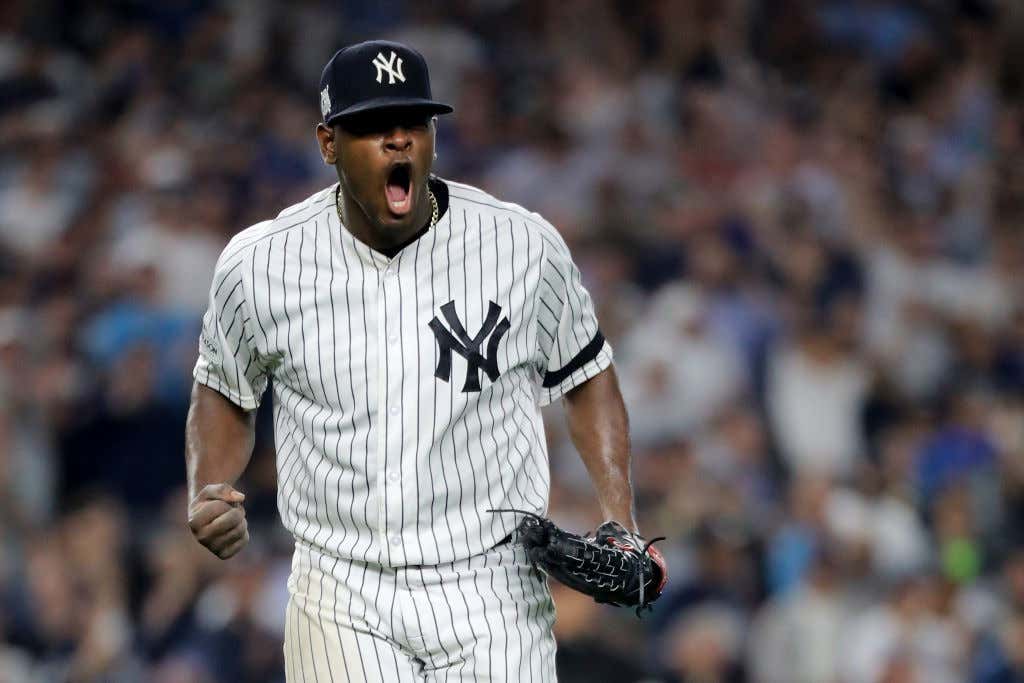 LUIS MOTHERFUCKING SEVERINO. Anyone who thought his Wild Card performance was going to be a thing for the rest of the playoffs is an idiot. He could not have come out and set the tone anymore than he did. He was breathing fire from the get-go and using the crowd's energy to fuel every 100 mph pitch he uncorked. Overall, he was brilliant, going seven strong, giving up just three runs, while striking out nine and walking one. The Yankees needed him badly to finish that 7th inning and take pressure off of the pen and he did that just that.
That's what an ace does. He takes the ball in elimination games and wins you the game. Chris Sale did not do that today. He's a bum (sorta).
What really helped Severino was the Yankees offense, which provided him with a big time cushion early. Todd Frazier delivered in the 2nd with a big time double to left to get the Yanks on the board.
After an Aaron Hicks single that knocked Frazier in, the Yankees grabbed a 2-0 lead. Aaron Judge decided to get his first hit of the ALDS a few batters later and extended the lead to 4 with a huge two run double.
Judge can't hit in the clutch right? Judge can't do this, Judge can't do that. SHUT UP. That was a GIGANTIC hit.
The Indians chipped away a little with a two run shot from Carlos Santana as well as a Roberto Perez solo shot to make things nerve wracking. Out of nowhere the lead was down to 5-3. In the bottom of the 5th Todd Frazier was able to tag on a shallow fly ball to second baseman-converted-center fielder Jason Kipnis. Because it was Kipnis out in center Frazier knew he could beat out the throw and he barely did so, giving the Yanks a massive insurance run for later on.
Gary Sanchez put a ball over the right field wall an inning later to give New York a 7-3 lead.
You just never know with this Indians lineup and the way Girardi has handled these games lately so I'll take every run I can get. There's no such thing as take on runs, these are all so important.
Severino was able to finish the seventh and hand the ball over to the pen to get the final six outs. Girardi gave the ball to Dellin Betances (a move which was completely fine) but Dellin was horrendous. He couldn't throw a fucking strike if his life depended on it. I no longer want to see Dellin Betances in any playoff game for the rest of the year. He was booed off the mound, and rightfully so. Girardi pulled the hook on Dellin after two batters and brought in Tommy Kahnle to limit the damage. Tommy Boy was ELECTRIC, getting Kipnis to strike out, Ramirez to fly out, and Jay Bruce (who the crowd clearly let know sucks) to strike out. Kahnle and the stadium were fired up. He brought the fire.
Kahnle was absolutely rolling and Girardi let him pitch the ninth since it was the no-brainer move. And Kahnle rewarded his manager by striking out the goddamn side.
Tommy Kahnle. That's the man we traded for when the Yanks shipped out Blake Rutherford and others. Yeah David Robertson and Frazier were in the deal, but Kahnle is the man we wanted. This was why. The slowest fastball the Yankees threw tonight was 96 mph.
Now we head to Game Five in Cleveland Wednesday night. CC Sabathia against Corey Kluber. The Yankees bullpen is fully rested with Chapman, Chad Green, and Robertson having the night off. You can get five innings alone from those three. Despite getting six outs tonight, Kahnle only threw 22 pitches because he's an absolute maniac. He'll be able to give you an inning. Dellin Betances, however, might not be allowed in the stadium. He's a lost cause and I want no part of it.
For whatever reason, Terry Francona used almost every single pitcher he had tonight.
I mean with the day off most of these guys should be available, but it was still pretty weird. I guess when you have Corey Kluber and Andrew Miller it shouldn't matter. But you know what? Anything can happen in a Game Five. ANYTHING. Game Five is going to be as nerve wracking as possible. CC needs to be a goddamn horse and get us five innings. That will set the rest of the bullpen up. Last time CC pitched in the Game 5 of an ALDS he did this…
I cannot believe we're here. The Indians have lost two games in a row for the first time since late August. The Yankees have forced them to the brink. In actuality this series should be over (thanks Girardi!). But I'll gladly take the situation we're in considering how good this Indians team is. Let's buckle for Wednesday.
P.S. We'll be doing another watch party in NYC so be on the look out for a tweet about that. Can't wait baby. Carsten Charles Sabathia.