2017 NBA Season Preview Series: Brooklyn Nets
Alas, it's time to talk about Brooklyn. Now this is an interesting topic for yours truly, as now my rooting interests in this team have completely flipped. I want them to win, win every damn game they play. Quite the change from last year where I found myself repeatedly getting irrationally mad at teams that would not beat them. You may be saying to yourself if you're a Nets fan there's no reason to be excited about this season, and I won't say you're 100% wrong, but allow me to spin this shit for you.
2016-17 Season Highlights
The Brooklyn Nets wasted no time this summer in their attempt to recover from the pain of watching their #1 pick go to Boston, and then end up in Philly. Safe to say any of those top guys would immediately help a team that had the fewest wins in the NBA last season (20). In fact, they still were able to bring in a #2 pick on their own, executing the D'Angelo Russell/Timofey Mozgov trade on June 20th. Sure it cost them their best player in Brook Lopez, but this trade was basically the Nets attempt to have us all take them somewhat seriously. Then they brought in Allen Crabbe from Portland, and wait a second, are the Nets actually going to be somewhat decent? Well, let's look at their current roster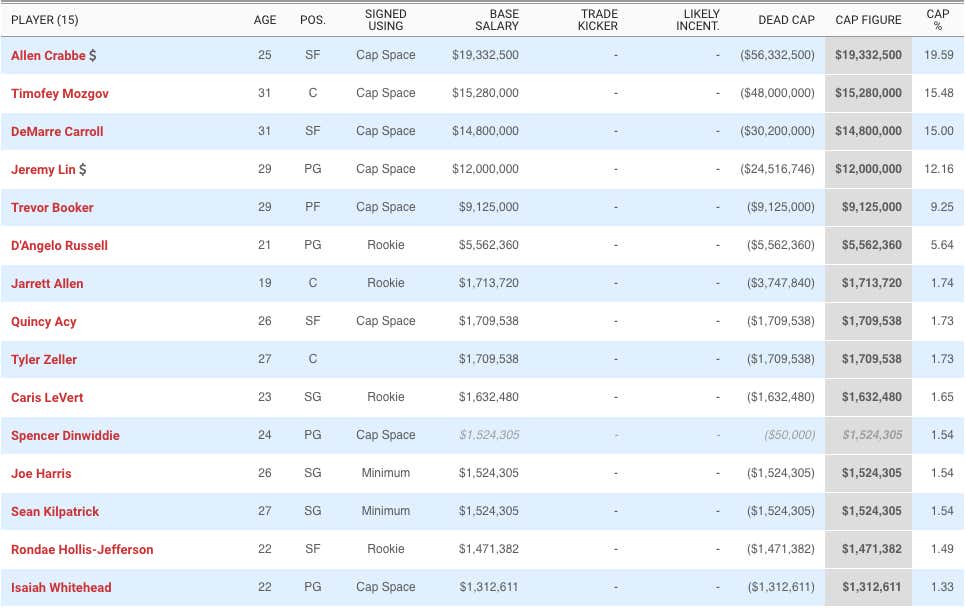 This is the 22nd highest team salary in the league at $90,222,044. That's not so bad, but also hilarious that they are still being penalized for Deron Williams and Randy Foye, two guys who aren't even on this team anymore. It's no secret this team desperately needed shooting. They were 24th in the NBA in overall FG% (44.6%) and 26th in 3P% (33.8%). Enter DeMarre Carroll and his career 44/36% splits and Allen Crabbe and his 45/41% splits. That is an immediate upgrade over whatever trash the Nets threw out there last year. Sure maybe Crabbe is extremely overpaid, but he does fill a need. Expect a lot of this
Last year Carroll didn't have the same injury issues and played 72 games, but his question will be can be produce like Atlanta Hawk DeMarre Carroll and not Toronto Raptor DeMarre Carroll. He does help from a defensive perspective as well when healthy, but he is 31.
Now maybe this was just primarily Celtics fans, but as a whole I got the sense that pre Kyrie trade, we all accepted that the Nets were going to be bad. Real bad. But once that pick became property of the Cavs, all the sudden the Nets were going to be pretty good! I feel like I saw a few hot takes on Twitter that they could even make the playoffs in the East! To that I say pump the breaks. Let's look at this realistically.
I think a lot of that excitement comes from how the Nets finished the season. A lot of their early season struggles were mostly due to Lin missing time and not really having a quality NBA point guard to help fill that role. Once he came back, they went 11-15 post All Star Break. Their defense during this stretch went from allowing 114 points a night to 108. That's not still not great but it's a whole hell of a lot better. Imagine going 1-25 in Jan/Feb and then having that sort of finish. Who wouldn't be optimistic. If the Nets were able to maintain that winning% over the course of an entire year, it would put them at 34 wins, which would be a 14 win improvement. Basically that would be slightly better than the Knicks and slightly worse than CHA if we were going by last year's records.
Please let this happen. Please.
With the Russell trade, it's safe to assume the starting backcourt is going to be Lin/Russell. One of these dudes is going to have to play off the ball, and that presents it's own set of challenges. My guess is it starts out being Lin. Now in his career, Lin has been most effective with the ball in his hands. Put him in more of a spot up role, and I'm not so sure he's going to have that same success. He shot just 36% in spot up situations last year. He doesn't have a ton of experience coming off screens, is a decent catch and shoot player (41/39% splits), so it'll be interesting to see how he translates if he's in fact the one playing primarily off the ball. I will say this though, there doesn't seem to be a difference in his shooting percentage when you take away his dribbling With 7+ dribbles he shoots a respectable 44.1% from the field, and 44.0% with 0 dribbles. Maybe it can work.
If my goal is to win, I'm not putting Russell off the ball. He's not a good enough shooter, but at the same time he's also pretty terrible in P&R offense (41st percentile). That's why this trade didn't really move then needle for me. I get the Nets want Russell to be their PG of the future, but I would argue right now he's a worse PG than Lin, and this trade now moves Lin off the ball.
The other big piece to how good the Nets can be, is will Rondae Hollis-Jefferson take the Year 3 jump. He still can't shoot, but he is for sure a legit defender. His advanced metrics are a bit intriguing, for example Per 100 he was at a solid 18/12/4/2/1.2. The problem is, they just brought in two players that play his position. He started 50 games last year, so who knows how he'll respond to going back to the second unit. The same could be said for Trevor Booker who had somewhat of a breakout year last year too. He started 43 games, but my guess is that four spot goes to Carroll. You could argue that the players the Nets brought in are better, so this will actually be a good thing, but you never know how fragile NBA players will respond.
On the surface, it feels like the Nets should be much improved, but this is still a team that gave up 112.5 points a night, and didn't get THAT much better defensively. Offense was never really their problem, the 105.8 they put up last year was the 5th highest in the conference, but they were the only team in that Top 5 with a negative point differential. Of the players expected to start, three of those players had a Drtg last year of at least 113. The other two were at 109 and 108. To me this says the Nets did not really address their biggest problem, and for that, I cannot fully buy the "hype".
Official Greenie Prediction: 26 wins