The Orioles Season Is Over, So Let's Reflect On The Positives - Schoop, Manny, And Mancini...Plus Ubaldo Is GONE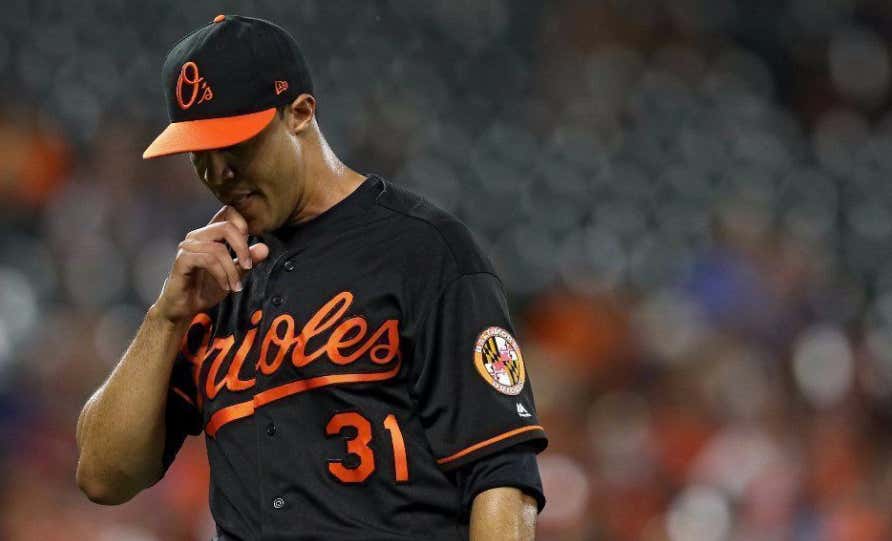 Thank god that is over, right? Most of the Orioles seasons since 2012 have been great, the even years mostly. 2012, 2014, and 2016 was just great to watch and root for. 2013 and 2015 were still decent to watch, but no doubt they were frustrating at times. This season was just a trainwreck, an absolute trainwreck. It honestly felt like any of the losing seasons they had from 1998 to 2011. You know the story of this years club, they had the best record in the MLB halfway through May at 22-10, and from there they went 53-77. Just absolutely fell off and looked like crap. The Blue Jays were in last place for 161 games, only to watch Baltimore drop into the basement of the AL East on the very last day of the season. It's been awhile since I could say this, but I root for a last place team. Coming into this year I would have had you drug tested if you would have told me that Baltimore would be last in the division. But there they are, sitting last with a 75-87 record and a losing record for the first time since 2011. It's clear they just weren't that good this season. They overperformed in years past, and it finally caught up to them this year.
Where did it all go wrong? On the mound, shocking right? But let's be real, not all was lost this season for the Orioles, a lot was lost, but not all. Some good did come out of it. Let's take a look at what went right for the Birds this season.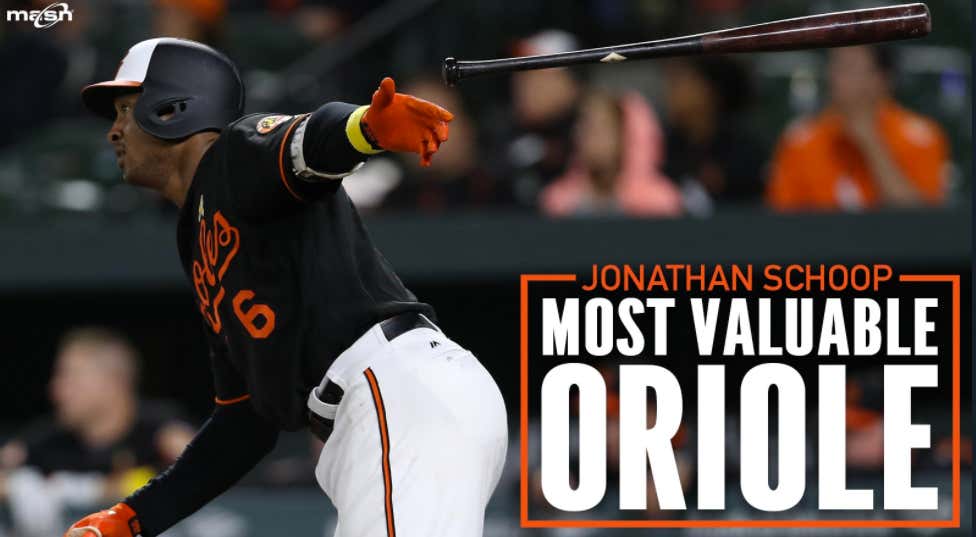 Young Guns
We know about Manny Machado and the type of player he is. Young guy with all the talent in the world. If you aren't a baseball junkie, or don't live in Baltimore, you probably didn't know how good Jonathan Schoop was, well now you do.
Schoop set career highs in almost every offensive category. Runs (92), hits (182), at-bats (622), HR (32), RBI (105), AVG (.293), OBP (.338), Slugging (.503), and OPS (.841). He was just great. Made his first All Star team, and was the only representative for the Orioles in Miami. Well deserved for the most underrated guy on the club. He has arguably the best arm in any infled arcoss the league, yes better than Manny and Nolan Arenado, and has insanely soft hands. You take a look at the size of the guy (he's listed at 6-1, 195 lbs but he's prob closer to 6'3 205), and you don't expect him to make some of the plays he does in the field. The way he turns double plays does something to me. In the AL where there seem to be a million stud second baseman, I'm glad Schoop is getting his due, and rightfully so. He is going to be a guy that the O's have to look at locking up soon, and maybe they should try and get his bff Manny to stay too. In the terrible year that was the 2017 Orioles, Jonathan Schoop was easily the brightest star. Pretty wild that he could be a gold glove caliber fielder and still hover around .300/35/100 at the plate.
Besides for Schoop, the one guy on offense who really had a great year was my guy, Trey Mancini. A friend of the program here at Barstool, Mancini had a fantastic rookie season for the Orioles and found himself in some good company with his numbers. If Shrek doesn't have a record breaking first half in New York, Mancini would have been right there with Benny Tendy and Judge for AL ROY.
Think about what Mancini did in Spring Training. A natural first baseman blocked by Chris Davis and I guess you can say blocked by Mark Trumbo too, the Orioles asked him to make the switch to outfield with about 2 weeks left in Spring Training. Flash forward to Opening Day and he is on the roster as an outfielder. The guy was asked to learn a new position with 2 weeks left until Opening Day, and he broke camp with the big league club. He hit so well in Spring Training, he forced them to put him on the roster, and he never looked back. Mancini played in 147 games this season and put up numbers of .293/24/78, and played decent defense. It was pretty much what you would expect from a guy who has played left field for about 6 months.
He was a great spark plug for the team at times, and for a long stretch of time it was Trey and Schoop leading the team as the only guys who were really hitting. Trey never really hit that rookie wall either, he was pretty consistent at all times this year. Not easy for a guy who became an everyday player as a rookie. We all remember how he burst onto the scene last year, and he was able to continue that this season, it was great to watch him turn into a guy the Orioles could depend on for a big hit. You need a guy who can hit with RISP? Oh, Trey can do that. He hit a cool .340 with 9 homers and 57 batted in with guys in scoring position. Very rare to see a guy that young be able to hit like that with RISP, no small sample size either, 106 ABs with RISP. He did benefit from batting behind guys like Schoop, Manny, and Adam Jones a lot of the year too. I'm excited to see where next year takes Trey, he has a chance to be a very good player for this club.
So Long Suckas
My favorite part about the year being over? Chris Tillman, Wade Miley, and my mortal enemy, Ubaldo Jimenez are no longer under contract. DING DONG THE WITCHES ARE DEAD. I'll say right now, I think TIllman comes back. He was hurt all Spring Training and likely the season, he knows the club and the club knows him, maybe they offer him a 1 YR/$7-9 million deal to give him a full Spring Training to recover. I mean, the Orioles do need pitchers, but then again he did go 1-7 with an ERA of almost 8, and WHIP of 1.89. He has been good for the O's before, but he was trash last year. If he can get healthy and replicate the first 5 months of 2016, I'll be okay with that.
Wade Miley can kick rocks. Kick so many rocks, dude. He walks everyone. You, your mother, anyone in the batters box, he will walk them. He has an option of $12 million and I'll scream bloody murder if the O's pick that up. Miley was a deadline deal in 2016 and they thought he could be their lone lefty in the rotation and be a veteran presence. Good lord was that incorrect. All Wade Miley did in Orange and Black was go 10-20 with an ERA of 5.75 (lol), give up 249 hits in 211 innings, give up 32 homers, and walk 108. Chalk this one up as another failed trade where the Orioles sent a young pitching prospect to another team. He lead MLB in walks this season with 93, 14 more than the guy in second, and sported a WHIP of 1.73. Wade Miley, don't let the door hit ya on the way out!
Here we are folks. I've been waiting to write this for 4 years. UBALDO JIMENEZ IS GONE. I wish I could have wrote that in 2014, or 2015, or 2016. But here we are, he's gone. "BUT HE WAS A NICE GUY" said every beat writer and press person in Baltimore. GTFOH. IDC how nice he is, put that on your resume when you're applying at Chick-Fil-A you BUM. He has one good start every 2 months, and the rest of the time he's struggling to get through 5. He just rears back and chucks it, has NO clue where it's going. I hate him, I hate him so much. He was tied atop the leaderboard for giving up earned runs with 108, had an ERA of 6.81 in 25 starts, gave up 33 homers, and had a WHIP of 1.59. He used to do the same thing after every bad start. Look all sad in his locker and talk about how he wants to do better and let the team down. You're absolutely right Ubaldo, you did let the team down, mostly by giving up 6 ER in 3 IP every 5th day. Quit talking about how you want to be better, and actually be better. It wasn't on accident that Buck pulled Ubaldo after the inning in his final start in Baltimore, and not during the inning. I truly believe the place would have exploded like Delmon hit that double if Buck would have pulled him mid inning.
He currently has the record for largest contract for an Orioles pitcher, and it will probably stay that way for a while because Peter is NEVER going to want to pay anyone again because this bum sucked for 4 years. From not making the ALDS roster in 2014, to "spraining his ankle" in the parking lot so they could stash him on the DL, his multiple trips to the bullpen, the belt high ball to Edwin in the 2016 Wild Card Game, Ubaldo was bad. He was terrible. He was a waste of a roster spot for 3 and a half years in Baltimore. Good riddance.
Good news is those guys are likely gone, bad news is they need 3 pitchers to fill the rotation….. I'll be back later this week with more 2017 Orioles recap.
@BarstoolRDT