I'm Officially Worried About Re-Signing John Tavares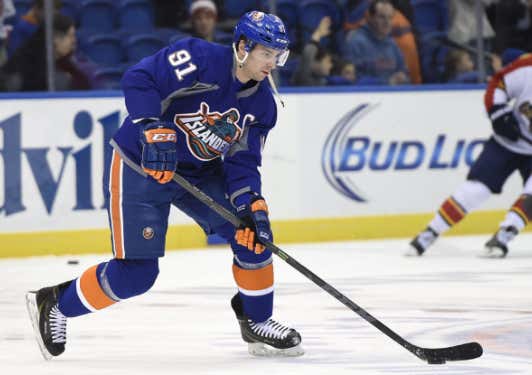 Well here we are, a blog I never thought I'd have to write – I am officially, 100%, undoubtedly, completely confident in how unconfident I am about JT's current contract situation.
I've been saying it for legitimate years now; JT comes off as a one jersey type of guy. Everything he's said and done to this point tells me he wants nothing more than to remain an Islander for the foreseeable future. That is, everything except actually signing an extension leading into the final year of a 6-year, $33 million contract.
Following rumors that The Captain had turned down an offer worth upwards of $84 million, The godfather of IslesTwitter, Arthur Staple, chimed in to put some water on the flames, while simultaneously adding fuel, matches, and a few hand-grenades into the mix. An truly impressive feat.
(read bottom-to-top for you psychos who don't understand how twitter works)
Okay, cool, dope, no big deal. I'm not mad. Our cornerstone player's future with this organization, none the less the entire organization itself, rests in the decision making capabilities of Garth Snow and New York State lawmakers? That's fine. It's funny actually.
The only people I trust less than Garth Snow and his constituents are New York State politicians so we have that going for us, right? This is the Kane/Undertaker tag team all over again. Just an unstoppable force that's destine to destroy everything in it's path – The Brothers of Incompetence.
The yet-to-be-decided-on Arena in Belmont is still months away from even being green-lit. Garth just traded his 2nd best defensemen for future picks in which he's yet to move for current talent, and despite having a top-notch first line, everything from the bottom-9 to the entire defense has its given holes. All while the Barclays Center and the powers that be are quietly waiting for us to leave for work so they can let the movers in to take all the furniture out to the curb.
Of course it isn't about money when it comes to where JT will play. Anyone who has the smallest idea of how he operates could tell you that. It's about being comfortable in his surroundings, and most importantly, being able to win. Pretty much the only two things the Islanders have failed in doing since drafting him in 2009 [It's really been damn near a decade of JT doing JT things. I can't get over that].
By the looks of it, Garth's mishaps and moments-passed in the front office seem to be aligning with Nassau County's idiotic reluctance to hang on to the team in the first place, which may just spark the largest supernova of suck we Isles fans have ever experienced. I'm talking worse than when Sparky was fired.
Any other player and I'd say all hope is lost, but being this is John Tavares, and his loyal to a fault mindset, there's always going to be that chance that he decides to stick it out and go down with the ship he built, however slim it might be.