The Speculation Around The Lebron/Kyrie Falling Out Is Getting Out Of Control
consec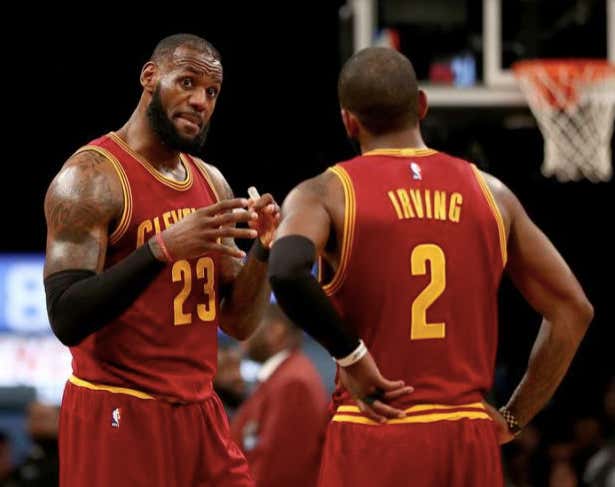 Source - Kyrie Irving's trade request to Cleveland Cavaliers came after he mistakenly believed LeBron James wanted him out of the team this summer, according to reports. Irving surprised the basketball world by formally asking the Cavs to trade him, with many believing that he wanted to get out of James' shadow and become the main man elsewhere.
According to Fox's Chris Broussard, Irving was angered after he thought James wanted him gone to make space for Eric Bledsoe and Paul George.
"The final straw as to why he wanted out of Cleveland, I'm told the Cavaliers had a deal done heading into the draft. This was reported by Cleveland Scene magazine, no one really picked it up, but I've talked to a few people who said it was true," Broussard said.
"Now, Kyrie Irving finds out about the deal," Broussard said. "And he assumed, he rightly assumed, that there's no way the Cavaliers are doing this unless LeBron gives consent. That's why he got mad with LeBron. He thought LeBron was in on it."
"LeBron's take was more, 'Look, I'm not trying to trade Kyrie Irving. He's great. But that's a heck of a deal—Eric Bledsoe and Paul George. So if you do it, hey, that's a great deal.' But Kyrie took it as LeBron wanted him out of there. A few days or a week later that's when Kyrie made his trade request."
So could this all be a misunderstanding? Regardless, it seems that the situation has gone too far to be resolved. The problem for Cleveland, however, is that there are some suggestions that James will definitely not be playing for the Cavs by next summer.
Veteran NBA reporter Chris Sheridan claimed last week that James was "100 percent leaving" the Cavs at the end of this season. The relationship with the Cleveland owners, Sheridan said, is beyond repair.
Round and round we go. Another day another theory from an NBA "insider" as to why Ky-ron broke up. Credit where credit is due, this one is little more on brand for Lebron. According to "sources," Lebron essential did to Kyrie what Leno did to Conan. Gave an unofficial seal of approval. Knew things were in the works and instead of letting his friend know, he stabbed him in the back.  The same way Leno made it clear to NBC he wanted the show back, Lebron made it clear to ownership that he was fine with the change. If true, it's a rat move. Not that he cares, he already has haters. Kyrie on the other hand is a well liked guy. Granted he's not doing much to uphold his reputation:
Publicly making fun of the guy you just went to three consecutive championships with is never a good look. Neither is flying off the handle over a trade rumor.
We can speculate all we want but chances are Kyrie just wanted to have his own team. Be the Russell Westbrook of the east. Maybe the trade rumor pushed him over the edge or maybe it was inconvenient timing. Whatever the case, we're not going to know the real story until we hear it straight from the two people involved. Same way we didn't know the truth behind the Kobe/Shaq feud until after Shaq asked him how his ass taste. No sense in speculating, what's done is done.
Besides, it's all part of the show. These guys live for controversy. Every time the subject of trades comes up they go radio silent. Even if they're walking out of a restaurant.