Barstool's FOURTH ANNUAL Official Tentative Preliminary EPL Preview & Betting Guide
Hi haters,
One sleep. ONE SLEEP!
Stop what you're doing. Take a breath. Hold it. Holllllllld it. Think about it for a moment. Assuming the world avoids nuclear annihilation we are just one more sleep away from the official start of the 2017-18 English Premier League season. Now take another breath – deeper this time. You know what that smells like? It smells like endless possibilities. Right here, right now, every club in the bottom half of the table thinks they just might be this season's Lester, and it's true, they might! What's more, every club in the top half (not named Tottenham) rightly believes that if Chelsea can transform itself from terrible to terrifying over the course of one summer – then why not us? And they're right too!
So here we are. Everybody is undefeated and all y'all are excited about what your dearly beloved club is potentially capable of this season…….. so you know what that means: time for ya boy Sam to drop in from the clouds and shit all over (most of) your hopes and dreams by telling you [SPOILER ALERT] exactly how your team is going to do, where they will finish, who will lift what trophies, what new signings will suck and which will blow, who is going to score a ton of goals and who won't – and so on and so forth.
However, before we get balls deep in the good stuff I have been advised by Mike Portnoy, Esq. to include some words of warning about the picks and previews contained herein:
• Only an idiot would make predictions about how the entire season is going to play out with THREE FULL WEEKS TO GO before the transfer window closes on August 31
• I am an idiot
• But do me a favor and keep in mind that last minute transfers (in and/or out) could alter the balance of power
Now that that's out of the way let's get to it…
[[NOTE: quick reminder that any n00bs interested wanting to get into the EPL who have yet to pick a team to have and to hold and to love til death do you part, don't worry, here's a minimally invasive guide to assist you in finding one: Barstool's Guide to Picking an EPL Club]]
**********************
2016-17 RECAP
So this is what the league table looked like at the end of last season: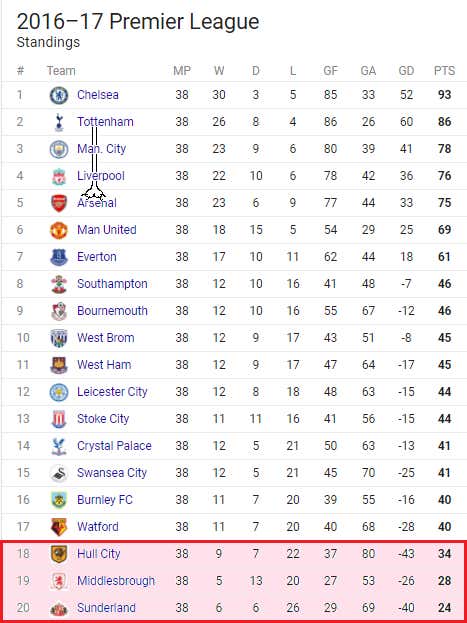 Chelsea were fantastic and deserved to lift the trophy BUT benefited bigly from few injuries and not playing in Europe. Spurs, City and Liverpool rounded out the Champions League slots, though 6th place United essentially tanked down the stretch in a calculated gamble to save their strength for Europa League – which in fact it did win giving them a lifeline into UCL this year. Arsenal was in disarray last season and finished 5th, meaning they are staring at several months of Spursday night soccer in crap Eastern European stadia. Good times!
Everton made an early push to threaten the Big Six and despite fading finished within shouting distance, it should be said, of United. Not quite a shot across the bow, but perhaps at least a little signal of intent.
Then came 10 teams separated by only six points. TEN TEAMS! SIX POINTS! Pretty ridiculous if you think about it that Southampton was two games away from essentially finding itself in a relegation scrap. Also goes to show how small the margin for error is in the EPL and also suggests there is no reason to get too caught up in whether a club finished 7th (Bournemouth) or 13th (Stoke) since the latter was only two points better than the latter. As for the three hosers that got sent down, make no mistake, they all very much deserved it.
And while we are at it, I didn't think it was possible after the rather tame last weekend of the 2015-16 season, but 2016-17 somehow "topped" it as there was next to nothing on the line. Sucks for fans, sucks for NBC, sucks for the game. Here's hoping this time round will be a little more like 2011-12… which if even one-tenth as interesting will be easily the best finish to a season of any of the years since (and many of those before it):
***
STORYLINES
As always, there are a million interesting storylines that will be worth following going into the season. Here are just a few to keep your eye on:
1) Will one of the Manchesters buy a championship [Take 2]?
They gave it a damn good go of it last season after spending about a billion each in the summer, and they are well on their way to doing so again. Can't keep this up for too long without either winning or going broke trying… or can they?
2) Chelsea hangover?
Great seasons are often followed by some retrenchment, and that can be especially true for a club like Chelsea that (as mentioned above) benefited from spectacular health and no continental competitions. Will this year see a bit of a reversion to the mean for the Blues?
3) Spurs. At Wembley. All season.

Oh fook.
4) Personnel concerns hovering around Arsenal, Liverpool
Does Lexi Sanchez still want to be in London? Will Mesut Ozil actually care this season? Is John Henry short-sighted enough to sell Coutinho this summer? Big questions that could be difference between contending and pretending for two of the Big Six, which – depending on how the cookies crumble – begs the question…
5) Can Everton trust bust the Big Six (or even Top Four)?
If only they could have kept Romelu Lukaku…
6) Can Pulis find his happy place again?
Tony Pulis must have felt incredibly uncomfortable for the early part of last season with WBA playing good soccer, scoring goals and winning games. He finally figured out a way to put the kibosh on all that nonsense in the second half, though the club still managed to back its way into the top half finishing in 10th. Given the way the team played down the stretch you could be forgiven for thinking they were trying to claw their way back to 12th place, which for Pulis is nirvana.
7) Will any of the n00bs stick around?

Two of the newly promoted teams last time around got bounced right back down (Hull and Boro). It remains to be seen if more of this crop of bright-eyed and bushy tailed upstarts can stick around for more than a cup of coffee and ridiculously generous parachute payment, though I think one and posssssssssibly two (but one for sure) will almost certainly take off its coat and stay at least a little while.
*****************************************
**PREDICTIONS**
So this is the order in which the oddmakers currently have the 20 clubs finishing:
One thing you can't hope but notice: bookies aren't offering 5000/1 odds on anybody… not even close this season, meaning that The Lester Effect – whereby every Tom, Dick and Harry is throwing some money on their crap team to win the league jusssssssssst in case – is still in full swing.
[Now for the fun part………….. pissing people off]
To make things cleaner and more aesthetically pleasing, I'm splitting the clubs into categories similar to what I used in this week's "Guide to Picking an EPL Club". Why? Because that's what I did last year (and the year before that) and I am nothing if not a creature of habit, that's why.
The groups (with teams listed alphabetically within them so as not to give away just yet where exactly I'm predicting them to finish) are:
PLUGS
Burnley
Huddersfield Town
MUDDLERS
Bournemouth
Brighton
Crystal Palace
Newcastle
Swansea
Watford
West Brom
OPPONENTS
Everton
Lester
Southampton
Stoke
West Ham
CONTENDERS
Arsenal
Chelsea
City
Liverpool
United
Tottenham
***
PLUGS
I was initially on the fence about whether (20) BURNLEY – fresh off an unexpectedly impressive season – might be able to put together another solid year using more smoke and mirrors (no, but seriously, I'm not a big "stats" guys… like, at all… but the Clarets' expected goals for versus against were wonky af last year suggesting they were highly fortunate), but then they went and sold their best striker three days before the season started. The optics alone of that are bad enough that they were basically daring me to toss them in the relegation dustbin. Welp, challenge accepted. Last place it is.
As for (19) HUDDERSFIELD TOWN, it's really quite simple: with apologies to new signing Danny Williams (an American DM who I am excited to see more of), there's just no way that a club with "Town" in the name has large enough balls to play with the big city boys… to their credit, the club has been buying players left and right in hopes of competing in the top flight, but they have been doing so (largely) on the cheap. I am interested to see how Steve Mounie (from Montpelier) and Tom Ince (from Derby) work out, but it just doesn't feel like the Terriers have done enough to stick around another year.
Welcome (back) to the show, boys! Hope you came prepared.
***
MUDDLERS
Since we are going from bottom to top that means the next club on the list is my pick for who will be the third and final "winner" of a one-way ticket to the Championship, with that club being……………………
(18) CRYSTAL PALACE: In the spirit of full disclosure Swansea might make a lot of sense here given the ridiculous situation with Gylfi Sigurdsson and the fact they haven't done much to improve an atrocious backline, and in truth I actually had Watford pencilled in until the recent signing of Andre Gray, so if you can't tell I am pretty conflicted about this one… but I'm going with the Eagles. As I hinted at in Tuesday's blog, I'm just not sure de Boer is the right guy for this particular job given the players at his disposal, and while Christian Benteke and Wilfried Zaha did an admirable job of carrying the load offensively last season, if either take a step back it could be a big issue – especially since Zaha just got PAID with a big fat new contract, and lawwwwd knows what happens to 95% of players (especially those with motivation questions in the past) once the good good money starts rolling in.
(17) SWANSEA: As an unofficial sissy sport spirit guide to Big Cat, official owner of the Swans, my advice is that they need to make some moves – and quick. Sell Sigurdsson and get it over with and turn to putting that money to work because boy oh boy do they have holes to fill. As a reminder, Bob Bradley came in partway through last season and was asked to make filet mignon out of a pile of shit. He failed miserably. Paul Clement (with a transfer window at his disposal) managed to mix in some spices, slathered it in chipotle sauce, threw it on some bread and made it almost edible… but make no mistake, it's still shit, and unless they patch the holes on defense (and find somebody to support Fernando Llorente) this could be a longgggg season. Chop, chop!
(16) BRIGHTON: Two spectacular seasons in a row in the Championship is impressive, but anybody thinking that means a damn thing about how well they can compete in the top flight has got another thing coming. Manager Chris Hughton clearly believes in his guys as he has opted to eschew many/any big name signings in the hopes that cohesiveness will work to the team's advantage. One player worth watching is Anthony Knockaert, a wee twinkle-toed Frenchman who has drawn comparisons with Lester's Riyad Mahrez. Not a good sign though that two of the the Seagulls' – yep, that's their nickname – best players in striker Glenn Murray and former Ingolstadt playmaker Pascal Gross have both had difficulty producing outside the second divisions (in England and Germany, respectively).
(15) WATFORD: The annual game of musical manager chairs continued this summer with Marco Silva getting the last chair thanks to having almost saved Hull from relegation last season. Not exactly the sterling resume I would have been looking for, but hey, you do you Watford. The club has some legitimate quality in MF Roberto Pereyra and Troy Deeney (when they are healthy anyway), but I am not particularly enamored with several of their microwaved acquisitions (eg, Tom Cleverley from Everton and Nathaniel Chalobah from Chelsea). They are stronger defensively than they are going forward, where it is a must for guys like Isaac Success to step up.
(14) WEST BROM: Nobody – and I do mean nobody – is more comfortable playing atrociously ugly soccer and idling away in bottom half but safely above the relegation zone than Tony Pulis, so unless or until the new Chinese owners decide to go another way it is a fair bet that WBA will hover in the 10th to 14th range for most of this season, next season, and every season from now until. Final answer.
(13) BOURNEMOUTH: Task #1 – avoid injuries. No club has been decimated quite like Bournemouth lately, which is all the more problematic since the club doesn't have the kind of deep pockets to invest in the depth like a Big Six club. Bringing in defender Nathan Ake from Chelsea was a very solid move, though I can't say I would have signed off on a three-year deal for striker Jermain Defoe, even for a guy who has consistently done more with less and has a gift for conjuring goals up out of absolutely nothing while 1-on-3. Though ideally Defoe won't be in that situation nearly as much with the Jordans (King and Ibe) running off of him. It seems as though the Cherries have put together a solid – if unexciting – squad from top to bottom, so somewhere in the top of the bottom half feels about right.
(12) STOKE: 'Member when I listed Stoke [and Southampton] in the "Opponents" group and Newcastle as a "Muddler" up above?
The Potters' evolution from world's dirtiest (but also safest mid-table) team into an actual soccer team that does things like pass and move and not just hack and foul took a BIG step backwards last season. The issue, as far as I can tell, if that the team has not made the leap to "talented enough" to be able to consistently handle lesser clubs, while at the same time they are nowhere near as difficult to "play against" for the top clubs, which no longer have to worry about the health and wellbeing of knee and ankle ligaments and are thus freer to score goals. Sort of a "worst of both worlds" situation, if you will. The club does have some nice talent, including guys like Saido Berahino (member him?!) Xherdan Shaqiri, Bojan Krkic and Joe Allen (and Ibrahim Afellay if he is ever healthy), but they club lost three mainstays – Marko Arnautovic (inconsistent but dynamic), Glenn Whelan and Jonathan Walters – and replaced them with Darren Fletcher (yawn) and Kurt Zouma. Not exactly the kind of moves that sends blood rushing to Stoke fans' sportsboners. Hopefully they will still make a move or two, and hopefully Berahino remembers how to play soccer, because especially with a rough run of games early on this season (first three at home are Arsenal, United and Chelski), it is not hard to imagine a bad start leading to yet another lost season for our boy Geoff Cameron.
(11) SOUTHAMPTON: Some (okay none) of you might remember me saying something similar last year when I ended up being proven at least partially wrong, but I'm nervous about Southampton this season. Year in and year out they have to sit around and watch their best players get bought – and not even by bigger clubs in other league far far away, but rather by domestic rivals down the street like Spurs, United and (especially) Liverpool, the latter of which might as well start investing directly in Southampton's youth academy at this point and cut out the middleman. On the plus side, the Saints didn't lose anybody as influential as Sadio Mane (or even Ronald Koeman) this summer – YET since Virgil van Dijk is dying to gtfo – and MF Mario Lemina from Juventus looks like a shrewd signing, but at some point they are going to run out of the sticks and chewing gum they've been using to keep the club in Europa contention year after year. Especially if they end up losing VvD, this season's squad may have "bottom half" written all over it.
***
<<<<<<<<<< HALFTIME >>>>>>>>>>
***
Aight, we back.
OPPONENTS
At this point we have moved on to clubs that could or more likely should at least contend for things like secondary trophies (eg, FA Cup) or tertiary trophies (eg, make-believe League Cup), as well as for a Europe League slot and – if the cards fall just right – may even be able to make a run at a Champions League spot… but probably not on this last one.
(10) NEWCASTLE: In truth, the Magpies could just as easily be included in the category above because I don't think they have quite enough to contend for a Europa spot this season, but I do think they have enough talent to give most any team trouble at home, which is the key to a solid mid-table finish (just look at last season's iteration of Burnley). Owner Mike Ashley is still disliked – just wait and see how long it takes for fans to start calling for him to go again if Newcastle takes a couple of bad early L's – but they have a competent manager (Rafa Benitez) and quite a few dynamic players (notably Ciaran Clark, Dwight Gayle and Christian Atsu). The big problem is the guys who will be counted on for productivity have not yet demonstrated any sort of consistency on the EPL level. So lots of potential but plenty of question marks means Newcastle probably has the most variable "potential outcomes" of any club in the league this season.
(9) LESTER: Total crap, absolutely brilliant, pretty crap. That has been the Foxes' last three seasons in a nutshell (domestically anyway, as the run in Champions League in the spring was rather remarkable… but somewhat marred by how terrible they were against EPL competition). The club has made some smart moves this summer, filling in one massive hole by bringing in defender Harry Maguire from Hull and adding yet another striker in ex-City man Kelly Nacho (close enough). The most important newbie though may be Sevilla's Vicente Ibora, who should bring some much needed gravitas to what felt like a hectic and scatter-brained midfield last season.
The fate of Riyad Mahrez is unclear at the moment, and losing the shifty winger would be a big blow to their attack, but Demarai Gray has shown signs of being able to shoulder some of the load there (especially if at least one of either Islam Slimani and/or Ahmed Musa step their game up from last year). Rather, bigger questions will [still] be on defense now that Wes Morgan is yet another year older (and slower). Hard to imagine Leicester not finishing in the top half given the amount of talent they have used their championship winnings to stockpile, but also hard to imagine them moving out of the bottom half of the top half given various uncertainties going forward and holes at the back.
(8) WEST HAM: Last season was godawful but Slaven Bilic somehow managed not to get the boot… which probably maybe but definitely may be because nobody was ballsy enough to tell him he was fired. The Hammers have a lot of returning talent, as well as a preponderance of – shall we say – experienced veterans. Joe Hart, Pablo Zabaleta, Marko Arnautovic and Javier Hernandez have been brought in. Hart will probably do fine out of the Big Six spotlight, not a fan of bringing in a 67-year-old defender, and the latter two should provide goals while offering a season or two stopgap while the club develops a new wave of young talent. Not really expecting anything spectacular from West Ham, but sometimes a "boring" can be beautiful. [Note: William Carvalho would be a huge pickup if they can manage to steal the creative midfielder away from Sporting Lisbon… would be a big boost and the opposite of boring.]
(7) EVERTON: the Toffees have made a killing of recent sales of guys like John Stones and Romelu Lukaku recently, but spending the money wisely is the only way they'll get a shout at finishing top four. The club has been low key busy as hell, bringing a total of 12 guys in so far. Among the bigger buys were Burnley defender Michael Keane, Ajax attacking mid Davy Klaassen and Dunderland GK Jordan Pickford (their lone bright spot last season), the last of which raised eyebrows since $39 million means that he HAS to be damn good for a while in order to make it worth it. Also, hard to argue with bringing Wayne "AARP" Rooney in on what was rumored to be a free transfer, though even after agreeing a wage cut he's still getting paid almost as much as Paul Pogba, but there is zero chance he will be anywhere near that productive so I can't call it much of a win for Everton.
The biggest question for me is where the goals are going to come from this season. They are not short on options, with returners like Yannick Bolasie, Kevin Mirallas and Oumar Niasse being supplemented with guys like Malaga's Sandro (shrewd move for < $7 million) and Klaassen, though whether any of them – or all of them together for that matter – can come anywhere close to filling the chasm left by Lukaku remains to be seen.
Overall though you gotta like the direction that Ronald Koeman has the team heading. Whether they are ready to bust into the top six – let alone top four – will to a certain extent depend on whether any of the big boys stumble… which suggests that Everton fans should be rooting HARD for the likes of Barcelona to swoop in and grab Coutinho – for oh so many reasons.
***
CONTENDERS
Leicester recently proved that anybody and everybody has a chance to win this puppy, right? Yep, nope. The goliaths of the league (some of them anyway) responded to David's incursion on their territory in 2015-16 by spending their wee balls off in order to ensure that the rich stay rich and the poor stay poor (and are too busy worrying about their health insurance/relegation to group together and mount a successful revolution against the inherently unfair system).
(6) LIVERPOOL: trying to "preview" Liverpool right here right now is basically useless. There are two massive overhangs at the moment, the more important of which is the fact their entire season hinges on the Philippe Coutinho situation. If he stays they could finish anywhere from 2nd to 6th place, but if he goes to Barcelona then yiiiiiiiiiiiiiiiikes. Unfortunately my crystal ball only spits out winners and is not one of those multi-purpose crystal balls that also foretells transfer activity so I've got not special insight into the situation. They have a lot of dangerous attacking threats in Sadio Mane, Firmino and former Roma winger Mohamed Salah, the latter of whom a lot of Liverpool fans seem to think is the second coming of Jesus of Nazareth but could also be the second coming of Mo Salah to the EPL, where he laid a big fat egg last time round with Chelsea. [Note: to clarify, I do think Salah will prove to be a very good signing but perhaps not as "great" as some people think.] However, read my lips on this: offense… is… not… Liverpool's… problem. Plain and simple, and the second ginormous question at the moment, is whether they can land CB Virgil van Dijk. He wants them, they want him, but Southampton – after years and years of letting other clubs (essentially) bang its wife – is suddenly fiercely aga