Dayton Hoops Player Sam Miller Arrested For Fighting A Bartender Who Wouldn't Serve Him, Promptly Takes His Pants Off In Jail, Pisses On The Floor, Starts A Fight With His Cellmate And Gets Put In The Hospital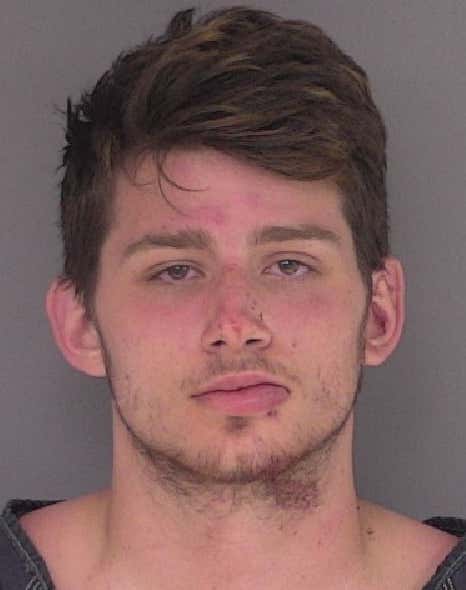 This is Sam Miller, the central figure of that action-packed headline up there.   Sam is a 6'9″ 240 pound soon-to-be junior forward for the Dayton Flyers averaging 4.5 points and 2.3 rebounds per game in his short career.   Not many big highlights on the court so he went ahead and grabbed the headlines off of it, by having himself a night that will live in Dayton infamy for generations to come.
How it started:
DAYTON, Ohio (WDTN) – A police report from the Beavercreek Police Department said on Sunday officers were called to Caddy's Tap House on the report of an assault. When officers arrived the saw security workers holding Miller down in the parking lot.

Officers approached and Miller continued to try to fight and yell obscenities. Miller was handcuffed and taken to a police car where he refused to get inside. The report says the officer has to place Miller on the seat and go around to the other side of the car and drag him inside.

While in the back seat of the police car MIller continued to yell obscenities and kicked the door several times, according to the report.

The incident began when the bartender told Miller he could not have any more drinks. The report says Miller became angry and knocked all the glasses off the bar and pushed the bartender. Security then escorted Miller outside.
When the holier-than-thou bartender up on their pedestal on the top floor of their Ivory Tower refuses to serve you more alcohol because you're "black out drunk" and facing "borderline alcohol poisoning."   Elitist asshole.
But the fun didn't stop with the arrest.  On the contrary, things only got hotter from there.
Specifically – he took his pants off, pissed on the floor, slapped his cellmate in the face, then got his ass whooped so bad he had to go to the hospital.
When you start a fight and end up bleeding from every hole in your face and have cops pulling random sheets and shit over your wounds while your hands are cuffed because you're in jail and also have piss remnants dribbling down your boxers <<<
Also fun fact – Miller is currently rehabbing a fractured ankle.  Not sure if the recommended treatment is getting KO'ed in a fist fight while slipping on your own pee.
Whatever.  Minor setback for a major comeback.
[h/t John Bedell, WDTN]