Ben McAdoo Opened Up Training Camp By Reading His Players A Kipling Poem And Then Telling The Story Of A Lion That Became A Sex Icon
For those that don't know about Frasier The Lion:
Time- The story of Frasier the lion might have ended gruesomely. At the age of 19—the human equivalent of 75—and no longer of use to the Mexican circus that owned him, he faced a preemptive death. But fate twisted kindly for the aging lion. In 1972, he ended up south of Los Angeles at Lion Country Safari, along with a group of other wild cats that had been sent north for a new life. From the way LIFE Magazine described him, the staff at Lion Country likely expected Frasier to live out his days in a lazy retirement. "He is underweight and splay-footed," the editors wrote. "His fur resembles an old moth-balled coat, and he sleeps 19 hours a day. The muscles in his tongue are so shot that it unreels from his mouth like a slobbery red carpet."
But, as LIFE interjected, "appearances aren't everything." Frasier was quickly placed on a special diet replete with vitamins, and he began to put on some weight. Much to his handlers' surprise, he then became a hit with the lionesses. Within one day of meeting him, the same lionesses that refused to mate with several young guns "were sprawled protectively around Frasier," bringing him choice meats at mealtime and waiting to eat until he was finished. Seven weeks later, they were all pregnant. Within 16 months, he had fathered 33 cubs. LIFE called him "the country's reigning sex simba." One observer noted that he was "the first x-rated zoo attraction in history." Frasier fan clubs sprung up, sending the lion more than 1,500 letters each month and purchasing t-shirts and bumper stickers emblazoned with his face.
Name another NFL coach with the range to read a famous Kipling poem then follow it up with a story about a sex crazed lion to inspire his players on the first day of training camp. You can't. Benny With The Great Hair is cultured as fuck. And McAdoo didn't read just any Kipling poem, but a poem that Nas used in one of his music videos.
THAT'S how you get the locker room's attention before 5 weeks of workouts and meaningless games while the fans hold their breath hoping that nobody gets injured. Late July is always when I start getting football fever. I will get the itch to buy Madden out of the blue despite it being the same game for a decade and I will start researching fantasy football, knowing it is the most exciting and terrifying part of my year. My happiness level for every Sunday from September to December for is decided by a fantasy draft in August and a group of 53 men in East Rutherford, NJ.
Well I guess I can start getting excited for what kind of crazy shit Benny Mac will pull out of his ass to get his players motivated. Last year we had McAdoo showing the Giants viral and fucked up videos. Now we have him telling tales of a lion that went from a circus sideshow to the big swinging cat dick at the cracker factory. Frasier was probably slinging more lion dick back in his day than Pres slung Barstool papers. Veterans coming off a rough season like Eli and BMarsh probably hear all the chirping in the big city. Now they know that if Frasier can go from negative to positive despite getting older, they can turn back the clock and put up numbers in Benny's high flying offense. If you can't appreciate that type of motivation, you need to get your pulse checked. One day the Pardon My Take guys will realize that Ben McAdoo isn't only a Football Guy but THE Football Guy. And until that day, I will just smile as these stories continue to pile up along with Giants wins under the reign of McAdoo.
And now your Moment of Ben.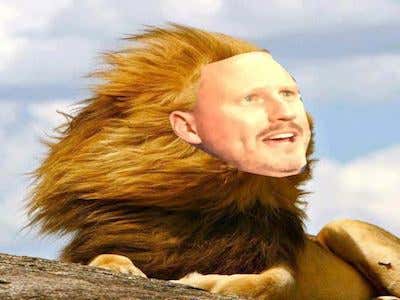 JK, that's not really him even though Benny's mane is just as beautiful.
Bonus Moment of Ben with the Giants other stud that has great hair.
P.S. I am convinced that McAdoo wanted to read the Giants players a chapter from It by Stephen King but some intern misheard McAdoo and brought back If by Rudyard Kipling. Scary clowns are much more on brand for Benny Mac than fancy literature and this is the banter of a man that never read that poem in his life until this morning.