Cincinnati Bengals Training Camp Mailbag Mega Blog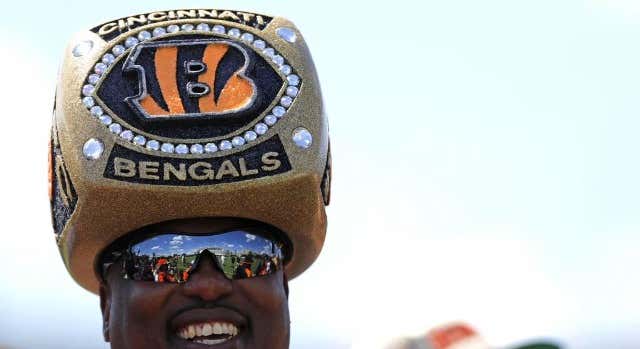 If you take a trip over to the NFL's official website, they'll tell you that the season officially kicks off in T-minus 41 days. But if you're a pigskin starved, die hard fan like myself, you know that football really begins when your favorite team begins training camp. Fortunately for Bengals fans, players report TODAY. National publications and "experts" (looking at you, USA Today) are predicting a lackluster season on the heels of 2016's subpar finish, but in the eyes of most real Bengals fans, I'd venture to say that expectations are as high as ever. You guys had questions about that and I was more than happy to answer.
Bodine is rated among the worst centers by PFF and routinely missed blocks and assignments all while playing next to the maybe the best guard in football. Now that Zeitler is gone, one could reasonably conclude that Bodine may struggle even more, but as you mentioned, 2017 is a contract year and more often than not guys tend to step up when faced with selling insurance for the rest of their lives. To answer your question, no, I don't think Bodine makes significant strides this year and earns himself a long term contract. However, I also don't think Bodine, or the Bengals offensive line for that matter, will be as bad as everyone expects. Cedric Ogbuehi and Jake Fisher are both playing their natural positions for essentially the first time since entering the league and Paul Alexander is widely regarded as one of the better offensive line coaches in the league. If he's willing to go as far as saying guys like Ogbuehi are more than capable of playing at a high level then I think we need to give him the benefit of the doubt.
I'm not saying the Bengals line is gonna be the Dallas Cowboys or the great Steelers lines of the 70's, but the bar is set embarrassingly low right now so it won't take much for them to exceed expectations. All they have to do is not suck and resemble one serviceable unit for the offense to click with the amount of weapons we have.
How the O line performs as a whole is far and away the single most important factor for the Bengals success in 2017.
The Bengals will run the ball about 450 times or so over the course of any given season shared between 3 RB's and Andy Dalton. Assuming that number holds true, I'd imagine that split looks something like this:
Mixon – 175 carries
Gio – 150 carries
Hill – 75 carries
Dalton – 50 carries
Of course this assuming Gio is healthy and doesn't miss any time, which all reports indicate he'll be back practicing in camp. His role as a change of pace back should remain the same, but I really do think this is the year Jeremy Hill takes a back seat. The Bengals wouldn't draft a guy that brings as much negative attention as Joe Mixon does just to have him ride the pine and not play a major role in his rookie season. I do, however, think that the Hill/Bernard combo will dominate the touches early in the season, as the Bengals are, and always have been loyal to veteran players. Eventually Mixon will get his sea legs and I'd imagine the Bengals will ride his hot hand, much as they did with Hill when he was a rookie. Let's just hope Mixon doesn't go on to fumble away a playoff game against the Steelers then turn gun shy.
Over 7 total TD's for Burkhead. New England doesn't really have a de facto no. 1 RB and their leading rusher on a week to week basis is often the result of whatever evil little scheme Belichick is cooking up in his brain, but Burkhead's deal with the Patriots is worth like 3 times more than what they're paying any other RB. I'd imagine Burkhead winds up having a pretty big role in their offense based on the financial situation alone, however his performance will be streaky, as is par for the course with just about every New England RB.
Also over -3 yards for Jeremy Hill. Hill won't see another 200 carry season, but he will more than likely wind up the team's short yardage/goal line back, which isn't a bad thing as evidenced by his 29 TD's since entering the league in 2014. Even in the unlikely event that Hill is released outright, he would accumulate a grand total of zero yards from scrimmage, which would technically mean he'd finish the season with more than -3 yards. Hammer the over.
I'm assuming this was meant to be sort of a tongue in cheek question, but it's actually not as crazy as it sounds. Marvin Lewis is the second longest tenured coach in the NFL and ownership has stood by him through thick and thin. Lewis' current contract with the Bengals expires at the end of this season and I have a feeling that if this team doesn't get over the hump, he'll be let go. However, I do think that this team will finally win a playoff game which means Marvin will probably get another short extension and remain the head coach for several more years.
On the other hand, AJ recently told the team he'd like to play seven more seasons. Green is currently 28 years old which means he'd be well into his 30's. If he stays true to his word, I expect Green to retire a Bengal but I do not believe Marvin Lewis will be the head coach when that day comes. Marvin has sort of already hinted at retirement by approaching Mike Brown in 2015 with a succession plan calling for Hue Jackson to take the reigns at the beginning of the 2018 season. Seven years is an eternity in the NFL so I expect Marvin to be on a golf course or in a front office somewhere by the time AJ finally hangs 'em up.
Depends on your definition of "fuck up." If you're looking for the Bengals to win Super Bowl LII then yeah, Mike Brown and co. will probably fuck it up. But if you measure success by getting over the hump and winning a playoff game after losing 7 straight in the Marvin Lewis era, then I think Brown's odds are much better. The recipe for success in the NFL is excellent quarterback play and a strong defense. The Bengals have both. Let's start with the quarterback. Andy Dalton has improved immensely over the past two seasons, amassing 7,456 YDS, and 50 total TD's to only 15 INT's. Dalton still receives a lot of hate because he's a mild mannered ginger and has come up short in several big games, but like it or not he's still significantly better than most other quarterbacks in the league. With a three headed monster in the backfield and an absolutely stacked WR corps, Dalton now has plenty of weapons and as long as he can stay relatively upright, I expect him to post Pro Bowl-esque numbers plenty good enough to take this team back to the postseason for the sixth time in his 7 NFL seasons.
As far as the defense goes, the Bengals have all the makings of a unit that can finish in the top ten this year. The defense has seemingly improved bit by bit every year since swag daddy Paul Guenther took over as defensive coordinator and personnel wise, the Bengals are in good of shape as they've been in years. Vontaze Burfict, Geno Atkins, and Carlos Dunlap are perennial Pro Bowlers and among the best at their respective positions. Carl Lawson and Jordan Willis add some much needed speed off the edge and newly acquired FA LB Kevin Minter should be a more than capable replacement for the departed Rey Maualuga. Young Darqueze Dennard and Will Jackson are going to have to step up and become serviceable nickel backs or potentially even starters, but given their college production and first round pedigree, I expect one of them to rise to the occasion.
Oh, and the Eminem thing… Nick Vigil. My guess is that a guy who once sported a rat tail is more likely to identify with liking violence and sticking nine inch nails through each one of his eyelids.
I'd like to make these mailbags a semi-regular thing, so if you have any additional questions, concerns, or you just need to go on a good old fashioned Bengals rant, feel free to hit me up @QuineTime and I'll put together a few blogs throughout the course of the season.