Remember That 6-Game Winning Streak? The Red Sox Have Lost 7 Of 10 Since Then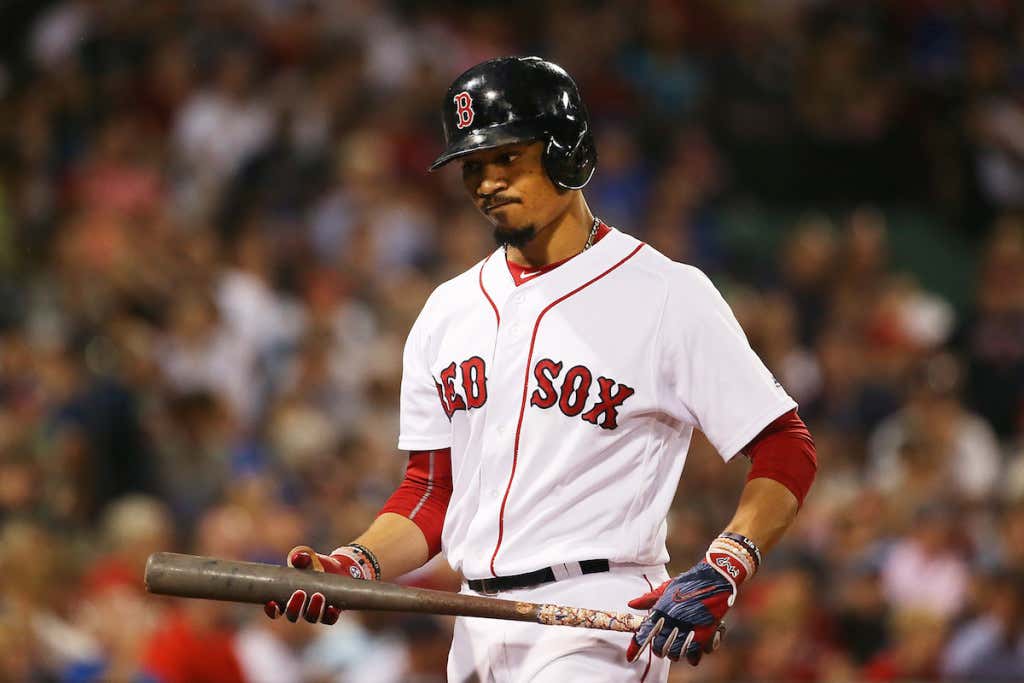 You know that feeling when you're sort of living paycheck to paycheck, your bar tabs have been high and you've been ordering out a lot lately, so you want nothing to do with looking at your checking account balance? That's kind of how I feel about the AL East standings lately.
The Red Sox won their final game of that six-game winning streak two weeks ago today to go up four games on the Yankees in the AL East. Since then, they've gone 3-7, which is the worst record in the division and the third worst record in the American League. The Red Sox are lucky, though. Over that same span, the Yankees have lost six of nine, as have the Orioles, and the Blue Jays are 5-4. But where they haven't been so lucky is that the Tampa Bay Rays have won six of nine, including going 3-1 against the Red Sox, getting within two games of Boston in the standings. All this attention has been on the Yankees and what they've been doing. Meanwhile, the pesky Rays have gone from six games out a month ago to right up your ass.
It's an interesting debate — bullpen or third base; what's the higher priority at the deadline? It's mostly to spark a baseball conversation, because the answer is actually both, and I'd imagine that Dave Dombrowski will address both. It's not like you only have to pick one area to address in the coming weeks. But in the interest of creating a baseball discussion, I'll stick with my guns here and say that the bullpen is the greater area of need. You have Craig Kimbrel, who has been the best reliever in the American League all year, and Joe Kelly, who has emerged as a nice little late inning reliever in his own right.
Keep in mind, Kelly is on the disabled list with a hamstring injury, and those can easily be re-aggravated. It's not exactly a negative mindset so much as it is being cautious and prepared if you're not factoring in Kelly to your plans down the stretch, too. You have to look at this as, today on July 18, I have Kimbrel in the ninth, and then who do I have before that? Heath Hembree? Matt Barnes? Barnes was your 8th inning guy for a decent stretch in the first half, but he lost that role, much like he lost control of his fastball. Barnes, at one point last month, walked nine batters in 7.2 innings. In fairness, he also struck out ten batters in that same span, but that just speaks to how inconsistent he's been.
Hembree got a shot in the 8th inning last night with the game tied 3-3, and he allowed a pair of hits, walked a guy, and gave up the game-winning run. He also struck out two batters, so there's your inconsistency again. Who else are you putting out there in the 8th? Robby Scott has come back down to earth as of late, allowing seven earned runs over his last 6.2 innings. Fernando Abad isn't having that bad of a year — 2.70 ERA, 1.10 WHIP — but I'm still not putting him into a setup role.
Whenever I say that the bullpen is the greater area of need, I'll always get a handful of people who are quick to point out that the Red Sox bullpen has the third best ERA in the majors (3.03). That's awesome, but who are you putting out there in the 8th inning right now, though? And make sure you do it with a straight face when you tell me. Can't do it, can you? Thank you for proving my point.
And even if Kelly were healthy, he hasn't pitched in back-to-back games all year. That's your 8th inning guy in October? John Farrell has mentioned that he was going to start using Kelly in back-to-back games in the second half, but still. How good do you feel about a reliever, who albeit is having a really good year, that the team felt like they had to protect injury-wise by making sure he didn't appear in back-to-back games, yet he got hurt anyway? That's your guy? The Red Sox need to add a reliever badly.
But on the other side of the argument — the "third baseman is more important than a reliever" crowd — again, I'll say that they need both. I'm fine with some combination of Deven Marrero and Brock Holt if need be, but if they can upgrade at that position, then knock yourself out. Todd Frazier is obviously the name that keeps coming up. At first, it was purely speculation based on Boston's need, the White Sox being in full rebuild mode, and Frazier being a free agent at the end of the year. The fit was pretty clear. Now there's actually some steam to it, and I keep hearing a lot of this — "Wellllll he's hitting .200, so how can he really help the Red Sox?"
Batting average, huh? You still read the newspaper and watch VHS tapes, too? The Red Sox are looking at Frazier in the first place, because why? They…need…? Pop. They need more power in their lineup. They're not looking for Wade Boggs. They're looking for a guy with a little bit of thump in his bat. You'd be a little more excited if the Red Sox were about to acquire somebody like Evan Longoria, right? As recently as this past Saturday, Longoria's slugging percentage was .438, the exact same as Frazier's. There's some disparity now, but the rumors that Frazier was coming to Boston started on Friday night, and he had a slugging percentage identical to Longoria the next day. It's also worth noting that Frazier is hitting .240 with an .888 OPS over his last 35 games with 9 homers, 7 doubles, and 20 RBI.
Frazier by no means is a savior for this Red Sox team. Let's get that straight right now. And that's sort of my bigger point here in terms of improving the Red Sox. Adding a reliable reliever at the backend of that bullpen will have an overall greater impact on the team's success down the stretch and into the postseason than adding a player like Frazier, or any realistic third baseman via trade for that matter. It'll help, for sure, but it won't have a greater impact than adding a reliable reliever would. All that being said, make no mistake about it, they need both. And soon.