The Rosters Are Officially Out For The NBA Africa Game 2017
It's official, we now know who will be suiting up on both sides for the second ever NBA game in Johannesburg, South Africa on August 5th. The last time the league was in Africa to play an exhibition game was 2015 which sold out, and it was a pretty cool experience
that came down to the wire with Team World just edging out Team Africa 101-97. If you don't know too much about this game, it's a fun event that follows an awesome and longstanding program called Basketball without Borders. With such an international influence in the league, and as many as 70 current and former NBA players from Africa, this is a no brainer.
So who's playing? Here are the two rosters
Team World
A good mix here of crafty veterans and solid young talent. The headliners for me are obviously Porzingis/Boogie/Dirk, but it's also pretty cool that there's just one young pup in this group and it happens to be Jaylen Brown. This roster has dominant size in Drummond/Boogie/Porzingis, heat check guys in Kemba/Barbosa, shooters in McCollum/Dirk, a solid PG in Lowry and a young crazy athlete in Jaylen. I'm not sure what the line is for this game, but Team World looks pretty stacked.
Team Africa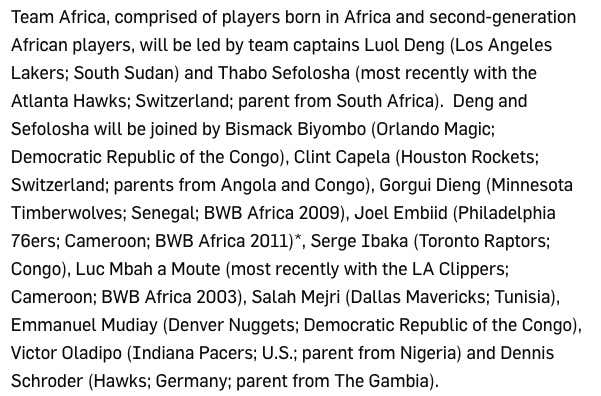 Now Team Africa is full of intrigue in my opinion. Right off the bat, if you're a Sixers fan, are you cool with Embiid playing in this game? Obviously he is one guy who HAS to be there, but that would make me just a tad nervous. The one thing Team Africa does have is good size, perhaps more size than Team World in guys like Biyombo/Capela/Embiid/Ibaka/Mejri but that's really it. One could argue they went with too much size and not enough of everything else. This roster doesn't really have any shooters, I guess Oladipo might be the best one? He has career splits of 43/34% so maybe not. Perhaps it's Schroder but I'm not sold on that either. I just don't see how this team is going to match up with Team World who is stacked with quicker players who can hurt you from both inside and the outside. Again without knowing the line, I feel like Team World is at a huge advantage here.
Also participating are some big name NBA coaches like Erik Spoelstra and Alvin Gentry, the best trainer in the NBA in Ed Lacerte from the Celtics, and one of the most respected GMs in the game in Masai Ujiri.
Hopefully this year will also showcase Hakeem The Dream and Mutumbo again, I don't care how old they are that was wild to see in 2015. I just looked up the tickets and I'm not sure I fully understand the pricing, but it doesn't appear to be that expensive
I know we're trying to take over the moon here at Barstool, but why not also take over Africa? I'll be the bigger person and volunteer myself for such a task. Just something for the higher ups to think about is all I'm saying .