Barstool Daily NBA Roundup: KCP Signs with Lakers, Dedmon to the Hawks, Vegas Summer League Tournament Time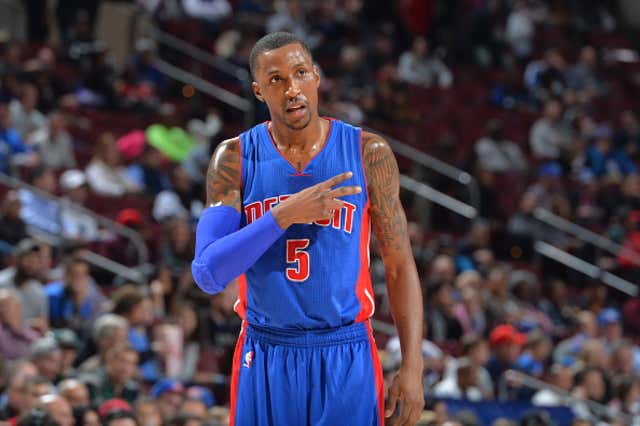 Lakers gets Kentavious Caldwell-Pope for a Year: 
This is an interesting signing, not because of KCP to the Lakers, but because of the one-year deal with the Lakers. This means a couple things. First, KCP is betting on himself and/or didn't get the Dion Waiters/Allen Crabbe offers he was expecting. If he's betting on himself, it makes sense to go to the Lakers. He'll step in and start right away and gets to play with a guy in Lonzo Ball, who is a pass-first point guard, meaning even more shots. From the Lakers standpoint, this is them making a move that won't hurt them for next season as they'll push for Paul George and Russell Westbrook (among other big name FA's) to come to LA. If KCP really wants to get that bigger offer, he needs to be more consistent shooting the ball. He's known as a 3-and-D guy but sort of lacks the '3' part. He's just a career 33% 3-point shooter and while he's still just 24, you need to see him shoot 38% or better this year. Caldwell-Pope is coming off a year where he put up 13.8 points, 3.8 rebounds and 2.5 assists per game.
Hawks Sign Dwayne Dedmon: 
Again, another player that has an interesting deal. Dedmon signed a two-year deal with the second year being a player option. The Hawks are going to stink. They are going to stink really bad as they simply just don't have the talent. Now, that said, they do have John Collins, De'Andre Bembry, Taurean Prince and Dennis Schroder (depending if you believe in him) to build around for the future. They should absolutely tank this year and possibly next year to truly build up this young core. Dewayne Dedmon was one of those low key free agents plenty of teams were hoping to sign. The Hawks now have a group of young big guys to work with in Collins, Dedmon, Diamond Stone, Miles Plumlee and Mike Muscala. I'd like to see Dedmon and Collins paired together as Dedmon graded out as one of the best centers in the league last year. Collins has shown the ability to play the four spot and while he's not strong defensively, you have that safety blanket in Dedmon. If he can show something on the offensive side of the ball he may be in for an even bigger payday next season. For the Hawks, you wonder if he's going to be looked at as part of a trade deadline package to create more assets, especially if Collins is playing well.
A Possible Trade for Reggie Jackson? 
Yeesh, I don't like this deal for anyone involved, but can at least understand it from the Pistons side. The Pelicans should absolutely not take on the Reggie Jackson contract, especially after giving Jrue Holiday a 5-year $126 million deal. The Pelicans need to worry about building around Davis and Cousins and try to make a push for another FA (cough, cough, John Wall, cough). The Pistons will at least shed the Jackson contract and let the rebuilding process again as they need to move on from Jackson and/or Drummond. I like what they have on the wings in Bradley and Kennard, but they still need a more reliable point guard. I don't know if this will go through and if you're a Pelicans fan, just hope it doesn't.
Vegas Summer League – Tuesday's Results:
Vegas Summer League – Sudden Death Is Awesome
It's rare to see, but we got a sudden death double overtime game last night and it was awesome. The last game of the night between the Warriors and Timberwolves gave us that glory. After a 2 minute OT, it goes to the sudden death. We need more sudden death OT just because of how crazy it is to watch. CJ Williams won it on this floater:
Vegas Summer League – Donovan Mitchell is Going to be a Problem: 
This guy is setting an early lead for most impressive rookie so far this summer. The former Louisville star impressed during the Utah Summer League – especially when he won his 1v1 duel against Jayson Tatum and now is coming off a game in which he scored 37 points. Oh, not to mention another 8 steals against Memphis yesterday. People keep asking what position Mitchell should play, which is an incredibly dumb question. He's not a true point guard and people claim he's too small to play the two. My response, who gives a rat's ass? The kid can ball and can handle it well enough to play on the ball if you need him to. Utah will run a lot of side screens anyways, so just let him continue to attack offensively and dog dudes defensively.
Vegas Summer League – Dennis Smith Jr., in the Pick-and-Roll: 
I heard this last night and it triggered me. The broadcast night (Rip Hamilton) and plenty of people are questioning why DSJ is so good in the pick-and-roll this summer after being turnover prone in it last year at NC State. The answer is simple. The lane is open. During his time at NC State, Gottfried put out the worst lineup for him to play with. They crowded the lane, which meant whenever he turned the corner he'd run into his own teammate more often than not. With him now in the NBA, there's usually no one in the lane as they are spreading the floor and letting him attack. You can see the massive difference as he's averaging 19.5 points and 5 assists a game in the summer.
Vegas Summer League – Alex Caruso, Rotational Player? 
I've mentioned it plenty of times before that you see someone break out in summer league to make a roster. This year, one of the guys who looks to be in that spot is Alex Caruso with the Lakers. The second-year player from Texas A&M has improved dramatically offensively after coming into the league as a defensive-minded player. Plus he gave one of the best lines during an interview after being asked about his lob with Travis Wear:
Vegas Summer League – Other Notable Performances: 
Dillon Brooks (Grizzlies) – One of the players who will benefit from basketball going 'positionless' is Dillon Brooks. He's undersized and not uber-athletic, but has an incredible all-around game and can play multiple positions like we saw him do at Oregon. He put up 24 and 6 assists yesterday, showing his ability to create at the next level. This past draft was unusual in the sense that it feels like there are more second-round guys (like Brooks) who can carve out a 10-year career than ever before.
Yogi Ferrell (Mavericks) – The feel good story from last year, Ferrell combined with DSJ to score 39 points. I'm curious to see what the Mavs do at the point guard spot with DSJ, Yogi and Seth Curry all on the roster, but with Rick Carlisle there you know he'll find a way to make it work.
Jayson Tatum (Celtics) – People wondered why I had him at No. 2 on my big board before the Draft and it's become of how pure his offensive game is. He's showing his variety of moves by breaking out fadeaways from all different angles and attacking the rim. His footwork is unbelievable for someone his age and he continues to thrive with the ball in his hands. He put up 15 points again last night against Philly.
Vegas Summer League – Tournament Bracket: 
The 'regular season' of the Vegas Summer league is officially over, which means we have our first bracket.
This is one of the main reasons as to why the Vegas Summer League is the best, because the games mean something from a team standpoint. The top-8 teams all received a bye as we have the single-elimination tournament starting today. We get 8 games today starting at 1, so a nice way to pass the afternoon at work.