Do These Look Like the Faces of NYC's Loudest Sex Couple?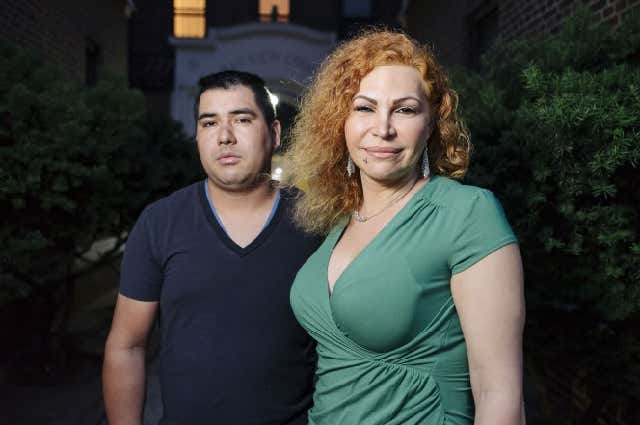 NY Post – Meet New York City's loudest lovers.
Olga Valerio, 49, outed herself to the Post as one half of the dynamic duo that sparked the most 311-hotline complaints in the city for loud sex.
The hairstylist's partner in carnal cacophony inside her Bay Ridge, Brooklyn apartment is a man young enough to be her son, 26-year-old building handyman Byron Perez.
Olga's fourth-floor pad at 7201 Ridge Blvd. was named in a 2015 DNAinfo report as home to the city's highest number of 311 gripes about clamorous coitus. Neighbors, claiming the couple's moans and grunts jolted them awake at all hours of the night, complained a half-dozen times alone in a three-month period. …
[M]any assumed that Valerio's daughter, 31-year-old Dahiana Valerio, was part of the deafening duo.
Olga Valerio is coming forward now, she says, in an act of motherly love, to take full credit, or blame, as the moaning momma. …
"Chemistry is chemistry," Olga told The Post. She called her relationship with Perez healthier than those she has had over the years with men her own age.
I hope your happy with yourselves, people of Brooklyn. Calling the cops on a couple of true sex artists like Olga Valerio and Byron Perez. Putting your own petty need for a night's sleep ahead of their unbridled passion is criminal. Expecting to reign in a saucy minx like Olga is a sin against nature. Like caging a beautiful, wild animal. You'd be much better served by just waking up, gathering at your windows and learning to appreciate Byron's talents instead of trying to clip his wings like this. But some people are just too caught up in their own self-importance to respect the greatness of others.
And kudos to Olga for coming forward like this. To be out there, loud and proud. A lesser mother might have let her daughter take the rap, but not my girl Olga. She's not afraid to look us in the eye and admit she's getting railed by a sexual dynamo half her age and her orgasms are what's keeping the City That Doesn't Sleep awake all night.
If you're like me and never once sexually pleasured a woman enough that the neighbors complained, it's impossible not to look Byron Perez with his dad bod and his penis so powerful it disturbs the peace without being ashamed of your own lack of manhood. So keep doing you, Olga and Byron. This world was never meant for ones as beautiful as you.