The Miami Joker Arrested For Pointing Guns At Cars
A Miami man whose green hair and tattoos bear a striking resemblance to the Joker character from "The Dark Knight" was arrested after police said he was pointing a loaded gun at passing cars.
Lawrence Patrick Sullivan, 29, was arrested Tuesday night on a charge of carrying a concealed firearm, Miami-Dade Police said.

The officer spotted Sullivan walking out of the front gates of the Hammocks Place Apartments. He patted Sullivan down and found the firearm, a Smith & Wesson handgun with six rounds in the magazine, in Sullivan's pocket, the report said.

Sullivan, who was listed as a "tattoo model" on the arrest report, was booked into jail where he was being held on $5,000 bond Wednesday, jail records showed. Attorney information wasn't immediately available.
Being a judge would be hard as shit. How do you look at this dude who has wild ass green hair and looks like the Joker and be fair and impartial?
As someone with many horrific tattoos, even I judge the shit out of this guy. Hey Lawrence, comb your hair with your fingers. Stand up straight. Enunciate when you're spoken to and don't site your bad attitude as a reason that you don't want a lawyer.
The balls on this guy to list his profession as a tattoo model, too. I mean, he's kinda handsome I guess. Handsome enough to be a model? That's certainly up for debate.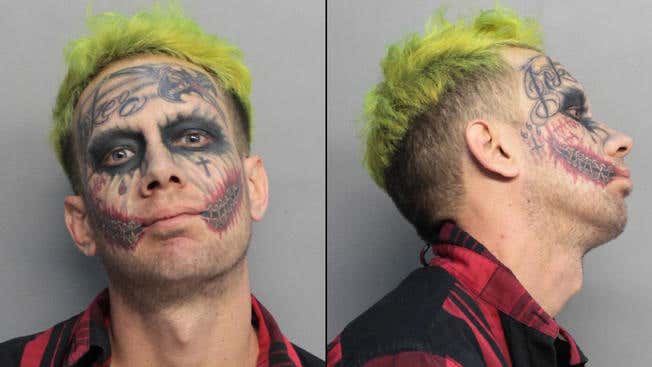 Some free advice to anyone wanting to get their face tattooed. Spring for a good artist. I, like you, love a good deal. Being thrifty is important. But if you're gonna get the Joker's stitches, the Batman logo (having both is weird), some devil worshiping stuff, and some scribbles tattooed on your face, get an artist who specializes in those things. Use Yelp one time for me, Joker. Just one time.
I do admit that the black portions around his eyes are a good look. Really makes his slightly hazel eyes really pop. Good decision there. Dreamy as fuck.