This Girl Has A Bio That Sums Up How Easy Life Is When You're A Hot Chick On Tinder
There are a lot of attractive women out there who feel like they're not appreciated for their minds or other impressive qualities they have besides their looks. But those women? Ingrates. When you're indisputably hot like this girl, you don't have to develop those other skills in the first place. She doesn't need to send entertaining messages or impress you with her resumé and places she's traveled. She's hot, that's enough to get her paid at work, that's enough to get her notes from kids at her school so she doesn't even have to go to class, that's enough to get her a husband who'll pay her way in return for access to her orifices. Why do more when you don't have to? There's an honesty to it that you've got to admire, at least until she's a 35-year-old divorcee who's never read a book or had an interesting thought. Buuuut that's what plastic surgery is for, the system works! (via CC)
And sup internet, it's another week of the world's most cherished and emotionally satisfying Tinder roundup. It's a hot week on the East Coast and an even hotter one for this blog, lots of quality screenshots hit my inbox this week. Follow me on Twitter and Instagram to DM in your screenshots, thanks to the folks who sent things in, and now let's get to it:
Must have been a big time Bernie supporter amirite fellas??? (via TC)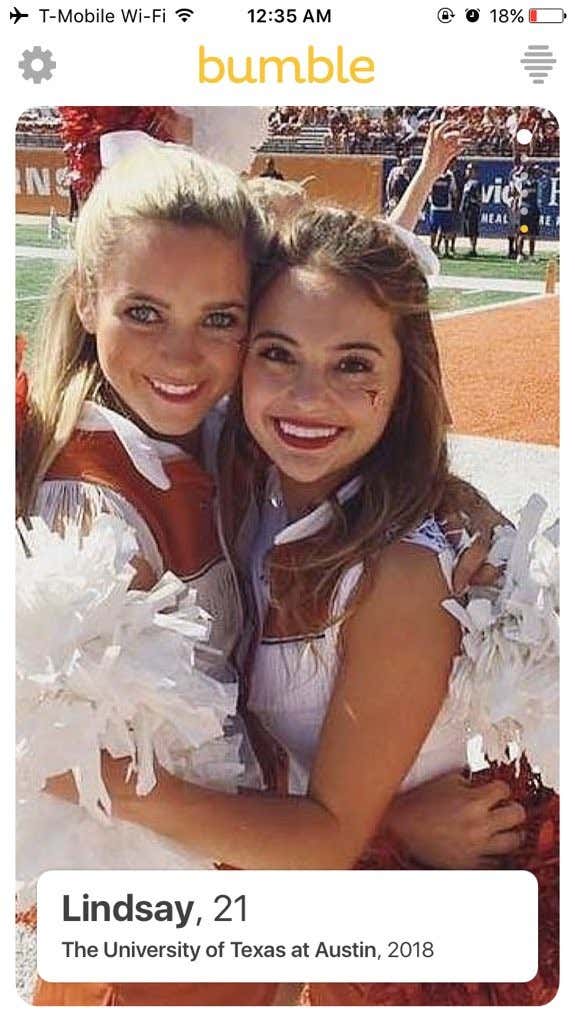 Cheerleaders on Bumble, a tale as old as time (via MH)
I admire her Lean In approach to handling her name (via MP)
Kids these days, they grow up and need drugs delivered to rehab so fast (via VS)
Fear is a healthy human emotion sometimes (via CG)
A threesome with a couple who wears matching outfits is definitely a fetish for someone out there and that fact is honestly kind of amazing (via SA)
She seems pretty to be so aggressively annoying (via GK)
(via AG)
Classic Princess behavior looking for threesomes and spending time in Pittsburgh, a traditional royal experience (via DDFF)
(via C)
I feel like if you're a white girl the "no Asian guys" thing is implicit anyway (via M)
Relationships are about supporting one another at heart (via AD)
Dating a girl named Andy who could beat your ass may mean you're the woman in the relationship tbh (via TH)
Suddenly I'm less concerned with the political news this week (via J)
Me and Lord Zed here are gonna smoke some bowls and complain about alpha male moves (via GW)
The sad part is that could totally be a real name given what we know of the world (via SLC)
UPenn quality humor, Tennessee quality name (via MM)
Sarah: Very Fucking Done with Tinder (via JS)
(via TCK)
Personally I prefer my girls to not get spit roasted by midget wrestlers but I could see the appeal for some (via RZ)
If my research of porn films are any indication, MILF Carrie would have trusted that Process with great enthusiasm (via D)
And onto the hot and NSFWish ones….
The best possible outcome of a chick in Portland with Portland ideals (via AC)
I'm throwing this in here for the tattoo guys…that look isn't usually my jam but I'm here for ya (via R)
This #SpagsPromise is the biggest win for the Jets in years (via H)
(via DS)
I'm not interested at all in this #SpagsPromise's business proposal (via P)
(via S)
May all of our summers include hot girls in bikinis double fisting drinks by the water (via MG)
Things really have turned around for Cleveland (via ZR)
The #SpagsPromise helps the kids too (via TJ)
An Asian girl with a booty like that is practically begging to make future Nelly music video girls (via MH)
I'm not opposed to camel toes being annexed into the #SpagsPromise like Puerto Rico for what it's worth (via ND)
I don't think this #SpagsPromise is going to a real college, sounds like a fake school made up by someone named Lesley (via DC)
It's a #SpagsPromise…
(via TS)
HOTNSFWyoucanconfirmshes22ifyoucounttheringsonhertainttoo.jpeg">
You can confirm she's 22 if you count the rings on her taint too (via NC)
And there we have it, another week in the books. Follow me on Twitter and Instagram to DM in screenshots, thanks to the folks who sent things in, and happy swiping!