Jeff Goldblum Has Been Cast In The Next Jurassic World Movie And All Is Right With The World
THR- Jeff Goldblum is returning to the land of dinosaurs. The actor, who co-starred in 1993's Jurassic Park and 1997's The Lost World: Jurassic Park, will appear in Universal Pictures and Amblin Entertainment's next Jurassic World film. J.A. Bayona (A Monster Calls) is directing the next installment in the studio's hit franchise. Jurassic World earned $1.67 billion worldwide in 2015 and is the fourth-highest-grossing film in history.
Goldblum will reprise his role as Dr. Ian Malcolm, the know-it-all mathematician who came to the park as an insurance consultant — and somehow survived both the original film and the sequel.
I must admit, after his absence in the last few movies, I thought we had seen the last of Dr. Ian Malcolm in the Jurassic Park movies. One of the greatest supporting characters in cinema history. The creepy laugh. The perfect one-liners. The awkward demeanor. The ability to cuck you quicker than a Soul Cycle rider by simply laying down covered in all black everything and sex appeal. All extinct as the true main characters of the Jurassic Park movies. But as it turns out, life, uh, finds a way. And not only is Ian Malcolm returning, but Jeff Goldblum has been cast as what appears to be some Fifth Element character in the upcoming Thor movie. Goldblum SZN is coming. And I cannot be more excited for it.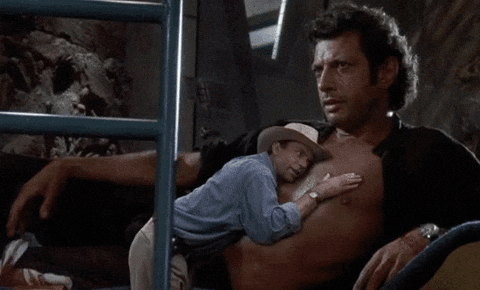 NOW HIT HIS GODDAMN MUSIC!!!