2017 New York Giants (Leaked) Schedule Breakdown
Now the Post is reporting it, so I guess Mike is right.
First things first, Mike Francesa acting like he's an insider like Adam Schefter and leaking the schedule makes me so happy. On the same day I blogged him basically making the noises of a digesting stomach while reading on the air, he goes out and leaks the Giants 2017 schedule. Diverse as fuck.
Second things second, the NFL making a huge deal about their schedule releases, to the point where they announce the announcement that the PRESEASON schedule will soon be announced. No league sucks its own dick more than the NFL. But you know what, I love when the regular season schedule gets announced. I can plan my yearly tailgate, figure out when the Giants will likely break my heart into a billion pieces, and when they will glue them all back together before making every December game life or death.
And yes I will like to insert a disclaimer that basically this entire blog will be dated the moment I publish it since the draft hasn't happened and injuries, suspensions, and all the other crazy shit that occurs in the NATIONAL. FOOTBALL. LEAGUE will make these games look compleeeeetely different. But I still love talking about the schedule because this league has me by the balls. I won't go through and pick every win or loss, but just how I feel about each game.
Onto the schedule:
– First of all, biiiiiiiiig fucking surprise that the Giants are starting the season in Dallas. Can the NFL just admit that they are going to do this every year so I only have to wonder where 15 games will be. I'm shocked the NFL hasn't gone all-in on it and had a corporation sponsor the game and put a trophy on the line like its a college game between rivals. Because Giants @ Cowboys, usually on Sunday Night Football, is almost a lock for Week 1 year in and year out.
– The Giants playing in the Lions in Detroit is a coin flip. The Giants playing the Lions at home is a W for Big Blue. If it was in New York late in the season, I'd think it was even more of a lock. And since this game is on Monday Night, you know it won't be over until very late in the 4th quarter. That probably goes for the Sunday Night game in Dallas the week before. And it's not even the time the game ends that keeps me up late. It's the hour comedown needed after a field goal decides 1/16th of my team's season.
Can't wait to be sleep deprived early and often this season.
– Short week before heading to Philly? Gonna chalk that up as a loss just because I'm pretty sure somebody once told Eli that the Boogeyman lives in Philly and he has been scared of that garbage town ever since.
– I have absolutely no feel for what the Broncos will be this season. But I feel like they are always a pain in the ass on Monday Night Football. I will never discount altitude at Mile High. Ignoring the thin air of Denver will almost always result in you getting your heart ripped out. Something tells me that Jon Gruden will likely be sucking Von Miller's dick from the first minute on, especially whenever he goes anywhere near Ereck Flowers' side of the field.
– I want to win this Chargers game more than most just because I know Phil Rivers loves going all
PHILLLIPPPPP RIVERRRRRRRRRS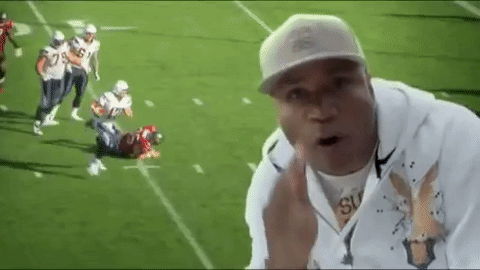 when he plays against Eli after that draft day trade many moons ago. But trying to figure out what the Giants or the Chargers will do any given Sunday is basically impossible.
– Looooove that the Giants are playing the Seahawks in New York instead of Seattle. It's like racing against someone in Mario Kart that has a green shell instead of a red shell.
– I love the middle of the season Bye Week. You don't want it too early when the team is fresh or potentially hot out the gate. And you don't want it too late when the all 53 guys could be listed on the injury report. I also know how much Tom Coughlin loved having the bye in the middle of the season and I really miss that old, cranky son of a bitch. Then I remember Benny and his beautiful mane are here and it makes everything okay.
Leader. Of. Men.
– I'm worried about the Rams game because that's the kind of game that gets weird and ugly, followed by me wondering if the Giants are REALLY going to lose to the Rams, followed by Odell taking two slants for two 50+ yard touchdowns. God I cannot wait to watch Odell Beckham Jr. play football again.
Also being a Rams fan sucks this decade sucks wayyyyyyyy more than I realized.
Jeff Fisher really was teflon, huh?
– I don't know how to feel about the 49ers game because I don't know who is on the 49ers anymore.
– Knowing the Giants luck, that Chiefs game will be the week after KC's bye, when Andy Reid becomes the Undertaker at Wrestlemania. I'm chalking this one up as a loss now.
– I haaaaate having a Thanksgiving game and despise having a Thanksgiving night game. It hangs over your head all day and you will barely be awake for it if you drank the night before and/or ate your face off that day. However there is also a chance the Redskins will be in full Redskins mode and tailspinning their dicks off by this point.
– Our sweet sweet Eli probably is not going to enjoy his time in the Black Hole with all those weird motherfuckers. But I blindly feel like this game will be fun as fuck.
– Three division games at home and Arizona on the road is a hell of a way to end the season. I also didn't realize that the first three division games are on the road. Kiiiiiiinda hate that. However the odds of a 38-year-old Carson Palmer being healthy by Week 16 aren't the greatest, which is good for the Giants I suppose. And we know what happened the last time the Giants played on Christmas Eve.
I also love that the Giants are playing the Skins on New Years Eve since I don't
leave the house on NYE now that I have a kid. You know how depressing it is to watch those New Years shows even before Mariah embarrasses herself? Brutal. I wouldn't even care if it's a night game. I'd actually welcome it.
Official Prediction: I always predict the Giants to go 10-6 where they just miss the playoffs or they make the postseason and win the Super Bowl.
Howeverrrrrrrrrrrrrrrrrrrrr, I feel some magic in this team. B Marsh was the perfect addition to the offense, the defense that became dominant as the year went on is almost all back, and Benny Mac probably has saved up some wacky videos of animals eating humans to inspire grown men to win football games.
Which is why I am predicting the Giants go….
11-5
and of course…
Super Bowl Champions