UF Baseball Refuses To Re-take The Field After Lightning Delay So That They Wouldn't Get A Loss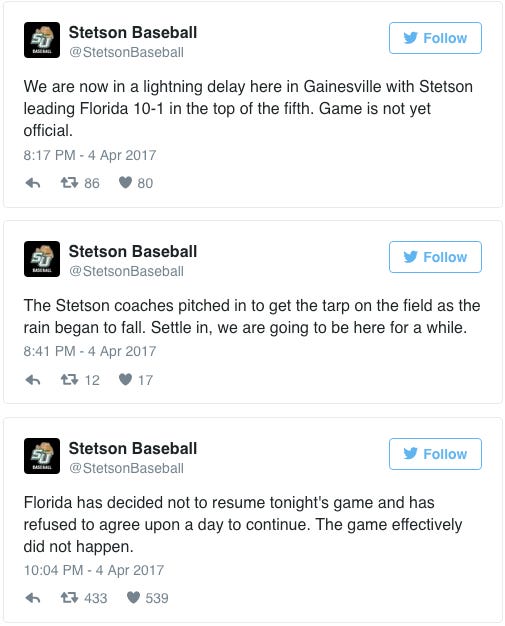 The Advocate – Did the Florida baseball team pull a fast one to avoid a loss this week. Opponent Stetson University thinks it did. And some LSU fans may nod in agreement.
A story posted on Stetson's athletics website takes a dim view of Florida's refusal to play ball after a nearly two-hour rain delay Tuesday night, with the Gators trailing 10-1 in the fifth inning.
Eighth-ranked Florida also declined to resume the game at a later date, despite two available open dates, Stetson said. The result: "The game effectively did not happen," Stetson baseball grumbled in a tweet.
What's the correct opinion on this move?  Well, it depends who you ask.  If you ask me it's a savvy move to keep yourself from catching the L.  Fully legal.  A Patriots-style exploitation of the rulebook that whiny babies like John Harbaugh cry about.   Also I find lightning to be terrifying personally so I'm down with not electrocuting yourself for the sake of a baseball game.
But ask an SEC fan and you're gonna get a different version of events.  Especially now that UF seems to be developing quite the brand for themselves.  A "bitch out of games and use the weather as an excuse" type brand.
If all of this sounds familiar, recall that many LSU football fans and some players contended in October that Florida used a similar tactic to wriggle out of a game with LSU when the Gators were suffering from key injuries.

That fiasco began Oct. 4, as Hurricane Matthew turned toward Florida's Atlantic coast two days ahead of a scheduled game in Gainesville. In discussions with Florida and SEC officials, LSU offered multiple scenarios to play the game during two days' worth of discussions ahead of the decision to postpone.
Both completely correct, depending on where you are regionally and what teams you root for.  Stetson and LSU – valid beefs.  Me, I don't care too much about this baseball game resuming.