World Juniors: USA Conquers Slovakia, Are 2-0 Heading Into Russia
Puck Line: USA -4.5
O/U: 6.5
Team USA already made light work out of Latvia on Monday. It took a little while for things to gel but the kids finally got it going as the Hockey East schools went off for a 6-1 win. Goals from Boston University, Boston College (and an ex-Boston College Eagle). Assists from the Boston Schools and UConn. And now tonight they have Slovakia ahead of them. Won't be quite as much of a cake walk as Latvia but we're still in pre-game mode for this tournament. The real guantlet gets going tomorrow against Russia and then Saturday against Canada. But for now, it's time to conquer Slovakia. Watch out for Clayton Keller, Colin White and Tage Thompson to have another big performance in tonight's game. Big fan of the jump that line plays with.
Follow along Twitter @BarstoolJordie for live updates/videos/GIFs and make sure to keep checking back in for intermission updates. The game is being broadcasted on NHL Network and I'll drop some streaming options closer to puck drop.
Let's Get It.
Game Time Update: Puck drop just about underway. Here's a stream for all you boys and girls at home who don't have the luxury of NHL Network in your cable package. Stream Here.
1st Period Update: USA, 2 – Slovakia, 1
Flyers' prospect Tanner Laczysnki got USA on the board first. Getting nice and greasy in front of the net and putting home his own rebound on the backhand. 1-0 good guys.
Joseph Woll got the start for Team USA tonight and it's more like Joseph WALL, in my very expert opinion. Amirite???
Then it was the Keller/White connection back at it again. This time getting a little help from the Slovakian defenseman who forgot how to skate backwards.
The sauce on that pass is going to put Italian restaurants all across the nation out of business. But it wasn't even the prettiest play of the period after this goal on the powerplay from the Slovaks.
Oh my. Thread, meet needle.
2nd Period Update: USA, 5 – Slovakia, 1
Tage Thompson was all over the place against Latvia on Monday but just wasn't able to find the back of the net. He got things going in the 2nd period tonight with one of the best highlight reel goals you'll see all tournament long.
Let's take another look at that finish.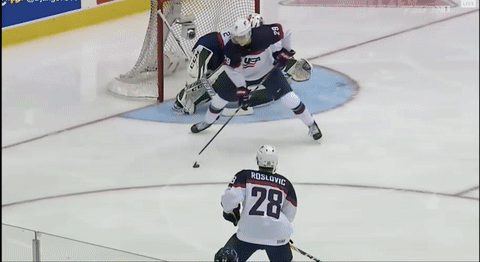 Jizz everywhere. The kid is a Blues' prospect so I can't stand him right now considering what the Blues are doing to the Flyers. But it was filthy nonetheless.
Then for all you Massholes in the building, Bruins' prospect Charlie McAvoy added on to the lead with this blast from the point.
Lethal lettuce. Lethal bombs. Kid is a stud.
Finally to end the period, Ducks' prospect Troy Terry decided to whip out his nuts and rub them all over Slovakia's face with this snipe.
5-1 with 20 minutes left to play. Twenty minutes. One goal away from another OVER. Let's get it.
Final Update: USA, 5 – Slovakia, 2
Nothing better than a garbage time goal in the final minute to hit that over. Woulda been nice if this breakaway from Clayton Keller was the one to do the trick.
But we'll take it anyway. Nice little 5-2 win heading into the two biggest games of the tournament. Russia tomorrow at 3:30. And then the New Years Eve showdown against Canada on Saturday. Get ready, boys. It's about to get fuckin' wild. Let's get it.
Thanks for following along all night. Make sure to throw that follow on Twitter @BarstoolJordie. I promise you'll only be slightly disappointed.