Jacob deGrom Ruled Out For Season And Will Likely Need Elbow Surgery
Put a fucking bullet in my brain and a pink slip in Ray Ramirez's locker. Building your team around power arms in 2016 is already a trick enough proposition. But it's made a million times harder when Dr. DL is your head athletic trainer. It's like letting a rabid raccoon raise your kids. After the 10th trip to the ER, you have to realize that things are never going to change. And this news coming on Jacob deGrom Hair Hat night may be the most Mets thing ever.

I know they are saying this isn't a Tommy John elbow surgery. It's dealing with a nerve instead of a ligament. Yada, yada, yada. But I can't imagine any doctor in the universe thinks that opening up a pitcher's elbow is good thing. Take a look around at the staff that guided us on that AMAZIN run last year. Harvey is dead. deGrom is now dead. Matz is only mostly dead. Sure Noah and Big Sexy are still rocking and rolling. But Thor is a God and Bartolo is unbreakable. Something needs to change. It won't be Ray Ramirez's position with the team, though. Dude is a bulletproof cockroach with the Contra code on and all the Super Mario stars Nintendo has ever created.
There is only one man that can save us now.
Just kidding. God will smite the living shit out of the Mets if we butcher his favorite player like the Romans did his son.
Fuck everything.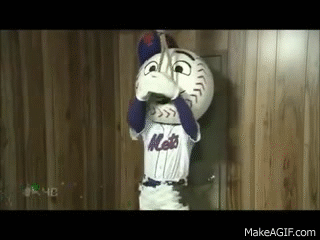 *To be clear, I still am not discounting an unbelievable run to a World Series simply because nothing the last month has made any sense. But damn it hurts losing deGrom's arm, guts, and Stamos-like flow just when we thought we were going to get him back.