Giants FINALLY Cut Andre Williams
Mood: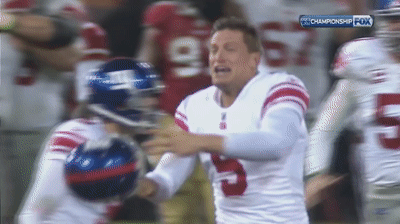 Happy Andre Williams Cut Day, everyone! I'm not usually someone who celebrates a player losing his job, but I think every Giants fan on the planet is ecstatic that they will never have to watch Andre Williams execute the 1 yard and a pile of dust offense anymore. I thought that the Eagles committing highway robbery by sniping a first round pick for Sam Bradford would ruin this day that we've been patiently awaiting for years. But Jerry Reese took his sweet ass time and dropped the hammer right at the 4 pm deadline once the Bradford bomb finally wore off.
There will be no more plays by Andre Williams that make me feel like this
Or Rotoworld updates like this

All while sullying the good vibes that Ahmad Bradshaw put into the number 44. Now with the Giants moving on, the fans will have to find a new player to hate. I'm sure that player will be revealed quickly, either on the offensive line or somewhere on defense. Oh yeah and Josh Brown. He's going to fill that role for probably the rest of his tenure here.
As for the running backs that are here, I'm excited Orleans Darkwa made the team. Jennings is hit or miss (and always an injury risk) while Vereen is great on 3rd down but that's about it. Oh yeah and because I'm a big dumb idiot, I am going to continue to dream that Paul Perkins becomes a Rookie of the Year candidate simply because I've watched way too much of his college highlights. But regardless of what those four players do this season, it will definitely be light years ahead of what Andre Williams would have offered. First win of the season and we don't kick off in Dallas for another week.