A Chick In A Bikini From North Dakota Has The Most Aggressive Tinder Profile I've Ever Seen
This one was going viral through Reddit this week and when I saw it I knew it was special. It really has everything I look for when weeding through several hundred submissions a week to pick the best of the litter. You've got your big titties in a bikini, you've got some clever little bio lines that I haven't seen before, a chick who seems like dynamite in a bottle, just everything we need to get to the finish line on a summer Friday. And then you top it all off with the fact that we learned that apparently this kind of chick exists in NORTH DAKOTA of all places, how she hasn't been exported to one of the coasts yet blows my mind. Maybe North Dakota has millions of chicks like this and we have zero clue. So all that listed above AND a little intellectual curiosity. Perfect bio, perfect body, God bless North Dakota.
And just like that, another week of the galaxy's most-read Tinder roundup is upon us. I have to be honest, I'm going to be thinking about the North Dakota chick this entire time but I'll try to focus enough to get through the other quality submissions this week. Please GO FOLLOW ME and DM IN YOUR SCREENSHOTS (feels like the best week of submissions was one when I used caps locks, worth a shot), thanks to folks who sent things in, and let's get to it:
I recognize these things she's written as words but I refuse to understand what they mean in this context (via C)
Your competition for the week has a dick with the coloring of Draymond Green's, it seems (via RC)
As far as humble brags go, I don't mind this one at all (via CC)
(via MW)
Your competition for the week is actually the Royals' Eric Hosmer. Though after Kacie was in the blog a few weeks ago, I feel like I'm now being sucked in as a middle man for their dangerous game of app-based sexual cat and mouse (via M)
Yeah that sounds like a Rowan University girl (via RSC)
Clearly NYC can use some more friendly Canadians (via SM)
Jon has some interesting theories on life (via AT)
A photo with Asa Akira sends an interesting message but I'm not sure if it's one that's intended (via BL)
I love my dogs more than anything but I'd sooner let them eat me alive like VAGUE GAME OF THRONES SPOILER BUT YOU KNOW WHAT I'M TALKING ABOUT before I'd get a giant tattoo of their faces on my body (via MM)
These are the kind of unsavory characters you see if you use the Hinge dating app, the bastard child of the app crew (via TS)
Ask this chick to sit on your face at your own peril you intrepid Tinder creeps (via JS)
Given that Gandhi loved to dip his bald head in oil and rub it all over women, I'm not doubting that this is a real quote (via JG)
I won't argue with most of these but fuck I still can't turn on those Snapchat filters, girls just look so cute in them that I don't care if it's a lie (via NJW)
For as much USC pride as I have, it's hard to argue with the quality of ASU girls (via JR)
Having goals is important but having achievable goals is even more so (via KP)
Hooters girls outside of their work outfits also have some merits I suppose (via CC)
Took me a second but I think the "F in fun" is referring to her tit size, good job by me (via BK)
Leave it to this girl to use a telescope and blow the entire far away butt shot game (via CM)
What the fuck is going on here and why (via CTT)
For as annoying as parts of this profile were I still would be glad to say hello to kitty (via DS)
Pretty mean of Bumble to not let a cheerleader on their app just because she went to community college (via JR)
Keeping this profile up is disgrace to the proud memory of this majestic beast. Not like selling t-shirts to honor him, that's classy. RIP HARAMBE
(via DH)
And onto the hot and NSFWish ones…
Fine far away butt shot but the pose she's doing kind of makes me wish there were a video where she fell off (via GM)
If I'm being honest I would throw every single one of you in front of a bus for a shot here (via Smells)
Bleh I don't believe you but I made a commitment to blogging see through nips in this blog and I won't betray that (via R)
Ahhh perfect see through nips palate cleanser, about as sexy as A cups on the loose can be (via DM)
Siiiiiiiigh 18 year old booty (via ND)
Be warned, they do not make sweet girls in Miami (via K)
This is hot 20-year-old fuck girling at its most charming (via C)
Gage Models, whatever you are, please get this girl more highly visible work, preferably in the artistic nudes genre (via CB)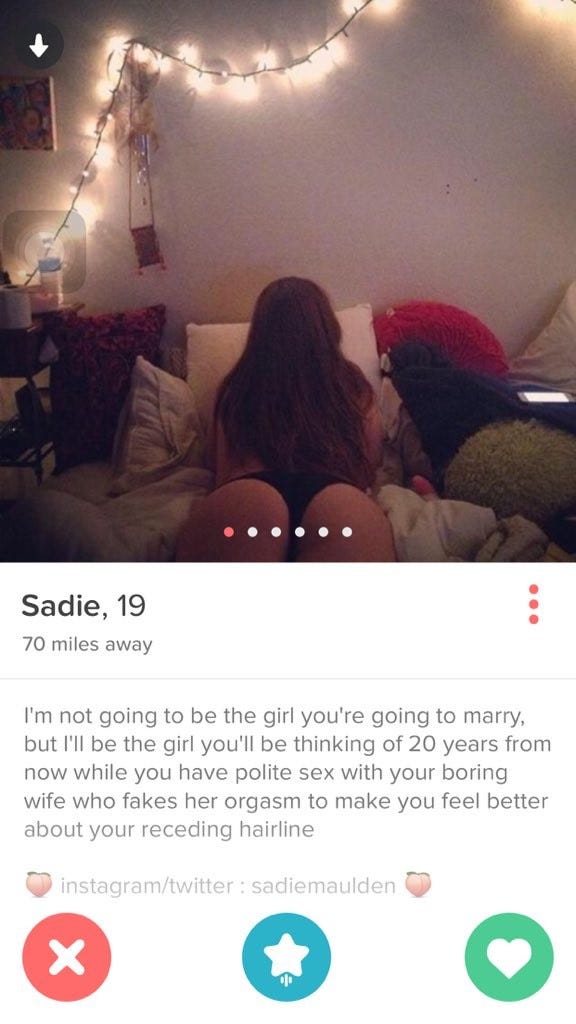 I've posted similar bios before but the combo with the butt pic deserves dusting off of the ol "Diabolical" phrase (via MB)
Not a big tat or "show your asshole on Tinder" guy but would would would (via M)
I wouldn't recommend this for most girls but that is some fairly tasteful nudity (via BH)
So two's a coincidence and three's a trend, will we be lucky enough to make "Girls completely naked but not really showing anything from behind" the new far away butt shot? Tune in next week and find out (via BB)
And there we have it, another week in the books. Follow me on Twitter to DM me your screenshots, thanks to the brave men and women who sent things in, and happy swiping!