J.R. Smith's Tearful Postgame Press Conference Was Pretty Damn Awesome
The J.R. Swish roller coaster had another few loopty loops for us during this Finals. His play wasn't exactly stellar for most of the series, but his daughter kept it as real as can be before Game 6 and then this awesome moment happened during the postgame press conference following Game 7. Yes this is the same guy that is known for his Want The Pipe DMs, elbowing Jason Terry in the face during the playoffs, untying peoples shoes, always clubbing, and a ton of other tomfoolery. But that's the thing about J.R. He could say or do things that would make you love him and then pull some stuuuuupid bullshit to drive you nuts. And based on that press conference, he knows how people view him more than anyone else. Regardless, that was a real human moment between a son and his dad on Father's Day. J.R. Smith: NBA champion. What a time to be alive. Watching ex-Knicks win championships will always be bittersweet. But seeing things like this make it a little more sweet than bitter.
That being said, J.R. is about to party his ass off. I am actually worried for his well-being. This video makes me feel like he may have grown up a bit and take it easy. But I know way too much about J.R. Smith to not believe that he's going to be the last Cavalier partying. LeBron and Kyrie are going to show up to training camp and J.R. will still be on his bender with bloodshot eyes and bottles of bubbly in his hand. And as a sports + smug blogger, I for one cannot be happier. Business is about to pick up!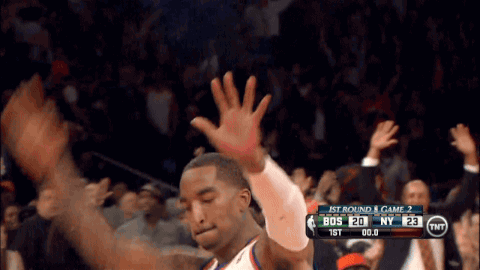 Update: The J.R. Smith Championship Celebration Tour is officially underway!