Golden State Can't Close At Home As We Now Head To Game 6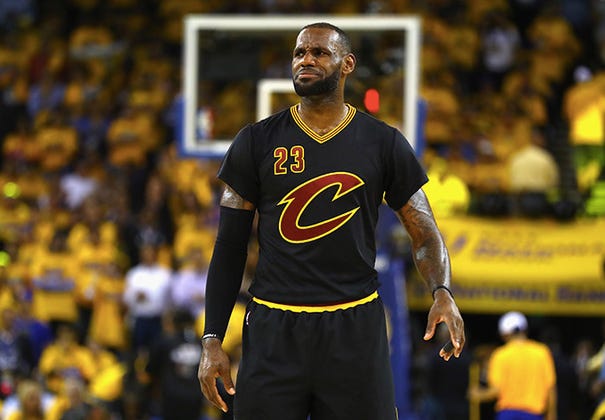 What a performance from @KingJames & @KyrieIrving in Game 5! #NBAFinalshttps://t.co/hpevRVmKeP

— NBA TV (@NBATV) June 14, 2016
I think now we know why Lebron did all he could to get Draymond suspended. On one hand, you called him a bitch and he dropped 41 points, 16 rebounds, 7 assists, 3 steals, 3 blocks, on 52% shooting right in your face. But it's not that simple. There is absolutely no way in hell that Lebron has this type of night against Draymond Green. In fact he is just 5-14 when guarded by Green this series. One of the biggest differences in this game, and one Lebron probably knew, was that nobody else on GS can mentally break him down, and if he's not going to be mentally crushed into shitting his pants, without Green the Warriors don't have a player that can guard him. So yes, Lebron was nice in Game 5, but it comes with an * if you ask me.
More importantly, the more impressive performance came from Kyrie Irving. His third straight game of 30+ (2 wins) he absolutely roasted not only Curry, but Thompson as well. This step back against Klay pretty much summed up the kind of night Irving was having. What a tough shot
But here's the thing. The Cavs only had 15 assists on 44 baskets. They didn't really change anything about their approach from Game 4. They continue to not run an offense, and play one-on-one basketball. Problem is, when GS doesn't have their best defender their whole defensive strategy suffers. Think of how different things are when Draymond switches on the pick and roll. Prime example came against Mo Speights. Lebron makes this same move against Draymond? I dunno
In fact, just look at Game 4's fourth quarter. The Bogut injury sucks, but he played a total of 0 min in the fourth in Game 4, so that's not really it.
It can't be ignored that Lebron's early threes really really helped. When Klay and Curry are doing nothing but splashing, the fact that he came down and answered with threes of his own (being a 32% shooter) got him off
For the first time all series, the Cavs played solid defense on the road. It's been said a thousand times, but it's a make or miss league, and last night was a tale of two halves. To start the Cavs came out firing on both ends. They shot 52 to start%. Defensively, it may not have seemed that way since Curry and Klay got off to good starts, but as a team the Warriors shot just 42%. Harrison Barnes threw up a BRUTAL 2-14, I'd say at least 10 of them were wide open looks. Due to the suspension, lineup rotations had to be adjusted, and as a result, GS got almost nothing from their bench. Remember what a difference they made in Game 1 and 2? Their depth was the thing that was supposed to ensure a two player team couldn't hang, and they flopped.
But let's not forget, this team goes as Steph goes, and don't let the 25 points fool you, he's having a tough series. Defensively, he's burnt toast, but 8-21 and 5-14 from deep is not what you are looking for in a title clinching game, at home. You live with the shot selection, because shit he is Steph Curry, but what bothered me was how careless he played in such a big game. His four turnovers matching his assist total, and it's right on par with where he's been all Finals (4.4) For context, he averaged 3.3 this year, and 3.2 for his career. His assists this Finals (4.6) are also much lower than his regular season averages, and we haven't even talked about how much his scoring has dipped. Steph Curry is a great player, but it's also possible that he's not having a great Finals, and nobody seems to want to say it.If Lebron has Steph Curry's Game 5, the Cavs lose and he gets murdered, and rightfully so. Kyrie has been playing circles around him, and that's a fact.
Fortunately for us all, the stage is even sweeter for a Lebron choke. Winning Game 5 to then get blown out in Game 6 to lose the Finals AGAIN at home in Game 6 is almost too predictable. Draymond Green is going to destroy him. You don't think down deep he wanted a Game 6 so that he could be there to call Lebron a bitch to his face while he celebrates back to back titles in his city?
This is going to be must watch television, if only the NBA weren't complete assholes and making us wait 15 years for it.