I Feel For The Students That Were Going To Skip School And Head To The Beach Before The NYPD Pulled Over Their Bus
DNA Info- Students playing hooky from class to catch a city bus to Rockaway Beach were shut down by NYPD truancy officers who set up a dragnet Wednesday morning at the foot of the Joseph P. Addabbo Bridge, which connects Howard Beach and Broad Channel. At least seven NYPD school safety vans were lined up in the parking lot at the foot of the bridge, along with several NYPD cars, to snare the scofflaw students, according to officials at the scene. Officers stopped every Q52 and Q53 bus Wednesday morning — which ride from Elmhurst and Woodside and stop in Rockaway Beach — to sweep for hooky-playing students. "They don't belong at the beach, they should be in school," said an official at the scene, citing the Department of Education's truancy rule.
 
There are nothing but losers in this story. First we'll deal with the biggest losers, which are the students. School sucks enough on a day like today, let alone when you live in the middle of a concrete jungle. Actually we can just say the city sucks as a whole once you reach a certain level on the thermometer. The Hamptons, Montauk, Jersey Shore, etc. were built on people trying to escape the city from Memorial Day to Labor Day. Who the hell wants to be stuck in a school that probably doesn't have any sort of air conditioning on the first day of summer weather this year? Nobody.
Now did the kids fly a little to close to the sun like Icarus by choosing to go to the beach? Probably. Planning a full day at the beach is cocky. On a day like today, you should probably be happy watching Price Is Right at a friend's house followed by going to a park or some shit. I don't even know what city kids do. I always figured they threw massive booze/drug/orgy cut parties like a 2016 version of the movie Kids. Just a different group of people down there than what I am used to. Anyway, going to the beach on a city bus may have been a little excessive and rubbing it in the NYPD truancy officers faces like Shawn Kemp did to Alton Lister.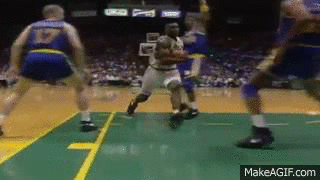 However, if you are the truancy officer, you have to hang your head on a day like this too. I understand that if you decided to be a truancy officer, you are probably an asshole. The hall monitor in school, the shitty RA in college, and now putting your lit cigarette out on kids' dreams as an adult. But once that mercury passes 90 degrees, would it kill these guys to turn a blind eye? At least for the first really hot day of the year. Even the guards at Shawshank gave the guys some beers after Andy helped one of them out. All these truancy officers were once kids too. Loading kids up in a paddy wagon on a day like today is cold as ice.