Phillies Take Series From Reds And Goeddell And Rupp Combine For Play Of The Year
They have been turbulent, inconsistent and have showed a lot of immaturity on the field. But, your Philadelphia series took another series against the Cincinnati Reds and in typical Phillies fashion; two, 1 run wins and a slaughtering.
Sunday, May 15
Reds 9 Phillies 4
Yesterday game was nothing short of a disaster, so let me be brief on it. Adam Morgan didn't have nearly the same stuff he had vs. Atlanta. After 3 and 2/3 innings he was pulled after giving up 7 earned. The problem was in his command and the fact that he didn't have any.
The Reds swung and missed at just three Adam Morgan pitches. Morgan threw over to first 11 times. That sort of day.

— Matt Gelb (@MattGelb) May 15, 2016
Had to be weather related. An unseasonably cool day yesterday was Morgan's third start out of 4 total this season when the temperature was 60 degrees or lower. In those 3 starts he has a 9.59 era. In one start in Atlanta, the game time temp was 78 and Morgan gave up 1 earned over 7. Truth be told, everyone feels looser in warm weather. On the constant road to recovery from a torn rotator, let's hope for warmer weather in future starts.
Maikel Franco provided the only source of offense, driving in 3 while the rest of the team left 26 runners on base.
Saturday, May 14
Philies 4 Reds 3
It was Aaron's Nola world and we were just living in it.
I know I speak for a lot of Phillies fans when I say I can not get enough of watching him pitch. Aaron Nola has shown over the first quarter of the season that he is the future of this pitching staff and has ace written all over him. And every time I see him, I just think of Maddux more and more.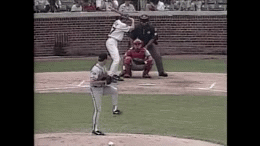 The two-seamer is almost indistinguishable. The curveball just freezes, says hello and then falls right off the table. Only difference between the Hall of Famer and Nola is that Maddux through his first 32 starts of his career had a 5.59 ERA and carried a 1.66 WHIP. Nola in 2016 has a 2.89 ERA and a .84 WHIP, which is currently 4th in the MLB. Similar to Maddux, Nola will continue to be in possession of the filthiest Fastball/Curve/Change Up trio in the NL East for some time.
Also, on Saturday, rookie Tyler Goeddel gave the 29,000 faithful in attendance the play of the year.
Looks like Tyler Goeddel is finally showing off some of the skills that most scouts assumed he had when he was taken #1 overall in the Rule V. A few few gaffes and poor plate discipline throughout his rookie season, Goeddel went 4-10 this weekend, including 2 walks and the throw of the year to Cameron Rupp to seal the win for the Phils.
Friday, May 13
Phillies 3 Reds 2
It was offensive "savior" Tommy Joseph's major league debut, yet the Phillies were barely able to muster any sort ofoffense, per usual. Instead, Hellickson, Neris, and the MLB saves, Jeanmar Gomex did their usual thing as the Phillies took down another one run game. They are 14-3 in one run games this season.
We are a quarter way through the season and just 2 months from the all star break. Right now, I would have to pencil in Odubel Herrera, Vinny the K, Nola and Gomez as my four names to represent the Phillies in the 2016 MLB All Star Game. You can make an argument for Hector Neris, but set up men usually get the short end of the stick with all star nods.
5 potential all-stars and a 22-16 record. Not bad for what many considered to be a team full of rejects and a fat kid. We open our first home series against the Marlin tonight at 7:05. Thank God we don't have to face Jose Fernandez. Second straight series we miss him in the rotation.