Last Night's McLovin Vs. Frank Isola Twitter Beef Was The Feud I Never Knew I Needed
This folks, is why Twitter is the greatest invention in the history of man. Before that beautiful little blue bird was born, I don't think you could find many "celebrity" feuds this random. But this feud must have been created by the Gods using some sort of Twitter Beef Generator, because never in a million years did I think I would be blogging about a McLovin vs. Frank Isola Twitter beef. Lets go to the Tale of the Tape.
McLovin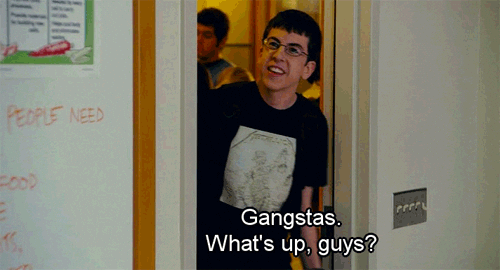 Age: 26
Height: 5'8″
Career highlights: Played McLovin in Superbad, Kick-Ass, Pitch Perfect, Neighbors, and basically every other movie he was in. His character in Neighbors had a huge dick.
Frank Isola


Age: 49
Height: Unknown
Career highlights: Impressively known as one of the, if not THE biggest asshole in all of New York sports media. Walked onto his college soccer team at the University of Maryland. He is a huge dick.
As for the actual Twitter battle, we had McLovin dropping some slander of Isola's name back in April.
Which led to Isola somehow finding it last night. I don't want to accuse him on searching his name on Twitter, but I didn't see him tagged in any tweets. So Isola loses a point on my Harold Lederman card, but gets that point back by taking a shot at his rival from the Post, Marc Berman. They say the human body is 60% water. I think Frank Isola's body is 60% hate.
Which leads to a McLovin counterpunch. FYI, our boy McLovin goes all CAPS the entire feud, which definitely hurts his cause. CAPS makes even the calmest cat seem like a raving lunatic. Subtract another point for the #inphilwetrust hashtag. If you trust Phil Jackson after all this Rambis talk, you are a fucking crazy person.
A body blow by Isola! McLovin is stumbling after that one. However, that tweet did not come with some damage for Isola, who implied that Pitch Perfect was even close to being ruined. Also, major major power move by Isola going with the old school manual RT. Flat out disrespectful, if we are being honest.
Another strong counterpunch by McLovin. Isola is the perfect Knicks reporter to follow on Twitter if you are a cutter. And talking any type of shit against Pitch Perfect would send your mentions into a fiery hell of which I cannot imagine.

One last uppercut for Isola, which essentially ended the beef.

Decision: As much as it pains me, I have to give the win to Isola. My hatred of Isola, as well as McLovin's likability, made me want to pick McLovin. And McLovin having that giant dick in Neighbors was going to be my way of saying just people thinking you have a huge dick makes you the winner in the end. But Isola was on the attack the entire match and brought the fight to McLovin. Finally, McLovin's pinned tweet served as the knockout punch.