The Bullpen And Ryan Howard Steal The Weekend, Freddy Clutch Continues To Deliver As Phillies Sweep The Indians
— Tyler (@PhillyTByrd) May 1, 2016
That Hector Neris splitter is a representation of the bullpen and pitching staff as a whole this season. Their stuff is lights out. The pitching staff had 34 more strikeouts this weekend, bringing their major league leading strikeout total as a staff to 254. Nola, Velasquez, Hellickson, Eickhoff, Morgan, Oberholtzer, Araujo, and Andrew Bailey are all averaging 9+ k/9. Hector Neris and David Hernandez are averaging 14+ out of the pen. The team as whole is averaging 10.4 per game on the season, which if it ended today, would be a major league record by 1 whole K. Huge props is deserved to pitching coach, Bob McClure and his epic stache for turning this staff around from worst to first.
Outside of a few huge hits by Freddy Clutch, the Phillies are still having trouble manufacturing runs. Doesn't help when your 3 and 4 hitters go 4-24 on the weekend with 9 strikeouts. Not to mention the team as a whole leaves 28 runners on base. I think we have to completely look past this for the time being. Two of the worst offenses I can remember are the 2011 and 2012 Braves. They finished each season, respectfully with 89 and 94 wins, however, carried an OPS of .695 and .709. They just road the coattails of Venters, Flaherty and Kimbrel in the bullpen and the veteran leadership of Chipper and Tim Hudson. Which brings me to an interesting point about Ryan Howard and what happened on Friday Night and why I think this team may be meant for something great.
Everyone know's the rules, don't throw Ryan a Howard a fastball. Cody Allen saw that as more of suggestion and The Big Piece made him pay.
That image right there, that's what it's all about. That image tells me a lot of things. It tells a story of two men who first became teammates in 2003 in Clearwater, FL. Who came up the ranks together. Won 5 straight NL East Championships together. Appeared in 46 playoff games together. Won a World Series together. Two guys who experienced the rise, as quickly as they did the fall. It's moments like this that define a man. When your team has the bases loaded in the 10th inning and can't manufacture a run, a true team leader steps up. And Chooch…well you just can't replace that passion.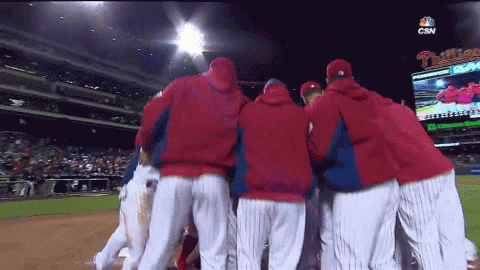 If there is one thing this young team needs, it's leadership. Ryan Howard and Chooch are well past their prime. We will see the nostaligic glimpse every now and then and that's all we need at this point. Watching Chooch help lead a young rotation and seeing the boys huddle around their 36 year old colleague, and one my favorite Phillies of all time, was just the best. I know I am critical of you Ryan, the whole town is critical of you. Striking out 7 times in 8 at bats after that home run doesn't help. It's just we expect so much out of your contract and the name "Ryan Howard." Bringing the past into the present is your new role. Your move.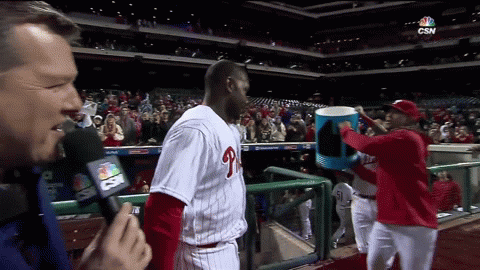 Phillies at St. Louis tonight. Phillies look to make it 7 in a row behind Hellickson, while the Cardinals are coming off a weekend sweep vs. the Nationals have Wainwright. Score some runs and strike some motherfuckers out.
Go Phils.