This Girl On A Toilet Has Pointed Out How Futile Searching For Love On Tinder Is
A lot of people do the majority of their Tinder swiping while on the toilet I've learned over my year+ doing this blog. Like A LOT. And while that's fine, it's a sort of unromantic concept isn't it? We literally went from days where men would ask a woman out, court her for months and months in the hope of getting a whiff of her panties, and then wife her up and have a perfectly miserable life with some kids. But now you're literally expending the bare amount of effort WHILE EXPELLING WASTE FROM YOUR BODY. It's basically like being one of those fatsos in the flying chairs in Wall-E except inexplicably it's actually working at high rates all around the world. It's remarkable, it's awful, it's everything that's so perfectly 2016. (via RN)
And hey it's a Good Friday Tinder blog, just in time for your beautiful weekend. Thanks to everyone who sent stuff in and please follow me on Twitter and send me your screenshots (try to keep it to one or two good ones, my inbox is getting out of control). I'm all hopped up on cold meds and trying to get to the finish line not unlike yourselves so let's do this.
It could be fake but if not Gronk being on Bumble might be one of the most mismatched pairings you could ever imagine (via Jenna)
Don't think she meant to do the junkie arm here but it's appropriate (via B)
When did it become okay for women to be so proud of being info hoarding psychopaths? Like that dude is scum I'm sure but it's kinda out of control how many chicks brag about that (via DM)
This Key and Peele looking motherfucker definitely looks like he's ready to watch (via AS)
(via BM)
Your competition for the week still might make for a better superhero movie than Batman Vs Superman (via K)
Hey Tinder gets Real World chicks too, good for them (via CT)
No clue what's going on here but I'm confident you guys will get to the bottom of it (via CVA)
Please be middle please be middle please be middle (via MS)
Crazy that a girl going to ASU would end up at Playboy, said no one (via MT)
Oh the life of a 20-year-old (via CM)
Must not have gotten into USC (via BC)
This week's reminder that some guy who probably loves Affliction shirts would bang a tranny (via GM)
West Buttfuckin Virginia (via JN)
A much more clever spin on that cliché butt stuff bio (via IF)
More Tinder profiles should use prop gags honestly (via CBS)
Okay that's pretty funny even if I'm more attracted to the pizza than her (via DR)
I'd saw her in half, if you catch my drift. By which I mean because I am not a classically trained magician of course (via MD)
Kinda respect it, kinda wish she'd sell herself juuuuust a little more (via J)
Not sure I can support a world where gauges and a chinstrap can get you more than one girl (via KB)
I appreciate Victoria's Secret holding their employees to their same outlandish standards of attractiveness (via DCM)
#stopfunnyshaming (via Corc)
Story checks out by looking at her hair (via TS)
That big tit irrational confidence is as strong as ever here (via N)
As an avowed lover of Eastern Europeans I say:
(via A)
Never have a daughter (via MS)
Jared from Subway couldn't superlike this one fast enough (via JB)
That Miss Colorado porn chick being on Tinder is the biggest win for the state since legal weed (via JC)
The way too cute picture only makes the bio that much sweeter, that's just science (via RU)
Sounds like someone can be the new David Letterman now that he's turning into a wiley old prospector (via JD)
And onto the hot and NSFWish ones…
I got so many far away butt shots this week that maybe my message on how every girl should have one is starting to pay off? (via GR)
People aren't kidding when they say Jimmy Buffett is a savvy businessman (via JG)
(via MS)
(via JB)
Seriously the cheerleaders on Bumble thing is getting a bit out of control (via IB)
Has to be the hottest chemist on Earth huh? (via JD)
Is this side boob or half boob or something? I need a term here because this is delightful (via SDD)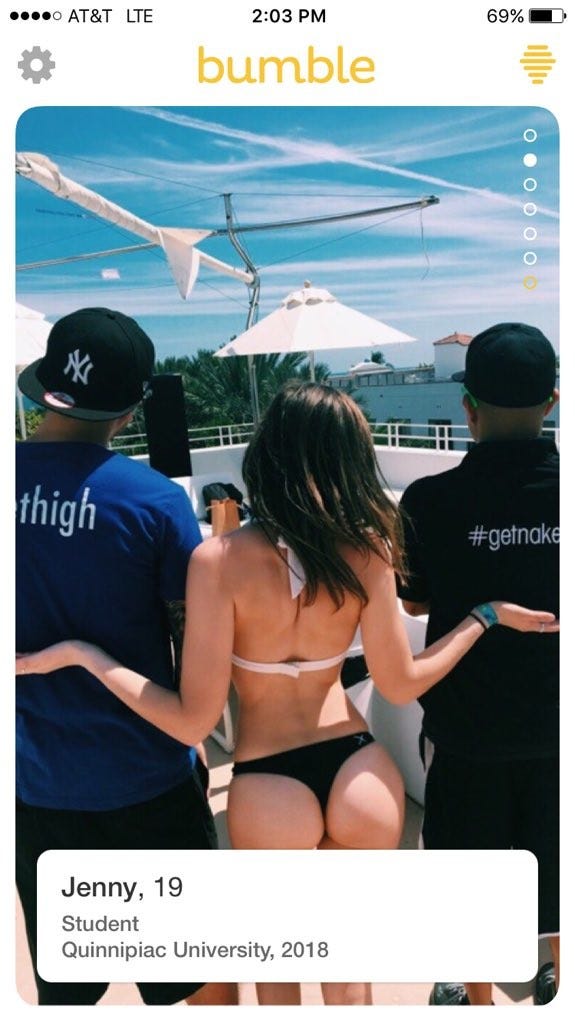 This girl's butt looks familiar to me but you probably won't mind (via A)
For a giant 37-year-old ass that is not too shabby (via A)
(via JC)
You'd pretty much have to fly the 2000 miles here I say (via Creamy)
And here's a NSFW cherry on top of that Kristy Althaus chick, GirlsDoPorn GOAT. Don't forget to follow me and send screenshots, have a fine Easter, and happy swiping!