Led By Isaiah, The Celtics Gain A Little Momentum
Now this looks a lot more like the Celtics team I know and love. This was the type of Celtics basketball that led to 14 wins in a row at home. But you know what they say, dress good, feel good, play good. And holy shit are those jackets absolute fire. Now I admit, I am a Grade A sucker for a good Celtics warm up jacket. When this thing got released in 2008,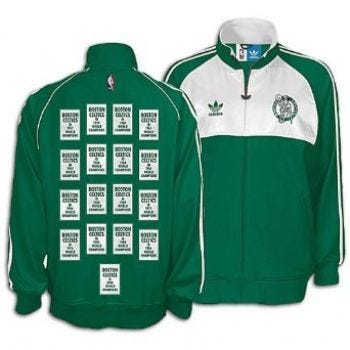 I remember paying for it with the little money I had and the day it came I wore it all day, 105 degree Tempe heat be damned. So if there is a stoolie out there who would like to send this my way as a thank you for the best indepth Celtics coverage on the internet, I won't stop you.
More importantly, I think we all are in agreement that it was nice to see the Celtics take care of these past two games and I think it told us what we already knew. They aren't quite on the TOR/OKC level, but they are way better than the worst team in the league, and much better than a middle of the pack team. What I also know, is that come April barring health, this team will be as good as we think they are.
On the surface, this win wasn't really anything special. I mean it's Orlando. They had lost 10 straight in the Garden heading into this game, four in a row, and eight out of their last ten. In other words, they stink. What I don't agree with is this somehow diminishes what the Celtics were able to do. This isn't so much about Orlando as it is about Boston. This team needs wins. Who cares how they get them or who they are against. This team's identity is already known. Right now the focus is to get home court in the first round, and finish with 47 wins so I can brag about it on Twitter. That's it. Oh and get healthy.
So what we saw in win 41 wasn't Earth shattering, but instead another sigh of relief, knowing that for the first time in quite some time, the Celts actually won a game they had to have.
Let's get to it.
The Good
– We begin with the brothers from the Pacific Northwest. The Tacoma Twins if you will. Both Bradley and Isaiah had a major major impact and its been a little while since we could say that, given Avery's recent struggles. And hey, say what you will about the Magic, but Oladipo and Brandon Jennings aren't chopped liver.
Take Avery for example. Poor guy just needed to face some shitty teams to get his rhythm back. Sure that gives me a bit of concern heading into April, but whatever. I'm one more game like this to declaring his slump officially over, sort of.
And look, it's not rocket science. How do you get a guy going who's been struggling to throw a pea in the ocean? You get him A) Open shots in his comfort range B) get him to the basket.
Hmmm.
But that's not the whole story with Avery. Sure his 12 points in the second were helpful in establishing a lead. Sure his 9 rebounds which were a season high were nice, but how he closed out the fourth quarter is what sticks for me. Big time takes and big time makes.
At 6:30 left, his 19 footer
His 3 footer with 2:05 left
And finally, the nail in the coffin 21 footer
Avery's ability to make buckets down the stretch was the perfect counter punch to Isaiah's performance.
Ah, Isaiah. There is so much I could say, but the people aren't here to see me. They're here to see you. Let's show em how your 28/5/7 happened.
– Can't go much longer without giving Amir his due. As well as he played against PHI, I felt he was better last night. Especially in the last two minutes. Pretty eventful
Given his injury scare I'd say this went about as well as you could hope. If Amir could be a 11/11 guy moving forward, or even once in a while, that makes a real difference.
– Glad aggressive Olynyk made an appearance. For the first time since his return has he truly looked like himself. There was no hesitation on his shot, he was aggressive, and he was effective. His three to end the half sort of told you how his night was going to go. Listen, if Brad ain't scared, then I ain't scared
Stevens on Olynyk: "If you miss 6 weeks, you're gonna be rusty when you get back. But you knew it was gonna come around at some point."

— Boston Celtics (@celtics) March 22, 2016
- On a back to back, it was a surprise to see the Celtics play so well in transition. An absurd 21 transition points in the first half was the story of the game, and when this team gets out and runs, not only are they fun to watch but they're tough to beat.
– RIP Evan Fournier
Evan Turner would like to introduce you to his crossover, Mr. Fournier: pic.twitter.com/d22ac7ACPd — Boston Celtics (@celtics) March 22, 2016
And that's not all, Turner played pretty well, and no play was much prettier than this
Evan Turner's got eyes in the back of his head! pic.twitter.com/GnZTLOlTmq

— Boston Celtics (@celtics) March 22, 2016
- I may be in the minority, but I didn't think Marcus Smart played that bad. Yeah his shot is broke as fuck, but everytime I looked up, he was making some kind of play. For example early in the fourth when he did a great job of establishing position on a drive to the basket, didn't get a call, got up and sprinted his ass off down the floor ultimately breaking up a play under the basket. That's something. His shooting will come around, but its effort plays like that you love to see.
The Bad
– Six in the first quarter, four in the fourth quarter. Turnovers were a sneaky problem last night, each as frustrating than the next. Careless basketball is something I have low tolerance for, and we were over served big time.
– For as well as he played, someone should tell Turner you can use the backboard on layups from the post. I mean that's stuff they teach you in your first basketball camp. Use the square Evan it's there to help you.
– The one last thing I need to see before I declare Avery's slump officially over is him hit a couple corner threes. My lord the guy cannot make this shot right now.vClosest you can get from three in basketball and one of our best shooters can't make it.
– As if we didn't need any additional stress, starting the fourth quarter 1/10 and turning it over left and right was some absolute bullshit. Flashbacks of TOR all over again. All the sudden they stopped taking it to the basket and we had Sully shooting threes, it was a disaster. Then Isaiah came back in and all was forgiven, but damn.
The Ugly
– I'm sorry to do it, but Avery's passing. I can finally admit, it's dreadful. He doesn't know how to pass, I think it's that simple.
– Poor Marcus, you can tell he's starting to get into his own head, but who wouldn't. It's just not falling for him at the moment, and if he could just see one or two go in, who knows maybe things turn around. But at the moment? Woof.
And just like that it's time to put up or shut up with TOR on Wednesday. Now the season series is over, but you can tell the Celts need this one for their own psyche. A west coast trip looms on the horizon, and a win over TOR to send them off would be the best case scenario.
The team is saying Crowder is still a ways away, and I bet we don't see him again until April 8th at home against MIL, so every win they get in the meantime will be hard to come by. The good news is, it would appear as if the Celts are starting to regain some of that momentum back.
41 down 6 to go