Rico Bosco's "Bosco's Bets"
Welcome back to Bosco's Bets presented by OddsShark.com
Presidential Race 
March is in full swing which is FANTASTIC. Wild covers, lead changes, bad beats, etc. This month has it all . Let's get right to it.
-Presidential Odds are live for those of you who pay attention to a guy (or girl) in a suit saying a bunch of things that I can't fully comprehend :
NFL
– Justin Hartling of OddsShark.com does a good job chronicling how books may be overreacting to the Texans splashes in Free Agency :
"Within 24 hours of the signings the odds of the Texans winning the Lombardi Trophy this year jumped from +5000 to +2000 at Bovada. Houston went from the same odds as the New Orleans Saints and Detroit Lions to having better odds than the Cincinnati Bengals and Minnesota Vikings."
Read the full write up here, along with Super Bowl odds. Spoiler : Pats are the favorite.
College Hoops 
-Conference Tournaments going again all day. The full list of odds can be found : HERE 
OddsShark.com has a great deal of tools including trends, ATS records etc on their site. One feature is the score predictor. Here's a few predicted scores of some marquee match ups today :
-Interesting piece here by John Campbell on how well heavy dogs have been covering ATS for a long period of time :
According to our Odds Shark database, underdogs of 15 or more points are covering the spread at a nearly 60 percent clip (54-37-4 against the spread) in March conference hoops tournaments going back to 2005. Those are some profitable numbers if you were to have wisely backed every one of those pups. 
Our man working the database also found that underdogs of 20 or more points are 15-4-1 against the spread (ATS) since 2001, which is a winning rate of 78.9 percent. 
As games get down to the Semi's and Finals, these lines may not be that high. However it's still worth putting in your brain moving forward. Full read here.
NBA
-Full slate of games can be found here. Highlighted by the Warriors hosting the Blazers, and the red hot Celtics hosting the Rockets.
If you haven't been to OddsShark.com , this is a standard breakdown of trends for every game in every sport. Great stuff.
NHL 
-A big question a lot of Rico Riders ask is about line movement as it relates to what the public bets. OddsShark.com has that info for all bettors and updates as the day goes on. See below for tonight's NHL lines and who the public is on.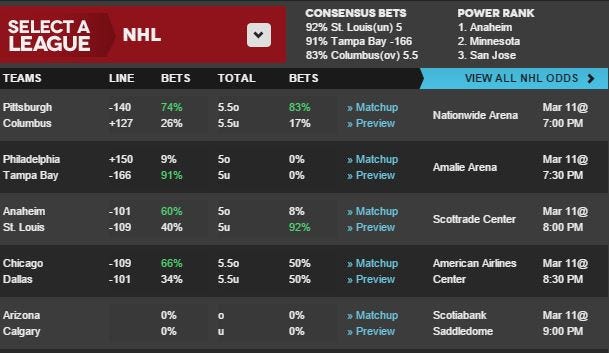 Picks 
Providence +9 
Villanova last 4 games (4-0) from 3pt range : 13-21,7-22,14-31,7-17 totaling 41-91 (45 %). Offensive rebounds in those games : 4,4,8,and 2.
Providence  holds opponents to 31.8 % from 3pt range (43rd in country) from 3, and has out rebounded their last 4 opponents.
Nova in previous two meetings 5-22 from 3 (won by 12), and 9-31 from 3 (lost by 6) … totaling 14-53 (26%).
I've said before that it's going to get bad for Nova in a big game, and they still may win this one, but all signs point to why you should take the points. Bentil is a FORCE inside, and Kris Dunn may finally be fully healthy after rumblings for a month he wasn't.
Friars take this right down to the wire.
Indiana 1H -4 
Michigan looked like they were going to cruise to a win then needed a big time shot to save them. The story you read about is that 1 shot and the feel good story, the thing the game doesn't tell you unless you dive in real deep is that Michigan needed 12 threes just to stay alive in that game. Don't expect that again, especially early on versus an Indiana team who is playing lights out. Even if Tom Crean is a wackjob, he's done a TERRIFIC job coaching this team, and Yogi Ferrell has done an awesome job leading it. Hoosiers …early.
Best Bet
Kansas -6
LOT of guys will doubt that you can't beat a team three times in a year. I understand that, and it burnt me on Valpo this week, however it's not a locked in proven fact. In fact Nova  just beat Georgetown three times this year and Kansas just beat Kansas State for the third time yesterday as well. Kansas has beaten Baylor two times this year (for the record they beat them 3 times last year) and square off again today.
Quick note : Scott Drew is 3-18 all time versus Kansas. Interesting that 2 of those 3 wins came in the Big 12 Tournament, so don't think Bill Self is sleeping on this game.
The major thing that jumped out to me here was this. In their two games this year, Kansas buried Baylor 102-74 , and then squeaked by 66-60. In that 66-60 game Baylor did a great job of slowing the game down and limiting the amount of possessions. In fact Baylor out shot Kansas by 15 attempts in the game. The problem for Baylor was Kansas shot 55% from 2, 42% from 3 and 70% from the line. So even with limited looks, Kansas did their job in getting good ones.
I can't see Baylor slowing this game down again, and in a transition game I think Kansas makes them look foolish. Perry Ellis, Frank Mason and Wayne Selden are clicking on all cylinders, and are focused on winning everything . Regular season, Big 12 conference title, and eventually the National Championship. I love Kansas in this spot.
- I normally reserve this spot for my man Hank and thank him for being an OG Rico Rider, and while I'm still thankful for him, there are bigger things to tackle. As you read previously I've covered the SUNY Geneseo tragedy earlier this year. In one of the biggest displays of character and a terrific way to honor their teammate, The Ice Knights have gained a bid in the NCAA Tournament hosting Salve Regina this Saturday night. "Tough times don't last…tough people do" … Go Knights 
- In a story basically in my backyard, the Wagner baseball team loaded with Rico Riders, has asked for some help rebuilding their house. A Go Fund Me page has been created and has done really well thanks to a big help from the Stoolies. Anything you can donate is appreciated. 
-I ask that you reread those last two points, along with researching that I am in fact up on the year (never crossing below zero) despite the claims of people "losing their mortgage" before typing out some of the abusive/blatant lie comments that fill the space below. Regular guy trying to help as many people as I can. Have a good weekend…VIVA.
Last Week : 2-5
Total Record of featured "Bosco Bets" picks : 27-22-1 YTD
CFB YTD: +31.15 units College Football 2015-2016 Season, 171-143-6 (+13.7 units) YTD College Basketball via Twitter . For all stats and trends check out OddsShark.com & follow @Rico_Bosco on twitter for all my other picks, NCAA Tournament analysis , Bachelor breakdowns , calls to Mike Francesa, questions, and overall entertainment.