Derek Fisher Addresses Why The Knicks Fired Him And The Whole Matt Barnes Situation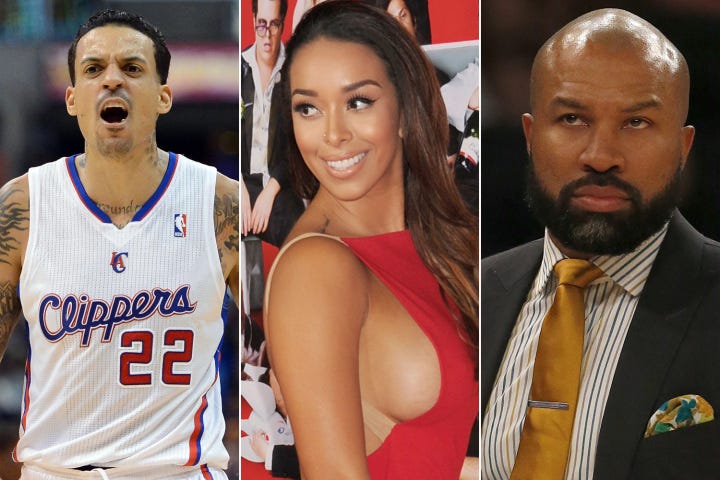 Derek Fisher emerged from wherever he has been the last month or so to write a piece for SI.com about his firing from the Knicks and his beef with Matt Barnes.
First of all, titling your piece "Truth" is the easiest way to get people to believe you.  So simple yet so strong.  Like a triple knot.  Fisher must have been a journalism major at *goes to Wikipedia* Arkansas-Little Rock.
Anyway, Fisher opened by talking about his time with the Knicks:
First, let's address this idea that I lost my job because of certain "character" or "integrity" issues. Not only is any such insinuation untrue, it's downright offensive.  The reality is that NBA coaches get fired for all sorts of different reasons. Coaches that have been at it much longer than I have?—?and have been far more successful than I was?—?have been fired.  When the organization informed me of its decision, the conversation was short. The underlying message was that things weren't working out the way they had hoped. I thanked management for the opportunity, and that was it.  At no time did anyone at that meeting express to me that stories about my personal life were distracting from the collective task at hand, or?—?more important?—?that any of my players had expressed to management that they had lost confidence in me as their coach. Nothing remotely like that was ever brought up or discussed.  That's why I was shocked when stories like that surfaced in the media.

The NBA is an incredibly challenging league that requires every single person in an organization?—?from ownership to management to the coaching staff to the players?—?to understand just how tough the road from rebuilding to contention is. At no time was my commitment to turning things around in question. As for my players, I was a guy that a lot of them had played against, so once I became their head coach, I think they had a tremendous amount of respect for my work ethic and dedication to righting the ship. They saw how hard I worked, how much time I put in. Many of them reached out to me after I was fired. I still hear from some of them.  Unfortunately, when the Knicks made the decision to let me go, some people?—?particularly certain members of the media?—?decided to take advantage of what had happened in my personal life, spinning those events as justification for the team's decision to fire me.
Listen, the Knicks didn't fire Derek Fisher because he cuckolded Matt Barnes.  Sure, just being involved in an incident like that with another player, especially being a former player and a second-year coach coming off of the worst year in franchise history, is a bad look.  A terrible look.  A "Knicks the last 15 years" look.  But still, not a fireable offense.  I would say the aforementioned worst season in franchise history followed by a disappointing second year was probably worthy of being shown the door.  And appearing to be a terrible coach, that didn't help.  And watching Phil's first choice lead the Warriors to a title and a historic run.  Oh yeah, and lets add in the rumors of Fisher potentially canoodling (A+ word) with girls linked to Tim Hardaway Jr. and Cleanthony Early.  That probably didn't help the case of a shitty coach.  Fisher was the NINTH Knicks coach since 2001, when Jeff Van Gundy realized this was a sinking ship and left.  Or James Dolan finally watched this Vine and realized that Fisher wasn't the head coach he wanted to pay all that money to.  I'm not sure.
As for the Barnes stuff:
Look, I get it … salacious gossip sells papers and garners clicks, but when you publish outright lies, I have a right to defend myself.  So let's set the record straight on my personal life?—?specifically, my relationship with Gloria Govan and how it relates to Matt Barnes.  First, I was stunned and disappointed by the way Gloria was treated in the media. After the much publicized (and unfortunate) situation went down in Los Angeles last year, story after story was published that portrayed her as a piece of property, instead of the strong, independent woman and mother she is; someone who is capable of making her own decisions. This is a human being we are talking about, not some pawn in a game.  As far as Matt goes, to say that we had history before the incident would be an exaggeration. We played together for the Los Angeles Lakers during the 2010–11 season, and a couple months in the lockout-shortened 2011–12 season. That's it.  That's the history.

During that time, we were teammates, and never had any issues. We never had any real relationship off the court, either. Our kids didn't hang out, our families didn't interact. There were no birthday parties. There were no post-game dinners. We weren't friends and we had no mutual friends.  When Gloria and I started dating, she and Matt had already been separated and living apart for more than a year. Same thing for me. My wife and I were long separated; she was in L.A., I was in New York. Matt and Gloria were not trying to work things out, and I certainly wasn't seeing her behind Matt's back or in secret. The relationship wasn't something I was trying to publicize, but it also wasn't something I was trying to hide, either. There was no reason to.
I don't know what was going through Matt's mind that day in October when he showed up unannounced at Gloria's house, and started swinging. I didn't retaliate. No one who was there did anything but try to get him to calm down, particularly because Matt and Gloria's children were present. There was no fight. That's it. There's nothing more to what happened than that.  At the time, I had no intention of saying anything about what happened, and I definitely didn't wish for the incident to become public knowledge. As far as I was concerned, it was something I was willing to let pass, and as an NBA head coach, I was more than aware that actions off the court might reflect upon many others beyond just me. Then suddenly, the story of a "fight" leaked to the media. I'll let you speculate on who leaked it and why, and the nature of their character. My reputation speaks for itself.

 
Okay, a few things to take from that.  One, when a guy starts swinging his hands, a fight has started.  How it ends is up to you.  If you are playing Street Fighter II against someone and that person leaves before the fight starts, you will win the fight with a "Perfect" at the end.  Same applies to this situation.  If Fisher didn't throw hands, it just means he didn't want to participate in the fight.  But the fight happened and Barnes won.  That's how fights work, Fish.
As for the whole dating Barnes' ex-wife thing without talking to Barnes first, I mean it just seems wrong to me.  For Christ sake, less than 24 hours ago, the mere thought of going to eat with his teammates brought a BC basketball player to tears.  I think you owe at least a heads up to a friend, former teammate, or whatever you consider more than some stranger off the street.  Think of it this way Derek.  If you had a reunion for one of those Lakers teams and Matt Barnes showed up dating your ex-wife, would you have thought it was weird he didn't mention it first?  Do you think Woogie should have told Ted that he was Mary's ex-boyfriend in Something About Mary?    What about Jeff just sandbagging Zack Morris and getting Kelly Kapowski?  That still pisses me off and Jeff wasn't more than a waiter to Zack.  Still feels dirty and breaks my heart to this day.  Even though he has all those tattoos, there is a real heart inside of Matt Barnes, Derek.  I wish you would stop acting as The Slippery Fish for one minute and acknowledge that.
Regardless, the best part of this Fisher letter is that we should get a response from Matt Barnes.  I am here to cordially invite him to use Barstool Sports as his platform if he chooses to go down that road.